Bing Makes March Madness Easy
March 16, 2015
Will your team make it to the Final Four? Just ask Bing.
Bing Predicts is at it again, this time providing the ultimate online March Madness experience. A few weeks ago, Bing and the NCAA officially announced their partnership for this year's tournament. Now we can see everything Bing has planned, and it's pretty impressive.
Microsoft's search engine, which has already proven successful at predicting the outcome of sporting events, is the official bracket data partner for March Madness. Just as it did with the NFL playoffs (albeit without an official partnership), Bing has laid out predictions for the entire NCAA Men's Basketball tournament, including the likelihood each team has to win a given game.
Bing Predicts Picks Kentucky
It shouldn't come as a surprise that Bing is picking Kentucky to win it all. After all, the Wildcats enter the tournament at a perfect 34-0. Pretty hard to bet against that. Bing's Final Four isn't too much of a surprise either, with 3 of the 4 top seeds making an appearance (the lone team out is one of our personal favorites, Wisconsin).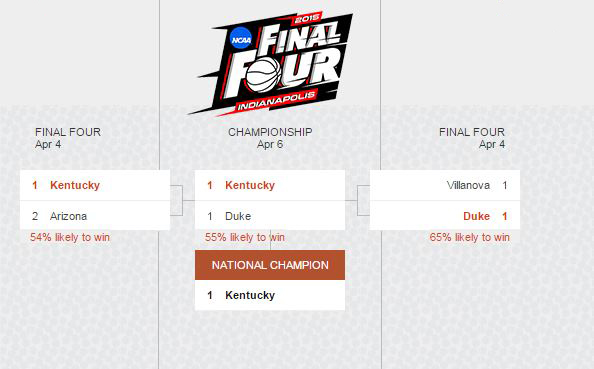 Bing isn't choosing the seeded favorites across the board. The search engine has three number 11 seeds advancing to the second round (BYU, Dayton, and Texas). Bing also has two underdogs advancing to the Sweet Sixteen: No. 11 Dayton and No. 7 Wichita State. Other than that, we shouldn't see too many surprises according to Bing's bracket, but the likelihood of the search engine getting it perfect is about a million to one.
According to Bing, the most lopsided matchup in the tournament is No. 1 Villanova vs. No. 16 Lafayette. The search engine gives Villanova a 99% chance to win. Anyone willing to bet against those odds?
Bing isn't just filling out the bracket. The search engine is providing data for every matchup and team, including the chances each team has to win it all. Just hover over your favorite team and see the magic happen: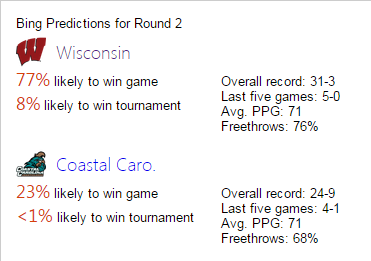 8% chance of Wisconsin winning it all? We'll take that. In case you're wondering, Bing only has Kentucky with an 18% chance to win the championship. We think Wisconsin can overcome that deficit. Of course, no team has absolutely no chance to win, but plenty are sitting at <1%.
How Bing Predicts Does It
Just how did the search engine arrive at all these picks and odds? Bing Predicts chief Dr. Walter Sun says the search engine has processed ten years worth of data to arrive at its final bracket, "including entire data sets that were previously unavailable to the public." After analyzing this massive amount of data, Bing has presented us with the bracket they think is most likely to occur: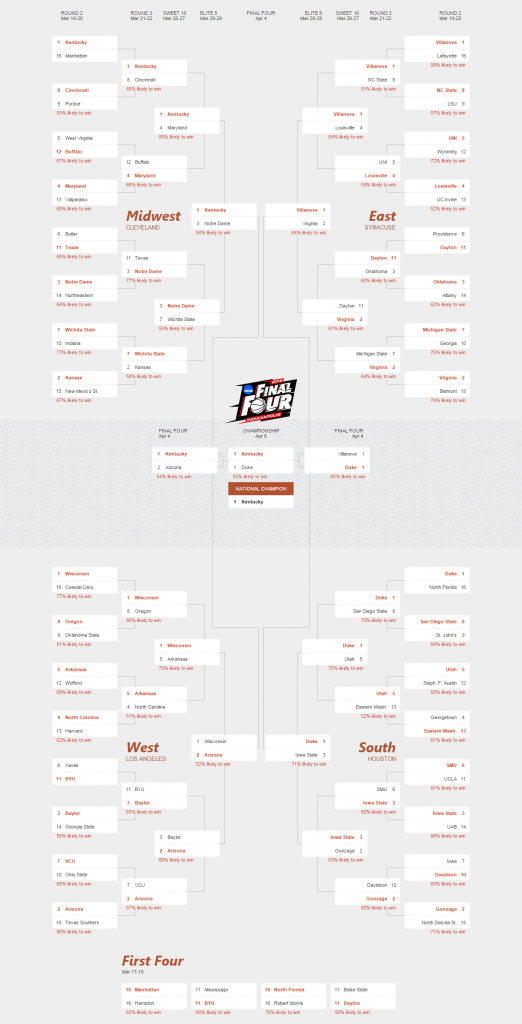 We can expect Bing to update its picks each week based on the live results. How well will the search engine do? When it comes to tournament play, Bing has a pretty darn good track record. Bing was 81.8% accurate in the NFL playoffs and 93.8% accurate in the World Cup (missing only the 3rd Place game). However, this is a much larger tournament with a much bigger history of upsets. I don't expect Bing to do much better than 65% (and even that might be generous).
Let's remember that this is all meant to be fun and games. There are bound to be upsets the search engine doesn't predict. Of course, if they were easy to predict, would they really be upsets?
Bing Lets You Play Along
Want to play along? Bing has made it easy for you to fill out your own bracket and submit it to NCAA.com. Check out Bing's Bracket Builder to complete your own. You can even have Bing help you fill out your bracket based on a combination of your picks and Bing's. For example, if you really want Wisconsin to win it all, simply advanced them all the way. Then press Autofill and watch Bing take care of the rest: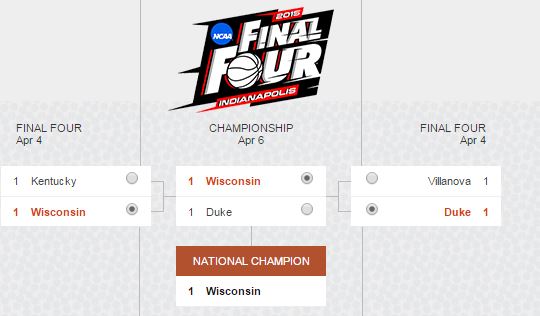 So, how far will your team go? Don't just leave it up to Bing. Go fill out your own bracket today.