Bing Predicts Bombs in NFL Week 4; Does the Prediction Engine Have a Chance in Week 5?
September 30, 2014
Note: This post is for the 2014 season. Click here to see the Week 4 results and Week 5 preview for 2015.
When Bing launched its NFL prediction engine, the search engine confidently declared it expected to get the majority of the games correct. After an abysmal 5-8 (38.5%) performance during Week 4, Bing and its virtual assistant Cortana may need to make serious adjustments to the prediction algorithm.
Thanks to moderate success in the first three weeks of the season, Bing is still 34-27 overall, which means the search engine is predicting the correct outcome the "majority" of the time. Let's see what went wrong in Week 4.
Week 4 Recap: Bing Blows Up During Blowouts
If there's one word to describe the results from NFL Week 4, it's "blowout." Of the 13 games played this week, 8 of them were decided by 19 points or more. Blowouts apparently aren't good for Bing. The search engine only picked the winning team in only 3 of these lopsided affairs (Colts, Chargers, Ravens). Among the 5 blowouts Bing missed was the Chiefs-Patriots debacle, in which the Chiefs defeated the visiting Patriots by 28. Going into the game, Bing favored the Patriots with a 70.2% chance. As I discussed last week, the final score is in no way an indicator of how accurate the predicted chance was. Still, it's hard to say that Bing wasn't way off on some of these predictions.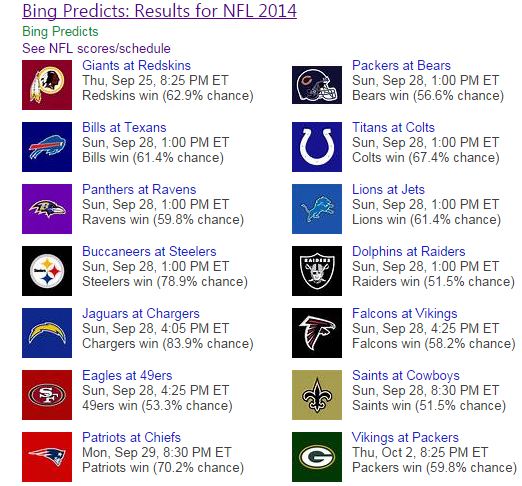 Bing, Don't Change Your Mind
Bing reveals its initial predictions for each week by early Monday morning. However, these predictions aren't set in stone. Leading up to Week 4, Bing changed 6 of its predictions:
Panthers to Ravens (Ravens won)
Dolphins to Raiders (Dolphins won)
Jets to Lions (Lions won)
Vikings to Falcons (Falcons won)
Cowboys to Saints (Cowboys won)
Chiefs to Patriots (Chiefs won)
Bing was 2-4 this week in these games, suggesting the prediction engine ought to go with its first instinct. Isn't there some rule of betting that tells you not to second-guess yourself?
It's unclear exactly what is inspiring Bing to make these changes. It could be the amount of time it takes to calculate all the data from the previous week's games, or it could be the signals it sees from the fans. In the Chiefs-Patriots matchup, Bing originally had the Chiefs winning with a 53.3% chance. By Tuesday, Bing was predicting the Patriots with a 67.4% chance. By Sunday night, the chance was over 70%. Maybe Bing thought minor changes in the weather forecast would be a factor?
Nighttime is Unkind to Bing
Another takeaway from Bing's performance so far this season is how difficult it is to pick the night games. This week, Bing missed all three night games, all three of which were decided by more than 20 points.  Last week, Bing missed the Sunday and Monday night games, giving it a 5-game losing streak under the lights. Overall, Microsoft's prediction engine is 5-8 in night games this season. In other words, don't ask Cortana who's going to win at night.
Don't Give Up on Bing
Before we write off Bing's prediction engine as a failed experiment, let's consider a few things. After all, this is the same engine that was perfect during the World Cup knockout round and correctly predicted the result of the Scottish Referendum vote.
Predicting the outcome of NFL games is no easy task. This is a league where the home team wins just over 50% of the time. Even the most dominant teams can lose to teams that look average on paper. Sure, there are plenty of safe bets (Bing is 12-4 when it predicts a chance of 70% or more). The majority of the games aren't so cut-and-dried.
Although other prediction methods are doing better than Bing (such as the FiveThirtyEight Elo project), this is a unique experiment that ties intangible elements into the predictive model. Instead of just using stats and historical performances, Bing's prediction engine lives and breathes. If Bing can master the algorithm and deliver just one perfect week—or even a perfect playoff record—then this will be a colossal success.
Still, Bing will need to do better than 5-8 if it wants anyone to take its predictions seriously. Another week like this will make Bing the laughingstock of NFL predictions.
Week 5 Preview
Since first releasing its Week 5 predictions on Monday morning, Bing has switched one winner and changed almost every percentage (13 of 15 games had updated chances this morning). In the Giants-Falcons game, the search engine has now decided to go with the home team. Going with the Giants here makes sense for a bunch of reasons. The Giants are coming off a big win while the Falcons were just crushed on the road.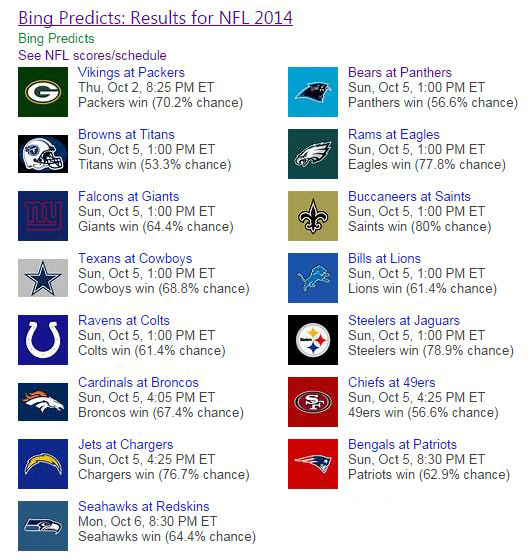 Bet on the Home Team
Perhaps Bing has noticed it is most successful with home field advantage. The prediction engine is 26-17 when favoring the home team, and only 8-10 when picking the visitors. This week, Bing favors the home team in 13 of 15 matchups (in Week 1, Bing went with the home team in 14 of 16 games). It almost makes you wonder why Bing doesn't just pick the home team to win every game. Interestingly enough, home teams are 36-25 so far this year, which is slightly better than the search engine's record.
Increased Confidence After a Bad Week
Despite coming off its worst week of the season, Bing looks more confident than ever. Here is the confidence breakdown for Week 5:
50%-59.9%: 3 games
60%-69.9%: 7 games
70% and above: 5 games
Based solely on the past performance of these predictive ranges, Bing should go 9-6 this week. Rather than using my gut to say Bing will have an excellent week and go 11-4, I'm sticking with the statistics for Week 5. Let's see if the data rings true.
Update (10/1/14): Bing is now favoring the Bengals over the Patriots. This marks the first time all season that Bing has been against the Patriots. This seems like a very smart move by the search engine.