Bing Predicts Brings Data But Not Accuracy to NCAA Basketball
March 30, 2015
Bing Predicts may be the official partner for NCAA March Madness, but it certainly doesn't have the best bracket.
Bing struggled through the first three rounds of the tournament, getting just 63.5% of the games correct and failing to crack the leaderboard of any major bracket challenge. Here's where the search engine stood heading into the Sweet 16:
1-3 in Round 1 (First Four)
23-9 in Round 2 (Round of 64)
9-7 in Round 3 (Round of 32)
With only 9 of its teams remaining in the tournament, Bing decided to make a few changes. Most notably, the search engine opted to go with Wichita State over Notre Dame and Louisville over Michigan State. Neither of these new picks worked out well for the search engine.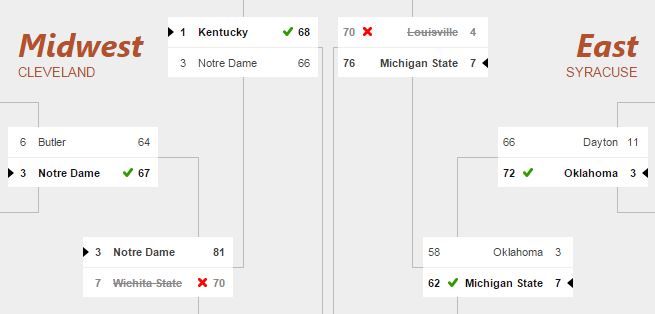 As we saw during the NFL season, Bing doesn't perform well when it changed its picks. What's most odd here is that the search engine went from favoring Michigan State over Louisville by 64% to putting Louisville in the Final Four. Not that it matters much anyway. The search engine didn't have either team advancing that far in its original bracket.
Bing's original bracket went 5-3 in the Sweet 16 and 2-2 in the Elite 8. Based on the updated predictions, Bing was 7-1 and 2-2, respectively. This puts the search engine at 40-24 overall and 45-19 for its updated picks. At just 62.5% accuracy, Bing's bracket is hardly impressive, but it certainly isn't busted.
Bing now has just 2 of its teams left (Kentucky and Duke). If things play out according to Bing's predictions, these are the two teams that will meet in the championship game. 2 out of 4 might not seem that impressive for a supercomputer, but only 1.6% of all brackets had the Final Four correct. While that number may seem small, that's actually over 180,000 brackets that were better than Bing (plus another 3 million that had 3 of the Final Four teams correct). And it's not like Bing was really going out on a limb with its predictions. 22.2% of all brackets submitted to the ESPN Tournament Challenge had Kentucky vs. Duke in the finals. Still, Bing is doing better than about 8 million brackets, so things could be a lot worse.
The search engine continues to favor Kentucky to win over Duke in the finals, but it actually gives Duke a better chance of winning the tournament. According to Bing, Duke has a 41% chance to win it all while Kentucky has just a 32% chance. What accounts for this difference? Duke is much more likely to actually get to the championship. Bing favors the Blue Devils by 76% over Michigan State, whereas Kentucky has only a 57% chance to beat Wisconsin.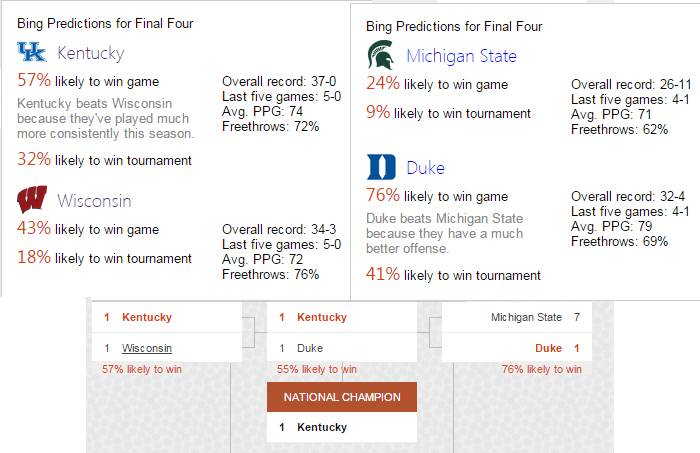 Can Bing be perfect in the final three games and redeem its slow start? We don't think so. We're still pulling for Wisconsin to win it all. 
Edit (3/31/15): Bing has made some updates to the predicted chances for the Final Four. Kentucky now has a 61% chance to beat Wisconsin and a 36% chance to win it all. The search engine has dropped Duke's chances to 63% against Michigan State, giving the Blue Devils only a 31% chance to win the tournament. It's unclear what prompted these changes. Given how much Kentucky struggled against Notre Dame, it seems rather strange that Bing now thinks they are more likely to beat Wisconsin. I guess we'll find out on Saturday.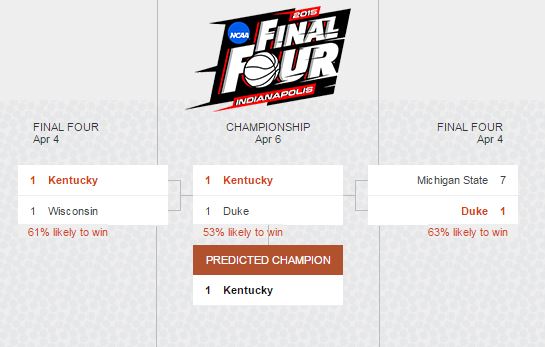 Edit (4/6/15): Bing went 1-1 in the semi-final round, missing the Wisconsin-Kentucky game (as we predicted). Still no Badger love from the search engine. Bing has Duke winning the championship with a 54% chance: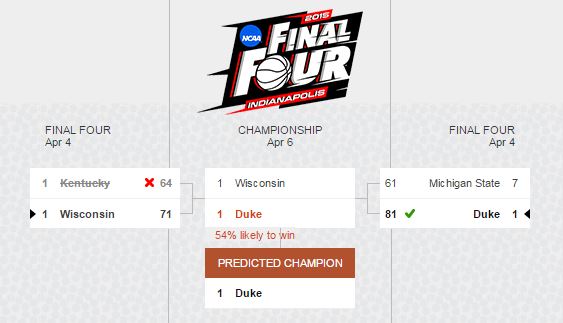 Edit (4/7/15): Well, Bing was right about Duke beating Wisconsin after all. Still, we can't give the search engine too much credit for that pick since they had Wisconsin getting knocked out in the Elite Eight. 
Bing ended the tournament with a 41-26 record for original picks and a 47-20 record for revised picks. Not too bad for the search engine's first-ever bracket, but certainly not good enough to win many bracket challenges. At least the Bing prediction engine beat out Google and Facebook: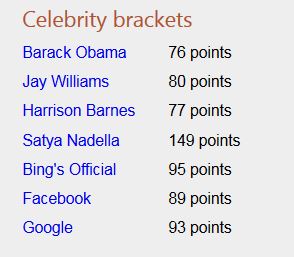 It will be interesting to see how Bing adapts its formulas for next year's tournament. Now let's see some NHL and NFL playoff predictions!