Bing Predicts Brings Sanity to March Madness
March 14, 2016
For the second consecutive year, Bing is partnering with the NCAA to make March Madness a breeze. With complete predictions and an easy-to-use bracket builder, Bing gives you everything you need to create the bracket that will win your office pool and make you a hero. Okay, so there are no guarantees with Bing, but the search engine does provide an excellent resource for all things related to March Madness. 
Bing Looks to Improve on Last Year's Performance
After predicting just 63.5% of the games correct during 2015's tournament, Bing is looking to avoid a busted bracket this year. Although 63.5% may seem pretty good compared to your bracket that had more losses than wins, Bing boasted of access to tons of data that no one else had ever used. But all that secret data didn't prove too valuable for Bing, with the search engine lagging behind many average Joes and Janes armed with nothing more than a meager knowledge of college basketball and maybe an allegiance to one particular team. 
Bing Puts It All on Kansas
Kansas enters the tournament as the overall number one seed and the clear favorite, and Bing thinks that is enough to give them the win. Bing has Kansas defeating North Carolina with a 55% chance in the finals.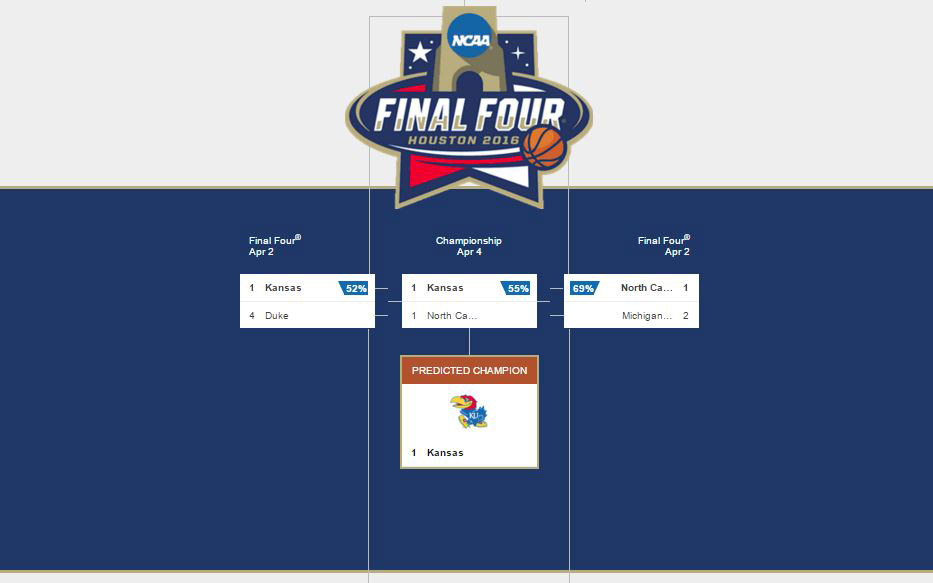 The search engine took a similar strategy last year by picking heavily-favored Kentucky from the get-go. That didn't prove an effective strategy when Kentucky was upset by the First-Scribe-favorite Wisconsin Badgers. This year, Bing has two number ones facing off in the championship game, with No 2. Michigan State and No. 4 Duke rounding out the Final Four. 
Bing Focuses on the Favorites
Anyone familiar with March Madness knows that upsets are the best part. But Bing isn't too big on picking upsets, with a few exceptions here and there. Most notably, Bing has No. 12 seed Little Rock beating Purdue and Iowa State en route to the Sweet Sixteen.
Other than Little Rock, Bing has no one higher than a 6-seed making it past the second round. In the first round, Bing has the favorite winning 26 of 32 matchups. In other words, it doesn't look like a good year for Cinderella. 
How will the rest of the tournament play out according to Bing? Well, we know anything can happen (except for a No. 1 seed losing in the first round). Here's a look at Bing's full bracket: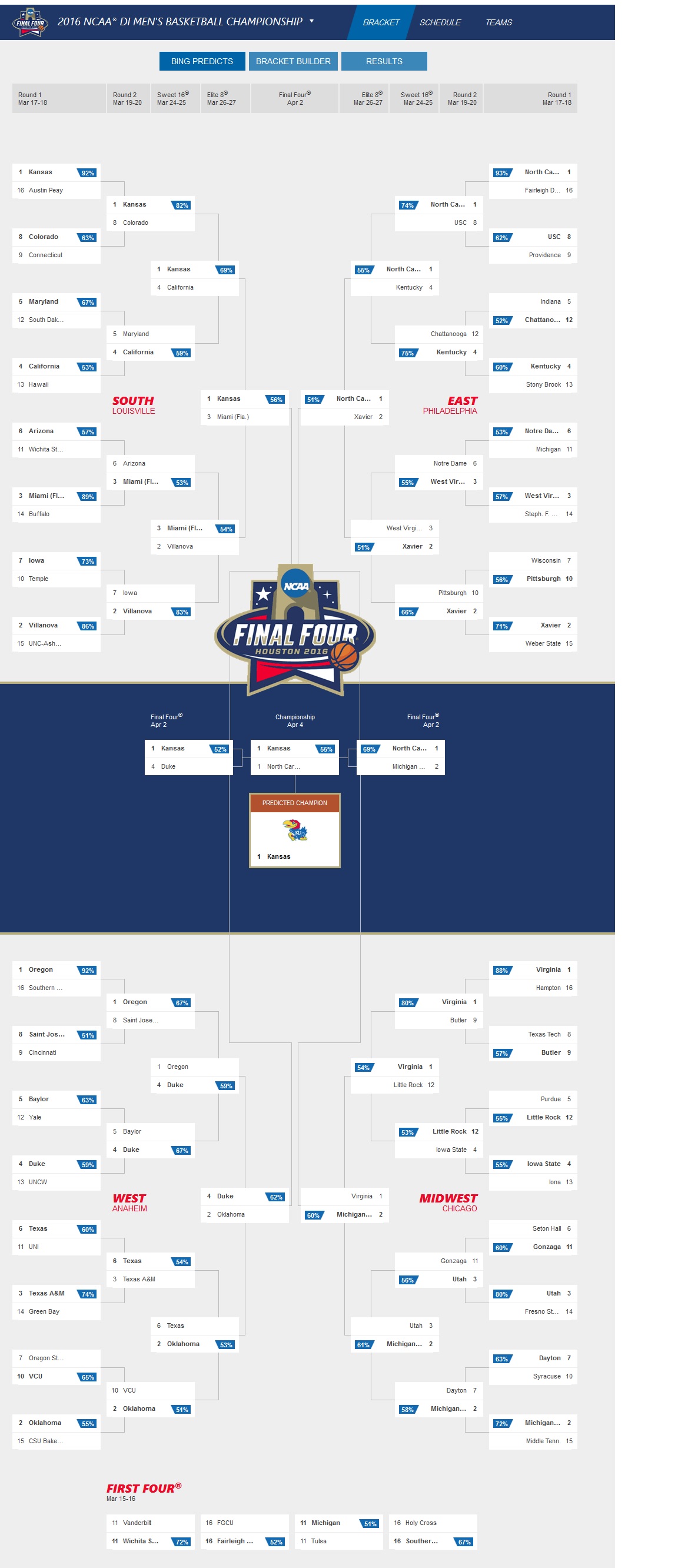 Play Along with Bing
Not happy with Bing's predictions? Build your own bracket through the search engine's incredibly simple bracket builder. Just select the team you want to win each game and watch the magic happen. You can participate as much or as little as you want thanks to Bing's autofill feature. Have one favorite team? Push them all the way to the finals and let Bing Predicts do the rest. You can even complete your bracket and submit it to ncaa.com's official Bracket Challenge. 
Will Bing be the bracket champion this year? We're hoping to see a few more upsets than what Bing has, but we don't see any reason to bet against the search engine. You can read more about Bing's prediction methods in their official March Madness blog post. Bing will also be releasing full predictions and brackets for the Women's Final Four as soon as the teams are announced.