Bing Predicts Falls to NCAA Madness: Results from First Two Rounds
March 21, 2016
This will not be the year of the Bing Predicts perfect bracket. Not even close. 

Through the first two rounds, Bing Predicts boasted of getting 33 of 48 games correct. While this 68% record would be pretty good, it's not exactly 100% accurate. At least not in terms of how NCAA Final Four brackets really work.
Based on Bing's original predictions, the search engine has technically only gotten 30 games correct. Bing was 21-11 during the first round, with four of its original Sweet Sixteen teams getting knocked out (Michigan State, California, Texas, and West Virginia). In the second round, Bing lost three more Sweet Sixteen teams: Xavier, Little Rock, and Utah. This put the search engine at 9-7 for the second round based on its original picks. 
Unlike most of us who fill out March Madness brackets, Bing adjusts its picks after each round. This is fair since the search engine is trying to determine how likely a team is to win each game as opposed to predicting the entire tournament in one shot. Still, it seems a little unfair for those of us who can't pick up the pieces of our busted brackets. 
Bing Predicts Updates the Tournament Outlook
Here's what Bing says will happen in the remaining rounds: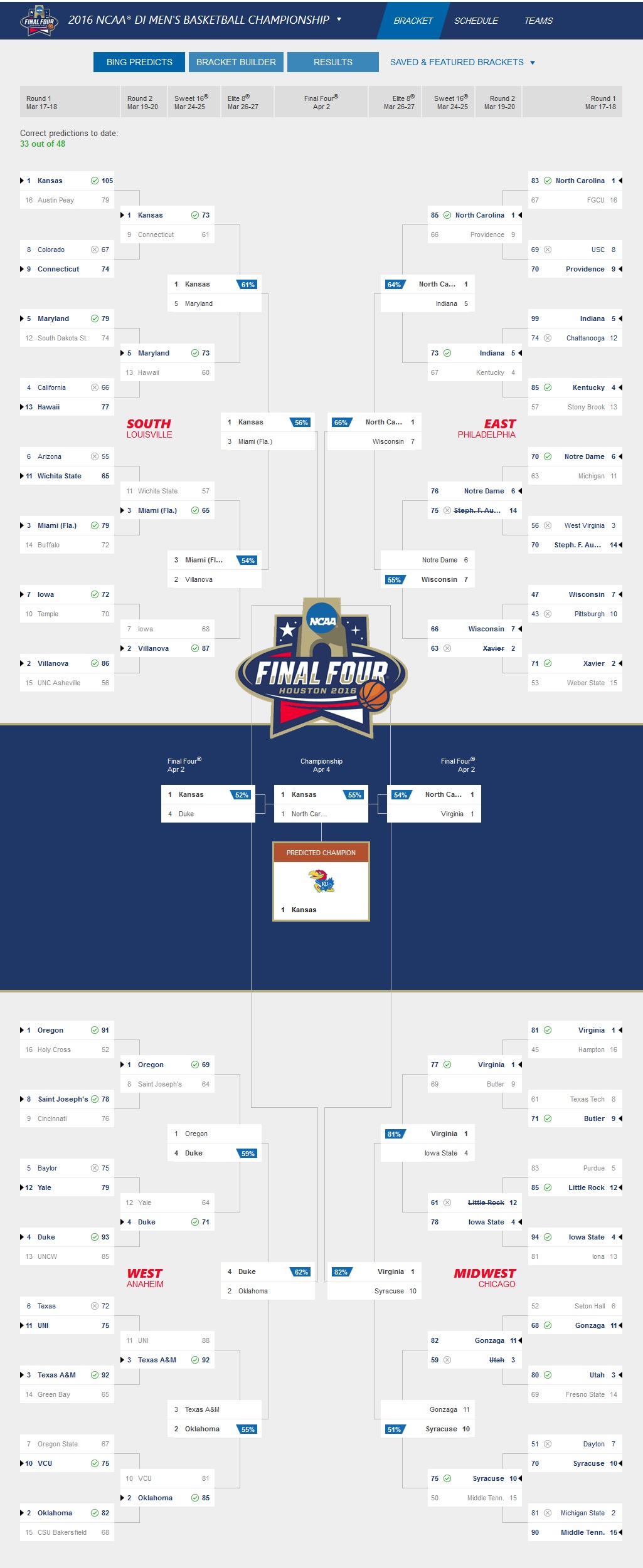 The picture hasn't changed too dramatically. Bing now has Virginia advancing to the Final Four, leaving Oregon as the only #1 seed out. The Perrill team is excited to see that Bing has regional favorite Wisconsin advancing to the Elite Eight. Of course, since Bing predicted Wisconsin to lose each of those first two games, maybe this isn't a good thing.
Bing is holding strong with its prediction of a Kansas-North Carolina final, with the Jayhawks still sitting at a 55% chance to win that game. However, it's going to be a little harder for North Carolina to get there according to Bing. Previously, the Tarheels had a 69% chance of winning their penultimate game over Michigan State. With Virginia as their new opponent, the chances have dropped down to 54%. 
Really, things aren't looking that bad for Bing right now. Other than the loss of Bing's Final Four-bound Michigan State in the first round, the search engine looks pretty good for future rounds. Bing still has 6 of 8 Elite Eight teams, 3 of 4 Final Four teams, and both Championship game teams left. Yes, it was a messy first two rounds for nearly everyone, but Bing's bracket is in better shape than most.