Bing Predicts Dominates NFL Week 1; Week 2 Preview
September 15, 2015
This post is for the NFL 2015 season. To get a recap of Week 1 and a Week 2 preview for the 2016 season, click here. 
For anyone groaning about the return of Bing Predicts, it's time to eat crow. Bing Predicts dominated Week 1 of the NFL season with a 13-3 record, establishing itself as this year's leading prediction engine.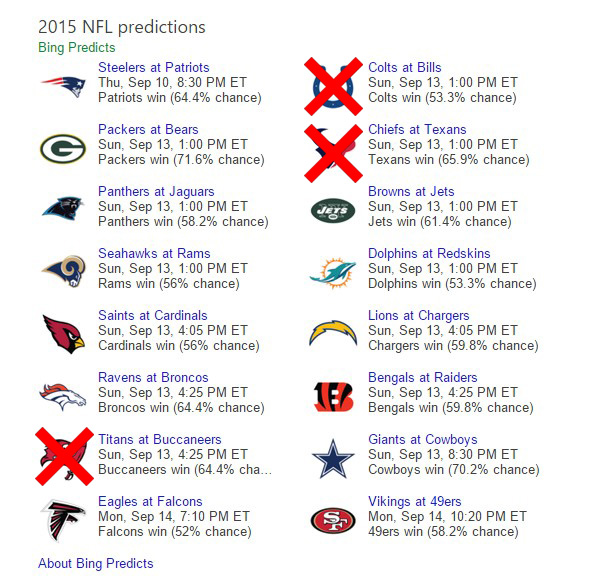 During 2014, Bing Predicts launched its NFL career with a 10-6 start. Bing easily bested that this year, perhaps showing some improvements in the prediction algorithm.
This fast start for Bing matches the search engine's best performance from last season. During 2014, Bing had two 13-win weeks (Week 5 and Week 16). But this type of success wasn't typical. In 7 of 17 weeks last year, Bing had fewer than 10 correct picks. After this week though, it looks like Bing may have ironed some of those kinks out of its prediction model.
Bing Beats Vegas (and Everyone Else)
The 13-3 start for Bing easily puts it ahead of other prediction engines. Although Bing usually sides with the Vegas favorites, the search engine picked against Vegas three times this week. Bing went a perfect 3-0 in those games (Rams, 49ers, Falcons). Bing also edged out Nate Silver's FiveThirtyEight predictions, which went 12-4.
Bing's three losers this week were the Colts, Texans, and Buccaneers. This is a rough start for two of Bing's predicted playoff teams (Colts and Texans). But the search engine isn't changing any playoff picks quite yet: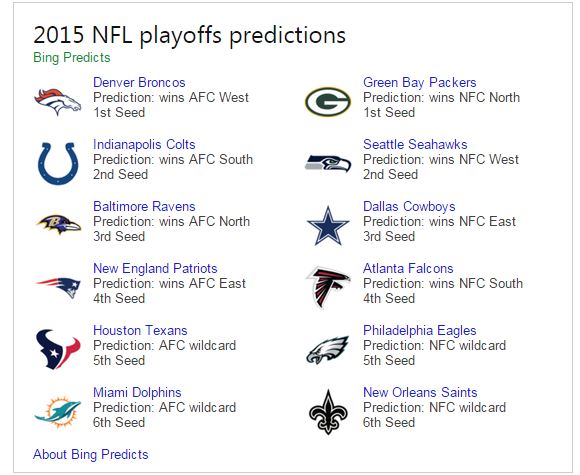 Bing Predicts Week 1 Quick Stats
As we've seen in the past, Bing heavily favored the home team during Week 1. This strategy paid off pretty well for Bing this week:
9-2 when picking the home team to win
4-1 when picking the visitors to win
Last year, Bing struggled when the predicted winner's chances were under 60%. That wasn't the case this week:
8-1 when chances were under 60%
3-2 when chances were between 60 and 70%
2-0 when chances were between 70 and 80%
Bing didn't have any teams with over an 80% chance during Week 1. It will be interesting to see if the prediction algorithm gets a little more aggressive after this opening week success.
It's also worth noting that Bing didn't change any picks during the week, a strategy that has failed the search engine in the past. Maybe it's learned to trust its initial instincts (er, I mean, data). 
Bing Predicts Week 2 Preview
Will Bing be able to continue at this pace during Week 2? Here are the initial predictions: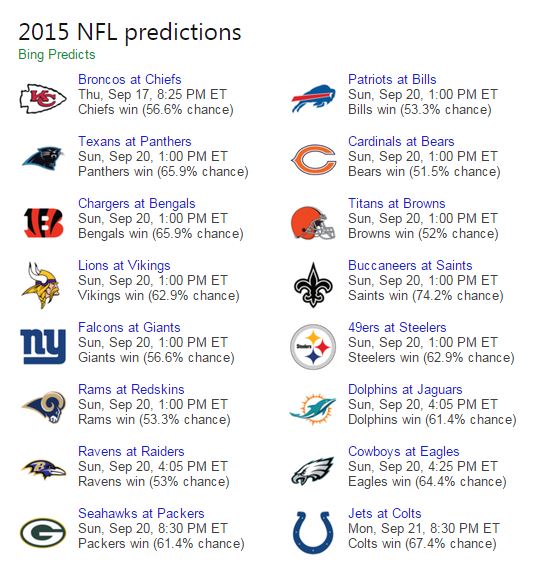 Bing is once again pushing hard on home field advantage. The search engine is going with the home team in 13 of 16 games. Bing's home team losers aren't much of a surprise. The Redskins, Jaguars, and Raiders are three of the worst teams in the NFL, and they are all coming off losses. 
This week Bing is handing the Patriots their first loss. It may be a bit of a surprise, but the Bills looked pretty strong against the Colts last week, and the game is in Buffalo. This one is a close call that could change before game time. I also wouldn't be surprised to see Bing change that Browns-Titans prediction. 
If Bing's predictions hold true, the Seahawks will start the season 0-2, and the Rams will be in first place. This would make for a pretty interesting start to the season.  
Just like last week, Bing isn't all that confident about many of these games. Here's a breakdown of the predicted chances:
50-59.9% - 7 games
60-69.9% - 8 games
70-79.9% - 1 game
80%+ - 0 games
Those 60-69.9% games were the weak spot for Bing during Week 1. But even if that holds true again this week, Bing could still have a strong performance.
I really underestimated the search engine during Week 1 (60% chance of 9 or more correct), but I'm not quite ready to take their predictions as the ultimate truth. For Week 2, I'm giving Bing Predicts a 60% chance of getting 11 or more predictions correct.