Bing Predicts Looks Good in NFL Week 12, Makes Bold Predictions for Week 13
November 25, 2014
Note: This post is for the 2014 season. Click here to see the Week 12 results and Week 13 preview for 2015.
After struggling in Week 11, Bing Predicts came back with a strong showing in Week 12. The search engine had an 11-4 record this week, putting it 116-60 overall this season. Bing's 65.9% accuracy puts it well ahead of its goal to get the majority of the games correct.
Bing Predicts Week 12 Recap
As good as 11-4 is, the search engine would have performed even better had it not made two mid-week changes. As we've seen before, Bing does not typically do well when it changes its mind. Prior to the Week 12 kickoff, the prediction engine decided to go with the Falcons over the Browns and the Texans over the Bengals. In both cases, Bing sided with the home team rather than the team with the better record. Had Bing stuck with its original predictions, it would have tied its best week yet with a 13-2 record. Both the Falcons and the Texans lost, which puts Bing at 6-11 on the season when switching from its original pick.
Aside from Bing's ill-advised switches, the only games it missed were the Raiders upset over the Chiefs and the Ravens beating the Saints. We can't blame Bing for picking the Chiefs—although we knew the Raiders had to win one eventually.
The major trends we've seen all season continued this week, with Bing performing well when it picked the home team (9-3) and when the predicted chances were high. This week, Bing was 11-2 in games with chances of 60% or higher. Here is a breakdown of how Bing looks so far this season based on predicted chances:
33-32 (50.8%) when predicting chances of 50-59.9%
36-14 (72%) when predicting chances of 60-69.9%
39-11 (78%) when predicting chances of 70-79.9%
8-3 (72.8%) when predicting chances of 80% and above
The most interesting takeaway here is that Bing seems to peak in the 70-79.9% range. When it gets too confident, the search engine's accuracy actually goes down a bit. Of course, the 80% and above range also provides us with a much smaller sample size. Overall, this data tells us that Bing is pretty good at predicting chance.
Is Bing Really That Good?
There has been plenty of chatter on the web that Bing Predicts isn't doing anything impressive. Each week, "keyboard heroes" post comments about how their own records are much better than Bing's. These (usually) anonymous commenters don't give Bing's predictive algorithm any credit. After all, if they can get most of the games correct, then a super computer should be able to get all of the games correct, right?
Not so fast. There is a huge difference between creating an algorithm that makes predictions based on a variety of tangible and intangible data and being able to pick which team is going to win based on your extensive knowledge of football combined with your own gut. The algorithm can't say "You know what? I have a hunch the Rams are going to beat the Broncos. Oh, and the winless Raiders are going to take down the Chiefs." These results are impossible for Bing's algorithm to predict because Bing bases everything on chance. Is there a chance the Raiders could beat the Patriots in any given week of football? Of course there is. If there was no chance at all, they wouldn't need to play the games.
Bing's predictions are based on the likelihood of an outcome. Each week, Bing's algorithm determines how likely it is that a given team will win. The search engine then makes a prediction based on these odds. It makes complete sense that the search engine does better when the chances are higher. This shows us that Bing is very good at what it does.
Bing Predicts Some Surprises in Week 13
Although Bing doesn't have the ability to predict major upsets, it can use the available data to suggest an outcome that may go against conventional wisdom. Two games from Week 13 stand out as relative surprises:
Packers over Patriots with a 58.2% chance
49ers over Seahawks with a 53.3% chance
In both of these games, Bing is siding with the home team, which makes sense given the home team does win the majority of the games. The 49ers-Seahawks game must be particularly difficult for Bing because these are two of the search engine's favorite teams. Bing has favored the Seahawks 10 times this season and the 49ers in 9 games. Both teams are 7-4. Might as well go with the home team, right?
The Packers-Patriots game isn't much easier. Both teams have looked almost unbeatable as of late (although the Packers 3-point victory over the Vikings was less than impressive). The Patriots do have the better record on the year, but the game is in Green Bay. I think Bing will get both these games wrong, but I won't hold that against the search engine. After all, Bing can only predict based on the data.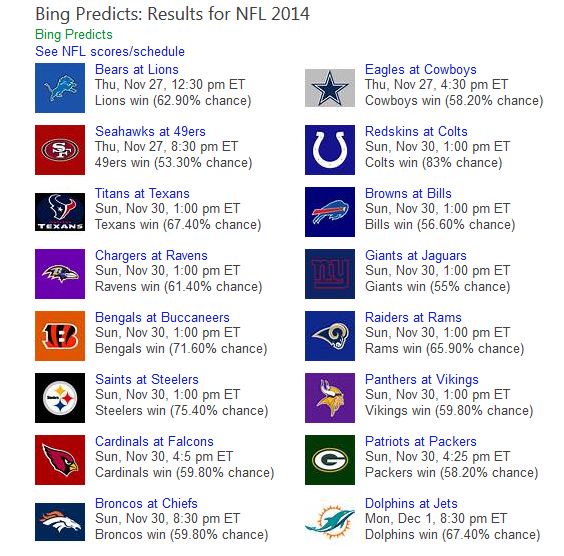 This looks like it could be a difficult week for the search engine. There are only three games with predicted chances above 70%, and half this week's games are below a 60% chance. Statistically speaking, things don't look good for Bing.
Here is a breakdown of this week's predictions:
Bing is going with the home team in 11 of 16 games
50-59.9% chance: 8 games
60-69.9% chance: 5 games
70-79.9% chance: 2 games
80%+ chance: 1 game
It's also worth noting that Bing has already changed one of its picks this week. Earlier today, the search engine had the Browns beating the Bills but has since sided with the Bills. Maybe it's because of all the snow.
My Predicting Bing Predicts algorithm gives the search engine a 53% chance of going 9-7 or better this week.