Bing Predicts Looks Strong in NFL Week 5, Hopes to Maintain in Week 6
October 13, 2015
After a pedestrian NFL Week 4, Bing Predicts looked pretty good in Week 5. The prediction engine finished the week with a 10-4 record, putting it at 48-29 on the season (62.3%). That puts Bing just barely ahead of pace with its performance through five weeks during its inaugural season last year (47-29).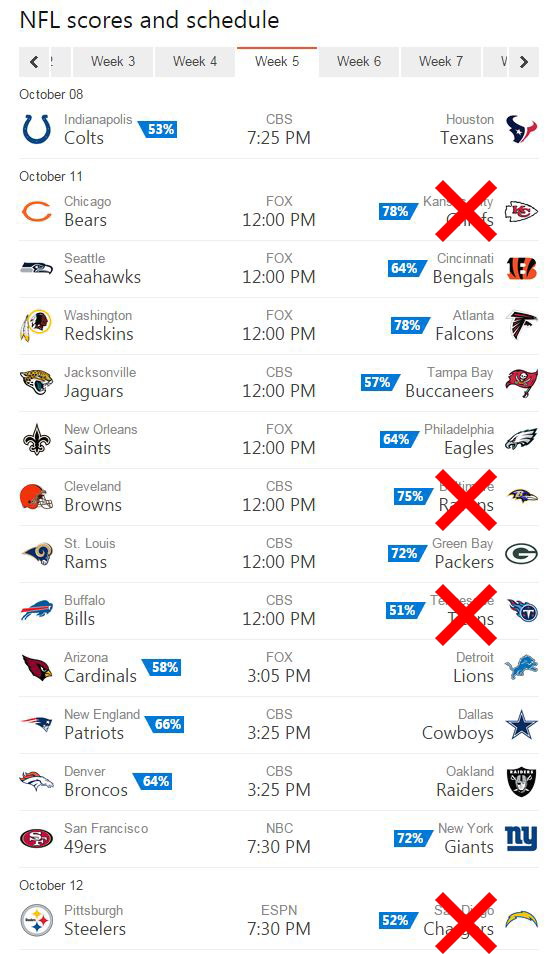 A Good Week, But Bing Falls Further Behind
While 10-4 is a respectable showing, Bing didn't gain any ground on other prediction models. Nate Silver's FiveThirtyEight project went 12-2 (52-24 on the season), and the Vegas picks went 10-3 (50-26 on the season) after abstaining from the Colts-Texans game due to Luck's uncertainty. Bing is going to have to come up big with some underdog predictions in order to catch its rivals. Although Bing isn't big on picking the underdog, we did see steady improvement from the search engine last year. With 12 weeks left to play, there's plenty of time to catch up. 
Don't Change Your Mind, Bing!
Week 5 was the first time this season where we saw Bing change its picks midweek. This isn't something the prediction engine does often, but it's not entirely unprecedented. During the 2014 season, Bing changed its picks 19 times, resulting in an abysmal 7-12 record. This week, Bing switched its picks on the Colts-Texans, Titans-Bills, and Chargers-Steelers games. Only the Colts pick worked out for Bing, putting the search engine at 1-2 so far this season when changing its mind. In other words, don't bet on Bing when there is a midweek switch. Of course, you should probably never use Bing's predictions to bet on the outcome of a football game (Bing even cautions that these predictions are not for betting purposes).
Week 5 Breakdown
Heading into Week 5, Bing predicted we would still have 6 unbeaten teams and 1 winless team. The search engine was right on all accounts here. The Packers, Bengals, Falcons, and Broncos all moved to 5-0, and the Patriots moved to 4-0. The Panthers had a bye, so their undefeated record was a foregone conclusion. In the most pathetic news in the NFL, the Lions fell to 0-5, just like Bing predicted. But the Lions won't go winless this season if Bing has anything to say about it. The search engine predicts Detroit to pull off its first win this week at home over the Bears.
Here's a quick overview of Bing's stats for the week:
6-4 when predicting the home team to win (35-22 on the season)
4-0 when predicting the visiting team to win (13-7 on the season)
3-2 when predicted chances were under 60% (15-15 on the season)
4-0 when predicted chances were between 60 and 69.9% (20-10 on the season)
 3-2 when predicted chances were between 70 and 79.9% (12-3 on the season)
Bing Updates Playoff Predictions
Bing's original playoff predictions have turned out to be almost a complete bust. 5 of Bing's original playoff teams have fallen out of the picture. Here's an updated look at the teams Bing says will go to the playoffs: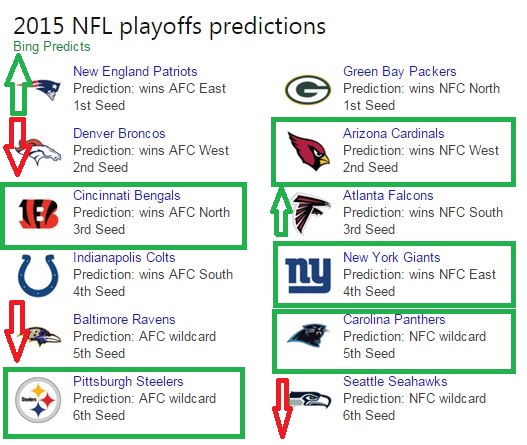 The search engine has added the undefeated Bengals and Panthers to the race, along with the Steelers, Giants, and Cardinals. Bing has dropped the Dolphins, Texans, Cowboys, Eagles, and Saints from playoff contention. Sitting at 1-4, the Ravens are likely to move out of this picture soon. 
Bing Predicts NFL Week 6 Preview
So how will Bing do during Week 6? It looks like it could be a tough week for Bing. Historically, the search engine performs best when the predicted chances are high. We're not seeing much confidence out of Bing this week: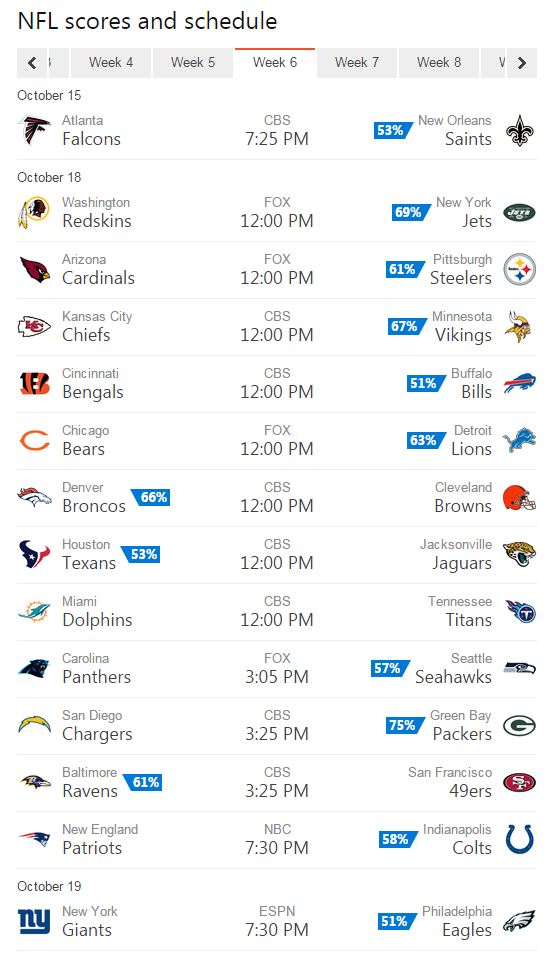 The search engine hasn't changed any of its predicted winners since the Week 5 results (although it now seems neutral in the Dolphins-Titans matchup; we'll assume that Bing is going to stick with the Titans as the winner). Bing did, however, make slight adjustments to all of the predicted chances. As always, we'll update Bing's predictions right here if they change. 
Bing is favoring the home team in 11 of 14 games this week, with only the Ravens, Broncos, and Texans pulling off road victories. There are a few instances here where the home team seems like they should be the underdog. 5 of the 6 remaining unbeaten teams are on the road this week, and Bing has all of these teams except the Broncos as the loser. The only one of these predictions that seems justified is the Panthers-Seahawks game. Yes, the Panthers are unbeaten, but can we really expect Cam Newton to lead his team to a win in Seattle? 
I expect Bing to change the Giants-Eagles pick before the end of the week. I'd also be surprised if Bing stuck with the Saints over the Falcons, the Colts over the Patriots, and the Bills over the Bengals. Then again, we know what happens when Bing changes its picks. As of now Bing thinks we'll only have two undefeated teams left after this week (Packers and Broncos). 
Here's a breakdown of Bing's picks by statistical chances this week:
7 games with predicted chance under 60%
6 games with predicted chance between 60 and 69.9%
1 game with predicted chance between 70 and 79.9%
Based on the data we have from this season, I expect Bing to go 9-5 this week. 
Week 6 Update
Bing Predicts wasted no time updating several of its picks. Since these updates were released within a day of the conclusion of Week 5, they won't be included in Bing's midweek change record. Here is an updated look at what Bing says will happen this week: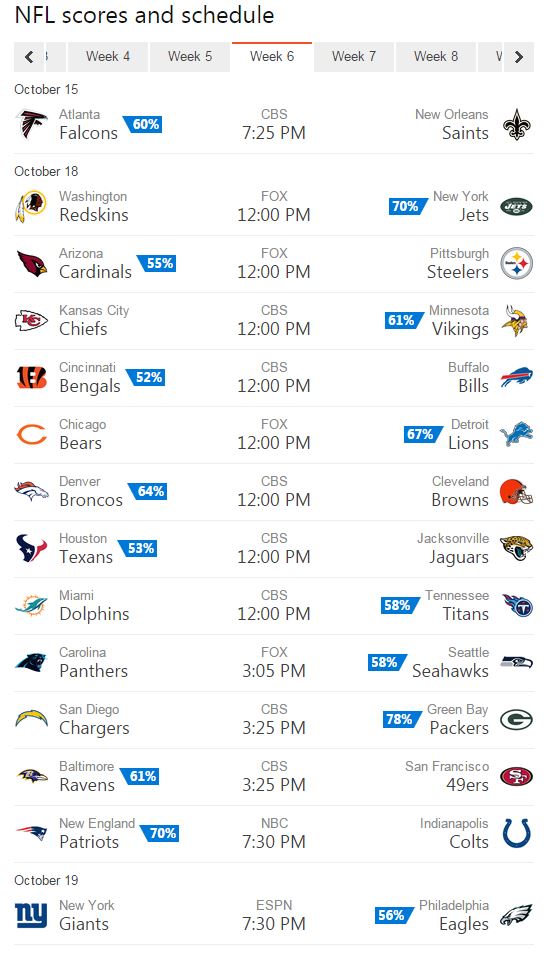 As I expected, Bing is now going with the Patriots over the Colts, the Bengals over the Bills, and the Falcons over the Saints. That means we should expect to see four teams survive as undefeated after this week. 
Bing has shifted away from home field advantage, going with the visitors in 7 of 14 games. Here's an updated look at the predicted chances:
6 games with predicted chance under 60%
5 games with predicted chance between 60 and 69.9%
3 game with predicted chance between 70 and 79.9%
Based on the updated picks, I'll predict Bing goes 10-4 this week.