Bing Predicts NFL 2015: Week 1 Preview
September 8, 2015
This post is for the 2015 NFL season. For a preview of Bing's Week 1 picks for 2016, click here.
If you're not ready for the NFL 2015 season, you don't have much time left. Luckily, Bing Predicts is here to help you catch up. 
Bing Predicts is back for a second season of calling the outcomes of every NFL matchup. Last year, the search engine held its own against other prediction algorithms, finishing the season with a respectable regular season record of 169-87 (66%). Bing also called the Patriots to win at all over a month before the Super Bowl matchup was decided. Not too shabby for an algorithmic prediction model trying to make sense of hundreds of data points. 
New to the program this year, Bing Predicts is already calling the playoff teams before a single snap: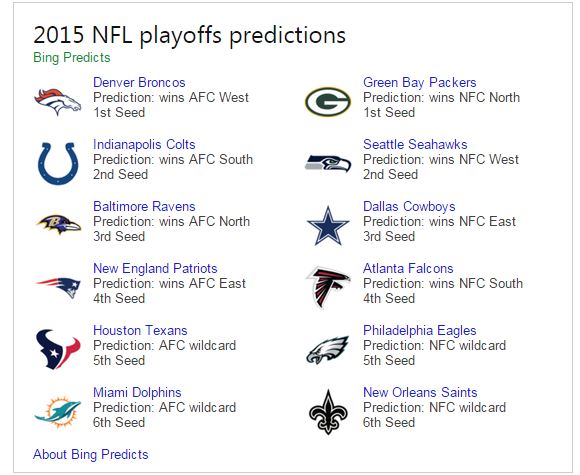 You should recognize 7 of those teams from last year's playoffs. New to the playoff picture this year are the Texans, Dolphins, Falcons, Eagles, and Saints. It might be worth mentioning that these predictions were first released before Tom Brady's suspension was overturned, so that #4 seed for the Patriots might soon change. 
Bing Predicts NFL Week 1 Predictions
With the playoffs several months away, there's not much point in getting too hung up on these predictions. Instead, let's dive into what Bing is saying will happen during Week 1: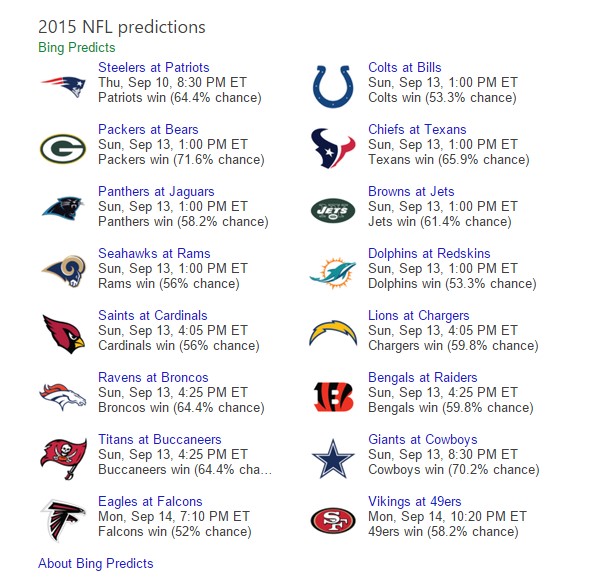 It should come as no surprise that Bing is favoring the home team in 11 of the 16 matchups. Even though the home team historically only wins about 57% of the time, Bing really likes home field advantage. Last year, the search engine picked the home team to win 172 of 256 games. It ended up being a pretty good strategy. Bing's home team favorite won 115 of those games.
There aren't any huge surprises here for Week 1. Perhaps the biggest is the Rams beating the Seahawks in St. Louis. But let's not forget that the Rams beat the Seahawks during Week 7 last year, and this is possibly a better Rams team. If nothing else, Bing is trying to avoid making the same mistake. In that game last year, the search engine gave Seattle a 70% chance to win. 
According to these picks, four of Bing's playoff favorites will be starting the season with a loss: Seahawks, Eagles, Ravens, and Saints. Of course, two of these losses will be at the hands of other playoff teams, so it would be impossible for all of Bing's teams to start the season with a win. 
Bing's Confidence Level
Bing is starting the season with relatively low confidence. One of the most standout stats from Bing's first year predicting NFL winners was its performance by predicted chance. The search engine performed much better when predicting a team to win by 70% or more:
Bing only has two teams winning with a chance above 70% this week. During Week 1 last year, Bing had four teams winning with a chance over 70%, and the average chance was 64.7%. Maybe Bing is starting off conservatively, or maybe this year's season is starting off with tougher games. The average chance for Week 1 this year is just 60.5%, and Bing's predicted chance is under 60% for nine games. Based on last year's results, this doesn't bode well for the search engine. 
So how will Bing do this week? Taking into account all the factors, I give Bing a 60% chance of getting 9 or more games right. In 2014, Bing started the season with a 10-6 performance during Week 1. So it could be a slow start for Bing, but there's plenty of season to recover.