Bing Predicts NFL Playoff Update & Super Bowl Preview
January 25, 2016
Bing predicts needs a new Super Bowl winner. For the past month, the search engine has been predicting a Super Bowl repeat for the New England Patriots. We can now say with 100% certainty that it won't happen this year.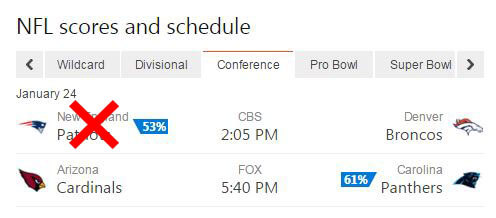 The search engine was so proud of itself last year when it called the Patriots to win months before the big game. You almost had to wonder if they were picking the Patriots again this year just to test fate.  
With only a 53% chance to win this weekend, the Patriots couldn't stand up to Bing's prediction. Bing went 1-1 during the Conference Championship round, putting the prediction engine at 7-3 for the 2015-16 NFL playoffs. During last year's inaugural season of Bing football predictions, the search engine went 9-2. The Patriots loss this weekend guarantees Bing cannot equal last year's performance. 
So who does Bing say will win it all now? It shouldn't come as a surprise based on this weekend's performances. The Panthers were dominant in every aspect for four quarters. Compare that to a relatively weak Denver offense, and you seem to have a dream matchup for the nearly-undefeated Panthers. If Peyton Manning was watching the Panthers secondary on Sunday night, he's probably a bit scared right now. Bing, what are the chances that Manning throws more than three interceptions? 
We don't really expect the game to be that lopsided. With the best defense in the league, the Broncos should put up a great fight and really test Newton's MVP status. Here's what Bing says will happen:

Heading into last year's Super Bowl, Bing gave the Patriots just a 51% edge over the Seahawks. That was a game for the ages, leaving Bing looking pretty smart. 64% is a pretty big edge for a Super Bowl game. For what it's worth, Bing was 11-6 this year in games with a 64% chance, which put the odds in the search engine's (and Carolina's) favor. 
So how will this one turn out? We expect Bing to get it right, moving to 8-3 for this year's playoffs.