Bing Predicts NFL Results, Opens Season with a Win
September 5, 2014
On Thursday night, the Seattle Seahawks did exactly what Microsoft's Bing said they would do. The defending Super Bowl champs officially opened the 2014 NFL season by easily defeating the Cheeseheads 36-16, giving Bing a perfect record so far this season.
Earlier this week, Bing announced its predictions for Week 1 of the NFL season, giving the Seahawks a 74.2 percent chance to beat the Packers. While most non-Wisconsinites probably would've made a similar prediction, that doesn't take away from Bing's accomplishment.
Bing is no stranger to predicting the outcomes of sporting events. During the World Cup knockout stage, the search engine went a perfect 15-0 (if you don't count that elusive 3rd place game) in its predictions. Microsoft expects their prediction machine to churn out similar success throughout the NFL season, confidently stating that most of its NFL picks should be correct. However, for those gamblers out there, they do offer this disclaimer: "No statistics or sentiments can fairly capture the energy, the passion and the preparation the players bring on the field."
In other words, don't blame Bing if your team loses. It's probably worth noting that Bing's predictions were only 60% accurate during the group stage of the World Cup, but maybe they just needed to work a few kinks out of the system.
Here's a look at the rest of Week 1's predictions: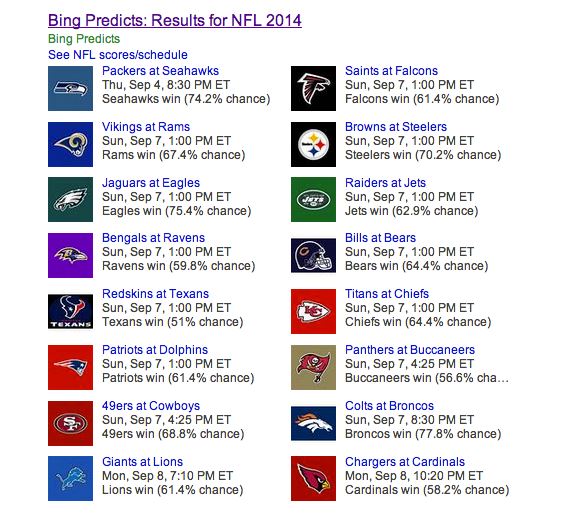 For this former St. Louisan living in Minnesota, I'm particularly fond of Bing's prediction for that Rams-Vikings game (but does Bing know that Bradford is out for the season?).
For 14 of the 16 games, Bing predicts the home team will win.The only exceptions are the Patriots and the 49ers snagging road wins over the Dolphins and the Cowboys, which both seem like no-brainers. Of course, this home field advantage prediction method could turn out to be a bit risky. Since 1966, home teams have only won 57.3% of the time.
Bing's biggest chance of failure in Week 1: Redskins at Texans. With only a 51% edge to the Texans, this game looks like a toss-up. It's also a game that probably won't have any impact on the NFL season as a whole.
So how exactly does Bing make its predictions for NFL games? Microsoft says they "model the respective strengths of the teams" by looking at a variety of factors, including:
outcomes from previous seasons
location of contest
playing surface
weather and temperature conditions
multiple offensive and defensive statistics
While that all sounds nice, it may seem to leave a lot of room for error based on factors both on and off the field. However, Bing doesn't stop its prediction genius there. Additionally, the prediction engine turns to social media and other websites to "track their sentiment to understand the aggregated wisdom of this expressive crowd. This introduces data which statistics alone cannot capture, providing real-time adjustments which surprisingly can capture injury news and other substantive factors in win probabilities."
So if enough people believe a team will win, does that mean Bing will believe in them? This could give the 12th Man factor a completely new edge.
Come back next week for an analysis of Bing's Week 1 performance. My prediction: Bing goes 12-4.