Bing Predicts NFL Week 8 Analysis and Week 9 Preview
October 29, 2014
Note: This post is for the 2014 season. Click here to see the Week 8 results and Week 9 preview for 2015.
Bing Predicts lost a bit of steam in NFL Week 8. After an impressive three-week run with a combined accuracy of almost 78%, the search engine was only 10-5 on its football predictions this week.
While 10-5 is still a solid showing—and just as good as any similar predictive model—our expectations for the prediction machine have risen in recent weeks. Let's also not forget that Bing successfully predicted all of the World Cup knockout round matches. The search engine has correctly picked the winner in 79 of the 121 games played so far this season. How many of us have created an algorithm capable of such accuracy?
Why Bing's Hot Streak Ended
In part, Bing's slip was due to the sometimes unpredictable nature of the NFL, most notably exhibited on Monday night when the struggling Redskins defeated the red-hot Cowboys. Had things gone the way they were "supposed to" in the only Week 8 game Bing foretold with an 80% chance, the prediction machine would've been 11-4 for the third straight week. As we know by now, the outcome of sports often does not correspond with the "chances."
Bing obviously had no control over the result of the Redskins-Cowboys matchup, and there was no reasonable data to suggest the Redskins would win. As I've mentioned before, we have no way of saying Bing was wrong to give the Cowboys an 80% chance of winning. Of course, that doesn't absolve Bing of this loss.
There is a bigger reason why Bing didn't do as well this week. The search engine made last minute switches in two games: Jets-Bills and Bengals-Ravens. In both cases, Bing changed its pick to the losing team. If Bing hadn't made these game-time decisions, its record would have been 12-3. The search engine has changed its pick a total of 14 times so far this season and is only 6-8 in those games. In other words, don't change your because Bing changed its picks.
Of course, the week wasn't a complete bust for the search engine. Bing's highlight was its 7-0 performance in games with a predicted chance of 60-79.9%.
How Does Bing Calculate Those Chances?
Bing does not publish its predictive algorithm, but it does give us a list of factors it considers. These factors include a variety of historical performance data as well as location, weather conditions, and even social signals and website mentions. It's unclear exactly how much weight is placed on each factor, but one thing is fairly obvious: Bing usually agrees with the Vegas odds.
Bing has only disagreed with the Vegas picks a handful of times. In fact, the Vegas picks (spread not withstanding) are 80-41 this year, a record almost identical to Bing's. In Week 8, Bing agreed with Vegas on all 15 games. As of right now, Bing is siding with Vegas favorites in 11 of 13 games. So how do Bing's chances compare to the Vegas spread? Let's look at some examples (Note: all odds are based on the latest available information and are subject to change):
Seahawks-Raiders | Vegas: Seahawks -15.5 | Bing: Seahawks 87.2%
Bengals-Jaguars | Vegas: Bengals -13.5 | Bing: Bengals 76.7%
49ers-Rams | Vegas: 49ers -7.5 | Bing: 49ers 77.8%
Chiefs-Jets | Vegas: Chiefs -7.5 | Bing: Chiefs 76.7%
It doesn't seem like much of a coincidence that the 4 games with the biggest spreads are also the 4 games with the highest Bing chances. But how closely do the Bing chances correspond with the spreads? There appears to be some correlation, but it breaks down pretty quickly, even with the four games listed above. Based on the spreads alone, Bing should have the Bengals winning with over an 80% chance. The fact that Bing gives the 49ers a higher chance of beating the Rams than the Bengals beating the Jaguars suggests that many other factors are in play here.
When we explore more of this week's matchups, we notice even bigger discrepancies.
Browns-Bucs | Vegas: Browns -6 | Bing: Browns 65.9%
Steelers-Ravens | Vegas: Steelers -1.5 | Bing: Steelers 67.4%
Cowboys-Cardinals | Vegas: Cowboys -4 | Bing: Cowboys 59.8%
Colts-Giants | Vegas: Colts -3 | Bing: Colts 61.4%
Patriots-Broncos | Vegas: Broncos -4 | Bing: Broncos 53.3%
While there might be some general correlation (big spread=high chances), there certainly isn't a cross-the-board correlation between Vegas spreads and Bing chances. Bing's fifth highest chance goes to the Steelers over the Ravens this week, a game in which the Vegas spread is only 1.5 points. When the two teams squared off earlier this year, Bing favored the Steelers while Vegas sided with the Ravens. The Ravens won that game. Will this be Bing's redemption?
The conclusion: Bing may use Vegas odds as one factor, but it is certainly not the largest factor in play. In fact, Bing may not pay any attention to these odds at all when calculating its chances.
Full Week 9 Predictions
Interesting fact of the week: Bing's 87.2% chance on the Seahawks beating the Raiders is the highest percentage the search engine has assigned all year. Not a surprise prediction by any means. The previous highest chances were the Chargers over the Jaguars (84%) and the Patriots over the Raiders (83%). Interestingly enough, the Patriots struggled against the Raiders and only won by 7 points. How will the Seahawks fare with such high pressure? Bing is only 4-2 this season in games with a predicted chance of 80% or more, so the Seahawks definitely aren't in the clear.
How will Bing do this week?
Here is a quick rundown of the Bing Predicts picks for Week 9: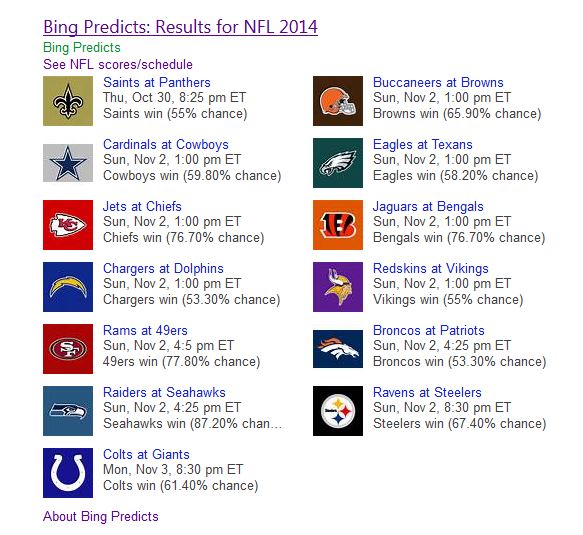 Note: the numbers in parentheses indicate Bing's overall record based on that particular attribute.
Bing is going with the home team in 8 of 13 games (55-26)
Games with chance between 50-59.9%: 6 (25-23)
Games with chance between 60-69.9%: 3 (24-10)
Games with chance between 70-79.9%: 3 (26-7)
Games over 80% chance: 1 (4-2)
I give the prediction engine a 57% chance of going 9-4 or better this week.