Bing Predicts Not Much Better in NFL Week 2; Week 3 Preview
September 20, 2016
After its worst opening week ever, Bing Predicts made the slightest of comebacks during Week 2 with a 9-7 record. This puts the search engine at 17-15 for the season, just two games behind where it was last year at this time. 
It didn't look like Bing made any adjustments to its algorithm heading into Week 2. The search engine stuck with its typical strategy of favoring the home team in most games. If Bing wants to have its best season yet, the prediction engine may need to start getting a bit more creative. Of course, we're only two weeks into a long season, so it's certainly not time to panic. 
Bing Predicts NFL Week 2 Recap
Here's a complete look at what Bing missed during Week 2: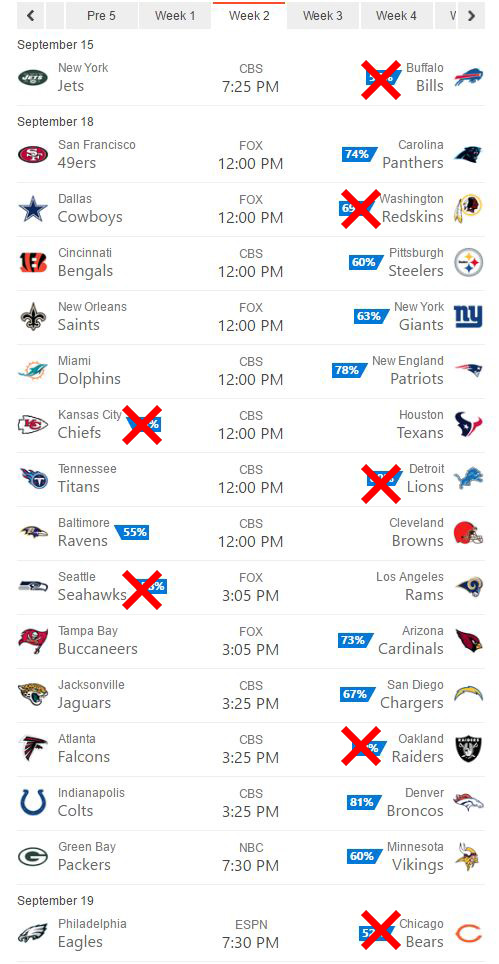 Just like last week, Bing lost a handful of close games. However, Bing also missed the Bears getting dominated at home. The stunner this week was the Lions losing to the Titans in Detroit in spite of Bing's 80% chance of a Lions win. Bing rarely misses games when the predicted chance is so high. But then again, this was the Lions we're talking about. 
Here's a full breakdown of Bing's Week 2 performance: 
8-5 when favoring the home team (13-11 on the season)
1-2 when picking the visitors to win (4-4 on the season)
1-4 when predicted chance under 60% (5-11 on the season)
4-1 when predicted chance between 60% and 69.9% (6-2 on the season)
3-1 when predicted chance between 70% and 79.9% (5-1 on the season)
1-1 when predicted chance greater than 80% (1-1 on the season)
Bing is off to a strong start when the predicted chances are over 60%. The search engine has gotten 12 of 16 games right under these conditions. On the flipside, Bing has gotten less than 32% of games correct with a predicted chance under 60%.   
Bing Predicts Week 3 Preview
With two weeks in the books, Bing doesn't show any signs of adjusting its algorithm. Here's what the search engine says will happen this week: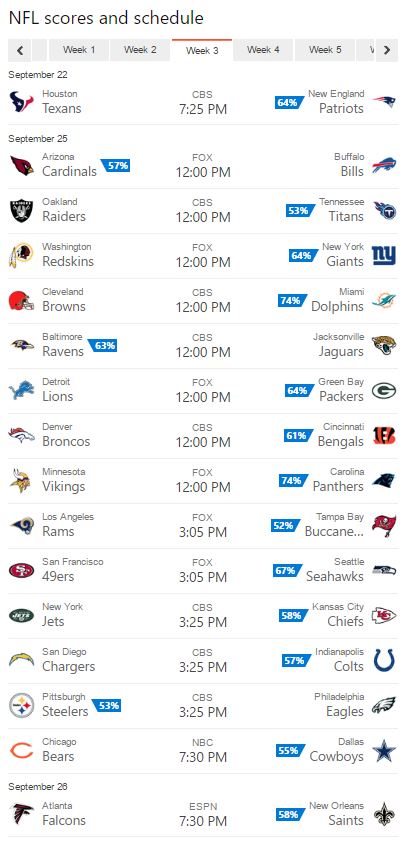 Once again, the search engine is picking the home team to win 13 of 16 games. If historical data trends mean anything, then this might be a tough week for Bing. The prediction engine has the chances at under 60% for half the games.
Here's a breakdown of Bing's Week 3 predictions:
8 games with predicted chance under 60%
6 games with predicted chance between 60 and 69.9%
2 games with predicted chance between 70 and 79.9%
0 games with predicted chance over 80%
If Bing's predictions hold true, there will be 4 undefeated teams left after this week: Patriots, Steelers, Ravens, and Giants. There will also be 5 teams without a win: Jaguars, Bills, Browns, Bears, and Redskins. What are the odds of more Bills personnel being fired if that happens? 
One of Bing's most confident predictions this week is the Panthers over the 2-0 Vikings. Although we do have some Minnesota bias, it's hard to imagine the Vikings winning in Carolina without Adrian Peterson (it would have been equally hard to imagine them winning with him). But this is football, so you never know what's going to happen. As they say, that's why they play the game (and why Bing never gives anyone a 100% chance of winning). 
I was a little too generous in my Bing Predicts prediction last week. I'm calling another 9-7 performance for Week 3.