Bing Predicts Perfect in Divisional Round; Championship Weekend Preview
January 19, 2016
Bing Predicts went a perfect 4-0 in the NFL Divisional Round, improving its playoff record to 6-2.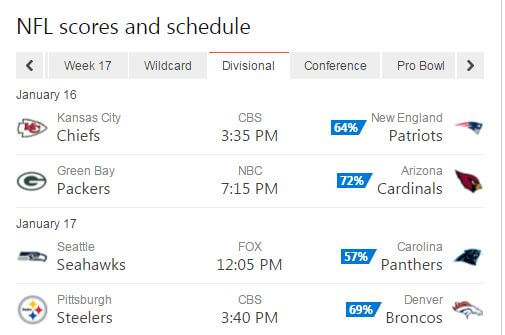 As great as it sounds to go perfect, Bing didn't necessarily do anything special here. The search engine picked the home team and top seed in each of the four games. Home field advantage proved valuable this weekend, with all the visitors flying back home with their season over. 
This seemingly unsurprising result actually leaves us with something relatively rare: the top two seeds from each conference will be facing off on Championship Sunday. Since 2005, 15 of the 1 or 2 seeds have failed to make it to the conference championship. In fact, this marks the first time in a decade that all four of the highest seeds survived the Divisional Round. 
In other words, the temptation is to pick at least one upset in the Divisional Round. Our upset was the Chiefs over the Patriots, but that obviously didn't pan out. Bing, on the other hand, went against historical trends and instead focused solely on the statistical likelihood of each matchups. Not a bad strategy. 
So what will happen this weekend when the conference titles are handed out? Here's what Bing says, which is what the search engine has been saying all along: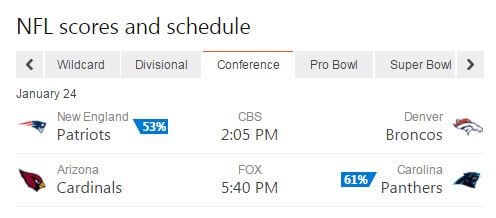 Bing's been predicting the Patriots versus the Panthers for the past month, and nothing that happened this past weekend gave the search engine any reason to doubt this prediction. The Patriots looked strong even with an extensive injury report. The Panthers looked unbeatable (for at least one half). The Broncos struggled on offense but excelled on defense. The Cardinals had things go their way in a game for the ages. It's hard to pick against the Patriots or the Panthers right now regardless of where the game is being played. 
Will Bing have another perfect week? As much as we'd love to see Peyton Manning back in the Super Bowl, we have a hard time picking against Bing this week. Expect Bing to get both games right.