Bing Predicts Respectable in NFL Week 6, Needs a Big Performance in Week 7
October 20, 2015
Bing Predicts was far from spectacular during NFL Week 6, but the search engine did manage to turn out a respectable 9-5 performance. This puts Bing at 57-34 (62.6%) overall on the season, just behind where the prediction engine was after six weeks during 2014. Last year, Bing was 58-33 (63.7%) at the end of Week 6.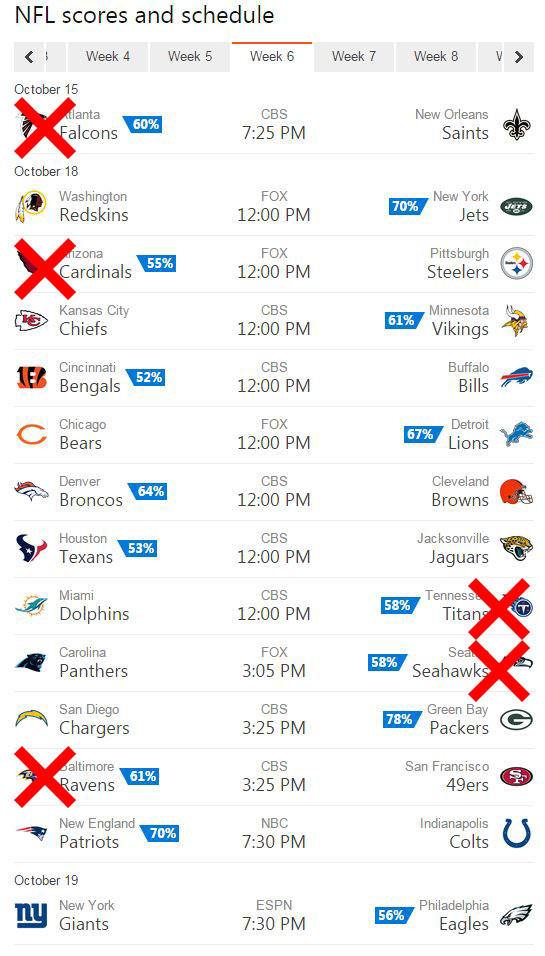 The week started off with an unexpected outcome in the Falcons-Saints game. Bing, who usually favors the home team but has been decidedly against the Saints all season, predicted the visiting Falcons would continue their unbeaten run through 6 games. However, the Falcons fell to the Saints, dropping their record to 5-1. Bing did successfully predict there would be 5 undefeated teams left at the week's end. The search engine just missed which one would lose (Bing had the Panthers losing to the Seahawks). The Packers, Panthers, Patriots, Broncos, and Bengals all remain perfect through six weeks. 
Bing was correct in predicting the Lions would end their winless streak. The search engine predicted the Lions as heavy favorites over the visiting Bears, a prediction that barely came true with an overtime win. 
Bing Predicts Week 6 Quick Stats
Bing picked more away teams than usual this week, going with the visitors in half the games. The search engine went 4-3 in these matchups, putting it at 17-10 on the season when siding with the visiting team. Bing was 5-2 when picking the home team this week, putting it at 40-24 on the season. For those keeping score, this means Bing is performing slightly better when predicting the away team (63% to 62.5%). 
It's no surprise how the rest of Bing's predictions turned out. Here's a break down by predicted chance:
3-3 when predicted chance was under 60% (18-18 on the season)
3-2 when predicted chance was between 60 and 69.9% (23-12 on the season)
3-0 when predicted chance was between 70 and 79.9% (15-3 on the season)
This was the second consecutive week where Bing had no team favored by 80% or more, a number we've only seen the search engine use twice so far this season (1-1 record in these games). 
Bing's predictions this week were the exact same as the Vegas picks, so Bing didn't gain any ground there (Vegas picks are now 59-31 on the season). However, Bing did lose more ground to Nate Silver's FiveThirtyEight project, which finished 12-2 this week and is now 64-26 on the season. Obviously, Bing has a lot of catching up to do.
Bing Predicts Playoff Picture Update
Bing made some big changes to its playoff predictions after the Week 6 games. Now we not only see the 6 teams most likely to go, but we also get to see the two teams Bing thinks are "in the hunt." Here's how the playoffs look right now according to Bing: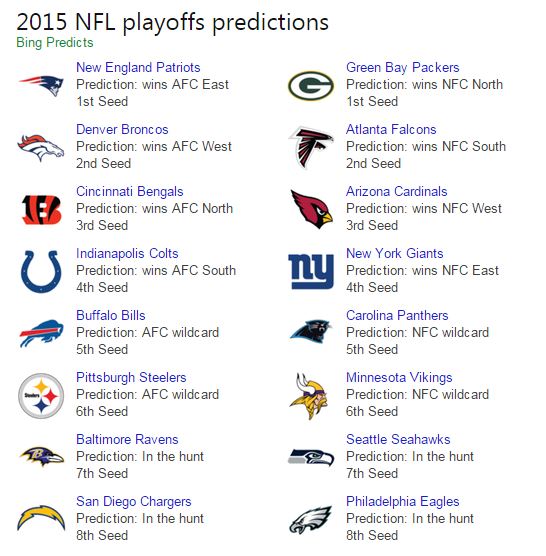 Okay, we can't help but laugh at the Vikings being a playoff team. As Minnesotans, we'd love to see it, but let's not get our hopes up too much. The biggest change here is that Bing has knocked the Seahawks (2-4) out of the playoffs. It's been a pretty wild year so far, and the only teams that look like playoff locks right now are the Packers, Patriots, Broncos, and Bengals. Expect Bing's playoff picture to change a lot in the upcoming weeks.
Bing Predicts NFL Week 7 Preview
Bing doesn't have any surprises for us in Week 7. Here are the predictions: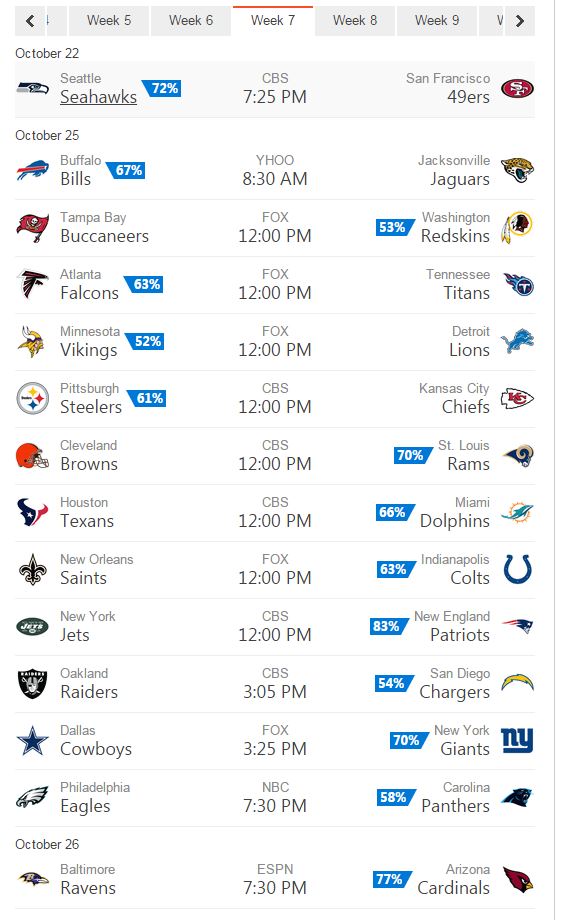 Bing is favoring the home team in 9 of 14 games this week, with the 5 exceptions coming from Bing playoff hopefuls (Seahawks, Bills, Steelers, Falcons, and Vikings). The search engine expects all of the undefeated teams to remain unbeaten after this week. With byes for the Packers and Broncos, we know we'll have at least two perfect teams when Week 7 is over.
Here's a breakdown of Bing's predicted chances:
4 games with predicted chance under 60%
5 games with predicted chance between 60 and 69.9%
4 games with predicted chance between 70 and 79.9%
1 game with predicted chance over 80%
Bing looks pretty confident this week, and I see no reason why the search engine shouldn't be. With as wild as the first six weeks have been though, we should be prepared for anything. Based on statistical data only, I predict Bing will go 10-4 this week.