Bing Predicts Roars Back in NFL Week 5, Focuses on Visiting Teams in Week 6
October 7, 2014
Note: This post is for the 2014 season. Click here to see the Week 5 results and Week 6 preview for 2015.
During NFL Week 5, Bing Predicts looked better than Tom Brady.
While the two-time MVP looked almost flawless in a much needed performance Sunday night against the previously undefeated Bengals, Microsoft's prediction machine overshadowed Brady's performance by delivering a 13-2 record for the week.
Okay, maybe that's a bit of an overstatement. After all, it's not like Bing predicted any major upsets this week. However, after Week 4's 5-8 debacle, there was plenty of skepticism about Bing and Cortana's prediction methods. Could anything be more irrelevant than a supercomputer that can't even predict outcomes of football games with 50% accuracy?
Don't Doubt Bing's Methods
To all the doubters out there (note that I was never one of them), Bing's prediction algorithm is smart. In fact, maybe it's a little too smart. The search engine originally predicted the Patriots as the winner of Sunday night's game, but the buzz around the undefeated Bengals and the slumping Brady was enough to make Bing go against the odds (well, technically the odds favored the Bengals all along).
I mentioned last week that Bing doesn't do very well when it changes its mind; however, the search engine was actually 2-1 this week in games where it switched predictions during the week. We could say If only Bing had stuck with the Patriots. Then it would've been 14-1 this week! Of course, by the same logic, we would have to assume the search engine would have stuck with the Titans and the Falcons, which would have resulted in a 12-3 record instead. We could go on and on with hypotheticals all day. The bottom line is Bing nailed it this week.
The switch to the Browns was perhaps the most impressive decision the search engine made, and perhaps the biggest sign that its algorithm is doing something right. This was the only Week 5 game in which Bing differed from the Vegas picks. It was a dramatic 1-point victory for the Browns, and a much bigger victory for the search engine.
When You Should Bet on Bing
Bing's impressive Week 5 performance puts the search engine at 47-29 on the season (61.8% accuracy). Do you want to put your money on Bing's predictions? Here's a breakdown of when the search engine is at its best and worst (Note: The author of this piece does not recommend betting on Bing's predictions and assumes no liability if you choose to risk your money on such frivolities):
18-4 when favoring a team with 70% chance or better (81.8%)
36-18 when predicting the home team to win (66.7%)
14-8 when favoring a team with a chance between 60% and 69.9% (63.6%)
11-11 when predicting the visiting team (50%)
15-17 when favoring a team with a chance less than 60% (46.9%)
7-9 for games played at night (43.8%)
If you want to get really specific, Bing is 9-0 combined when the final predicted chance is 77.8%, 74.2%, or 71.6%.
Week 6 Might Be a Different Story
One of the reasons Bing did so well in Week 5 was because the teams who were supposed to win did. Not a very profound statement there, but it's something to keep in mind. Bing's results weren't great because it decided to make bold predictions. For the most part, the search engine just picked the home team (a risky prediction method given the home team only wins 57% of the time). It just so happened that in most of Week 5's games, the home team was the better team. Other prediction models, like Five Thirty Eight's Elo experiment, also went 13-2 during Week 5 (although they arrived at this record a slightly different way).
Week 6 looks a lot different on paper. While Bing traditionally favors the home team to win, this week sees a big shift from the norm. The prediction machine is siding with the visiting team in 9 of 15 matchups. If the "historical" data holds true, Bing won't do very well this week. The search engine's accuracy is only 50% when going with the away team.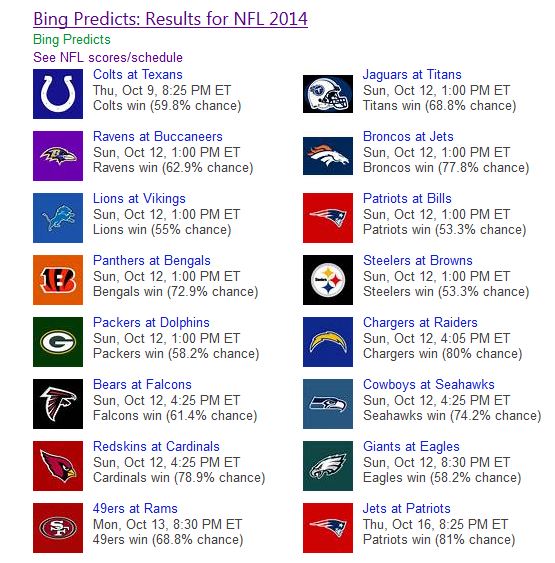 Of course, historical data (especially when we only have 22 pieces of it) has plenty of limitations here. Aside from lacking statistical significance, those numbers don't account for the actual matchups scheduled for this week. Here's a quick glimpse at those favored visitors:
Colts over Texans
Ravens over Buccaneers
Broncos over Jets
Lions over Vikings
Patriots over Bills
Steelers over Browns
Packers over Dolphins
Chargers over Raiders
49ers over Rams
Bing doesn't seem to be going out on a limb in many of these games. Does anyone really expect the Jets to beat the Broncos?
Here's a breakdown of Bing's predicted chances:
6 games with a chance under 60%
4 games with a chance between 60% and 69.9%
5 games with a chance over 70%
Using an advanced historical trend algorithm that I cannot reveal for proprietary reasons (aka, I pulled together a bunch of statistics and took a shot in the dark), Bing has a 71.6% of going 11-4 this week. Coincidence? We'll see.
Come back next week for a complete analysis of how Bing Predicts did in Week 6.