Bing Predicts is on a Roll; Looking Ahead to NFL Week 8
October 23, 2014
Note: This post is for the 2014 season. Click here to see the Week 7 results and Week 8 preview for 2015.
Just a few weeks ago, Bing Predicts looked like it was in trouble. After a pathetic 5-8 record in NFL Week 4, most people were ready to write off the prediction engine as a failed experiment. Since then, Bing has dominated. After a second-straight 11-4 performance in Week 7, Bing has successfully predicted 78% of the NFL games during the past 3 weeks.
Bing is now 69-37 (65.1%) on the season, putting it well above its goal of predicting the majority of games correctly. The prediction engine remains particularly impressive when predicting teams to win with a chance of 70% or higher; Bing is 27-8 (77%) in such games.
Quick Stats Breakdown
Home field advantage was kind to Bing during Week 7. The prediction engine favored the home team in 12 games, and its predictions proved correct in 10 of them. This puts Bing at 49-23 on the season when predicting the home team to win. Bing has typically struggled when predicting the away team to win, going just 1-2 this week.
Bing is on a hot streak when it comes to night games, correctly predicting the past 7 matchups under the lights. However, Bing is just 13-9 after dark on the season.
Is Bing getting better, or are the games just getting more obvious? That's a question I'll explore here next week when we cross the halfway point of the season.
Changes to the Prediction Model
It's almost a certainty that Bing is changing its predictive formula each week, which would explain why the search engine is suddenly on a tear after going just 34-27 during the first four weeks. We have seen frequent mid-week changes in the predicted chances a team has to win, and we've also seen several instances where Bing has switched a pick within a day or two of a game.
Week 8 saw a major change in the way the predictions are presented to us. Prior to this week, Bing posted its predictions early. In fact, after a group of games had been played on a given Sunday, Bing had already begun posting predictions for the following week. Generally, the search engine has always kept between 16 and 18 games in the prediction queue.
This week, Bing's predictions didn't appear on the web until late Tuesday. The search for "NFL predictions" that usually triggered the familiar Bing Predicts graphic of forthcoming NFL games turned up loads of articles, but no sign of Bing's football forecast. For a minute, I was worried they had grown bored with the experiment. However, we now have full predictions for next week (although Bing is not ranking their predictions at the top of the search anymore).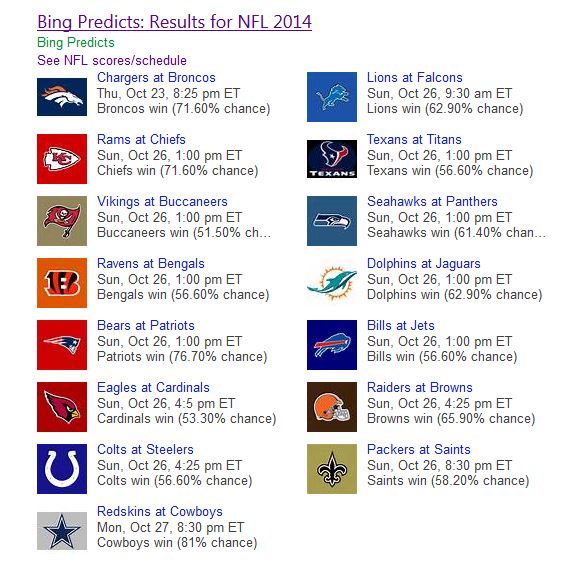 It's also interesting to note that Bing is no longer filling up all 16 spaces with predictions. Whereas Bing used to tell us what was going to happen in the Thursday night game for the following week, this time we only have the 15 picks for this week's games.
Week 8 Predictions
Week 8 could spell trouble for Bing. This is a week of close matchups, especially if you consider the Vegas odds. Over half the games have a spread of fewer than 4 points. Still, I don't foresee the search engine making too many changes before Sunday.
The prediction machine is going with the home team in 9 of 15 games. The only real surprise I see is picking the Saints over the Packers. Although the Saints are a slight Vegas favorite, I figured Bing would go with the Packers here.
Here is a breakdown of the predicted chances for the week:
50-59.9%: 7 games
60-69.9%: 4 games
70-79.9%: 3 games
80+%: 1 game
My prediction for Bing was off by one last week (I said the search engine would go 10-5). Using past statistics only (no gut feelings here), Bing has a 44% chance of going 9-6 this week. How did I calculate that? I'll tell you when Bing reveals its own secret formula.