Bing Predicts Slips in NFL Week 2, Looks to Improve in Week 3
September 16, 2014
Note: This post is for the 2014 season. Click here to see the Week 2 results and Week 3 preview for 2015.
Week 2 of the NFL season is now behind us, and Bing's prediction engine looks to be in danger. Falling to 9-7 this week, Bing Predicts barely made good on its promise to get the results of the majority of the NFL's games correct.
Let's not get too down on Bing just yet. Its overall record this season is 19-13, putting it safely above the .500 mark thanks to its strong 10-6 debut. Still, the search engine will need to step up its game if it wants to stay relevant as a prediction tool. No one is going to get too excited if Bing churns out many more weeks with 56.25% accuracy.
Week 2 Results: Searching for Patterns
Sifting through the data from the first two weeks of the season, there aren't many clear patterns that emerge. After Week 1, Bing was a perfect 5-0 when predicting a team to win with a chance greater than 68%, making it seem like a pretty safe bet. In Week 2, however, the search engine was just 2-3 in such games, incorrectly predicting the outcome of the Cowboys/Titans, Chargers/Seahawks, and Bears/49ers games. Bing also fell under the 50% mark on games with a 50-60% chance, accurately predicting only 3 of 7 such games. Interestingly, Bing was correct in 4 of 4 games where the chances were between 60 and 67%, compared to last week's success rate of under 50% in such matchups.
In Week 1, Bing relied heavily on home field advantage for its predictions, a method that seemed to work okay for the search engine. However, as the home teams fell to 8-8 this week, this prediction model clearly doesn't hold much weight. Bing shied away from home field advantage a bit during Week 2, giving the edge to the away team in 6 games. Bing was 3-3 for those 6 games, making it 4-4 on the season when predicting the visiting team to win. The takeaway so far: Bing tends to be right more often than not when it says the home team is going to win. If they pick the away team, you might as well flip a coin.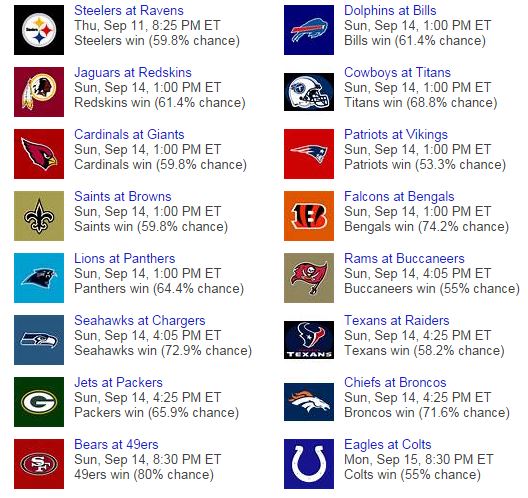 Another interesting data point from Week 2 was Bing's preference for teams that won during Week 1. 11 of Week 2's matchups featured 1-0 teams against 0-1 teams. Of these 11 games, Bing predicted the 1-0 team to win 8 of them. Bing was correct in just 3 of these 8 games. In the 3 games where they predicted the 0-1 team to win, the search engine was 2 for 3.
Although Bing's prediction algorithm is a mystery (and probably evolving each week), three of the main factors it seems to consider (in no conceivable order at the moment) are:
Home Field Advantage
Last Week's Results
Historical Outcomes Between the Two Teams
The two biggest surprises for the search engine's prediction machine during Week 2 were the Bears upsetting the 49ers in San Francisco and the Ravens stomping all over the Steelers in Baltimore. Just how off was Bing on these two games? Well, before we go there, let's first briefly discuss what exactly Bing is saying with its predictions.
Bing Predicts Winners Based on Chance
It's important to note that Bing predicts winners based on chance. Their prediction algorithm does not predict scores, spreads, or anything else. Bing takes into account a plethora of data regarding each matchup (including past results, game location, playing conditions, injuries, and even social signals) and calculates the chance each team has to win.
When Bing states a team has a 70% chance to win the game, the search engine is essentially saying that team also has a 30% chance to lose the game. A simplistic way to look at this prediction is this: if the two teams played under the same conditions 10 times, Team A would win 7 times and Team B would win 3.
Think of it like a weather forecast. When a meteorologist says there is an 80% chance of rain tomorrow, we're probably going to bring umbrellas even though there's a 20% chance it might not rain. Conversely, when the forecast gives a 20% chance of rain, we often leave the umbrellas at home. Whether or not it rains doesn't necessarily mean the meteorologist was wrong, but we will still often blame them when it does.
Likewise, Bing isn't exactly wrong if they say a team has a 70% chance to win and they end up losing—at least not about the predicted chance. Statistically speaking, there's no way to prove that team didn't have a 70% chance to win. Additionally, the chance has nothing to do with the final score of the game. Saying a team has a 70% chance to win a game doesn't mean they will win by more than a team whose chance to win is only 60% (I'll discuss this a bit more next week when we have more data).
Bing's Big "Misses"
Going into Sunday night's Bears-49ers matchup, Bing favored the 49ers with an 80% chance to win. Throughout the first half, it looked more like they had a 100% chance to win. Based on all of the historical data, as well as the status of the Bears battered lineup, only a true Bears fan would have even suggested a Chicago victory in the opening game at San Francisco's new Levi Stadium. However, against the odds, Jay Cutler delivered three miraculous 4th quarter touchdown passes and propelled his team to victory. This game made it look like the Bears only had a 20% chance to win (and maybe less). Statistically speaking, it's impossible to say that Bing was wrong in saying the 49ers had an 80% chance to win (I'll discuss this more in the coming weeks). However, the search engine did miss the end result, which was a Bears victory, not a 49ers one.
The other interesting matchup that Bing fumbled was the Steelers-Ravens game. Heading into the game, the search engine had the visiting Steelers as the winner with a 59.8% chance. While this certainly isn't an overwhelming chance (after all, it does give the Ravens a 40.2% chance to win), there were a lot of outside factors to consider with this one. Let's step back to Week 1. After Bing predicted the Rams as heavy favorites in their opening matchup (a game they lost by 28 to the visiting Vikings), I concluded the search engine improperly measured social signals regarding Michael Sam and the team's quarterback injuries in the Ram's favor. I wondered if Bing would do the same with the Ravens and the Ray Rice controversy. However, it seems Bing picked up on these signals as a negative factor this time, pushing the Ravens as underdogs even though the game was in Baltimore and Bing tends to favor home teams. The last meeting between these two teams in Baltimore was a Ravens victory. Wouldn't the logical conclusion have been to pick the Ravens as the favorite? There is one other factor to account for here though: the Ravens were coming off a loss while the Steelers were coming off a win. Maybe Bing likes winners more than it likes home teams.
The Ravens ultimately looked motivated and dominated the flat Steelers by 20 points, the biggest margin of victory by a team Bing predicted to lose. This leads us back to Bing's original disclaimer: "No statistics or sentiments can fairly capture the energy, the passion and the preparation the players bring on the field."
Bing's Week 3 Predictions
NFL Week 3 should deliver plenty of excitement, including the Super Bowl rematch between the Broncos and the Seahawks. There were also a number of injuries during Week 2, and there are looming questions over several big name players as legal troubles continue to hang over the league. Here's a look at what Bing has to say about it all: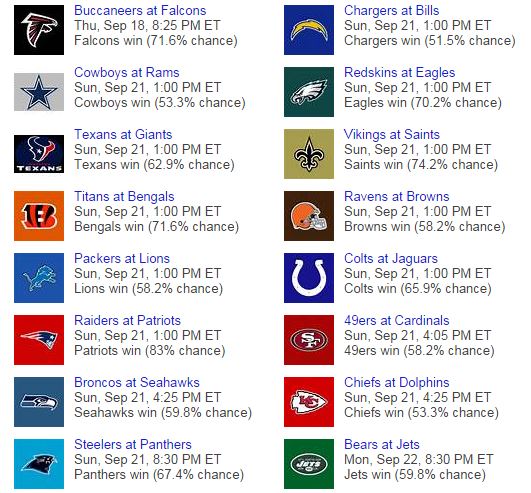 Surprisingly, Bing has Seattle listed with only a 59.8% chance to win even though they pummeled the Broncos in the Super Bowl and almost never lose at home. Of course, the Seahawks did lose last week, suggesting again the importance Bing places on recent results.
Bing has already switched two of its Week 3 predictions since Monday morning, shifting away from the home teams in both the Rams/Cowboys game and the Bills/Chargers game. It's unclear what exactly made Bing change its mind in these two instances, but it's a strong indicator that Bing is revising its prediction algorithm each week as it pursues the perfect predicting machine.
Although Bing performed better in Week 1 when relying mostly on home teams, Bing has once again downplayed the importance of home field advantage during Week 3, giving the edge to visiting teams in six games. My prediction: look for Bing to go 3-3 in these games.
There are six matchups this week featuring teams that won last week versus teams that lost. Bing is actually giving the edge to the losers in 4 of these 6 games. In five of these six games, Bing favors the home team, with the 49ers/Cardinals matchup being the only exception. Bing must feel something intangible to pick the 1-1 49ers over the 2-0 Cardinals in Arizona.
The big question regarding Bing's predictions right now is just how much of a factor are social signals and website mentions. The Vikings will likely be one of the most talked about teams this week as the debate over Adrian Peterson wages on, but don't expect Bing to favor them over the Saints in New Orleans. The 74.2% chance Bing lists for the Saints is the second highest number for any game this week, behind the Patriots with an 83% chance to beat the Raiders in New England. Although Bing missed its only 80% chance game last week, I don't expect them to get this one wrong.
Will Bing improve on its 9-7 record from last week and show that it knows a thing or two about football? I'd say the odds are pretty good. Maybe I'm overestimating Bing, but I see the Microsoft prediction engine going 11-5 this week.
Update (9/17): Bing is now picking the Dolphins over the Chiefs with a 53.3% chance. Chalk up another win for the home team.