Bing Predicts Struggles in NFL Week 4, Must Improve in Week 5
October 6, 2015
This post is for the 2015 season. Click here to get the Week 4 recap and Week 5 preview for 2016. 
It would be an understatement to say that NFL Week 4 was a nail-biter. 8 of the 15 games were decided by less than one score, including 7 games where a field goal separated the winner from the loser. There were two overtime games and multiple final minute lead changes. All this adds up to excitement for the fans and potential nightmares for prediction engines.
Bing Predicts often didn't get the better end of the deal on these close games. The prediction engine finished Week 4 with a pedestrian 8-7 prediction record, putting it at 38-25 on the season (60.3%). But given where the search engine was after Week 4 last year, things are actually looking pretty darn good. Last year at this time, Bing was coming off a 5-8 week and had an overall record of 34-27 (55.7%).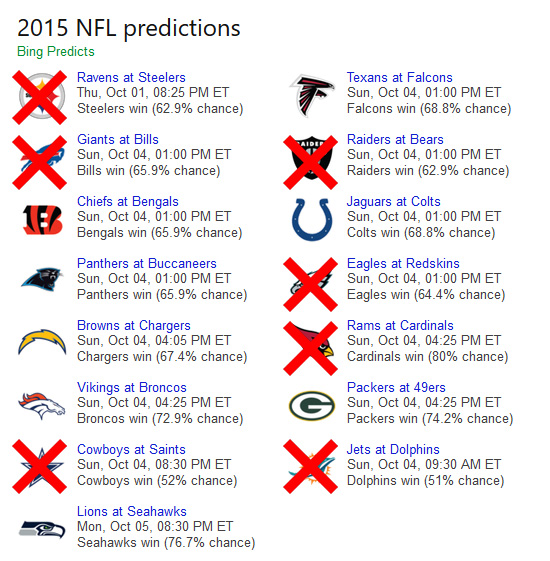 Bing Predicts Falls Behind
Although Bing Predicts is ahead of last year's pace, it's now behind several of its rivals. The Vegas picks went 11-4 this week (40-23 on the season), and Nate Silver's FiveThirtyEight predictions finished 10-5 (40-22). Bing may be only two correct picks behind these other prediction machines, but that means it will have to pick a few sleepers to catch up. This hasn't exactly been Bing's strong suit in the past. In the few games where Bing goes against the other prediction models, it's correct less than 50% of the time.  
Bing Predicts Week 4 Quick Stats
Bing loves the home team, a strategy that sometimes pays off. This week, Bing did better with the home team than with the visitors. Bing was 6-4 when siding with the home team and 2-3 when going with the away team.
The highlight for Bing this week was in games where the predicted chance was over 70%. The search engine continued to show that it does well when it's confident. Bing was 3-1 in these games, its only loss coming in the Rams upset win over the Cardinals in Arizona, an outcome Bing said had only a 20% chance of happening.  
Here's a breakdown of Bing's performance this week:
6-4 when predicting home team (29-18 on the season)
2-3 when predicting away team (9-7 on the season)
0-2 when predicted chance was under 60% (12-13 on the season)
5-4 when predicted chance was between 60 and 69.9% (16-10 on the season)
3-0 when predicted chance was between 70 and 79.9% (9-1 on the season)
0-1 when predicted chance was over 80% (1-1 on the season)
Bing and the Unbeaten/Winless
Heading into Week 4, there were 7 unbeaten teams and 4 teams without a win. Bing predicted there would still be 7 unbeaten and 4 winless teams at the conclusion of Week 4. The Patriots had a bye, so that was a gimmie. The unbeaten teams performed well for Bing, with only the Cardinals losing. However, the winless teams performed contrary to Bing's expectations, with 3 of them picking up wins (Saints, Bears, and Ravens). Interestingly enough, two of those teams (Saints and Ravens) were preseason playoff favorites for Bing. In fact, Bing still has the Ravens as the 3rd seed in the AFC despite their 1-3 start. I'd expect Bing to chance up its playoff predictions soon. The season may only be 1/4th over, but keeping the Ravens and the Dolphins in the playoff picture while leaving out the undefeated Bengals seems a bit ridiculous at this point.
Bing Predicts Week 5 Preview
Bing appears to have launched a new expanded format for its predictions. You can now see predictions for every game for the rest of the regular season. Obviously we expect to see predictions change each week based on previous results, injuries, etc. Still, this is a pretty exciting change for Bing Predicts. 
Here's what Bing says will happen during Week 5: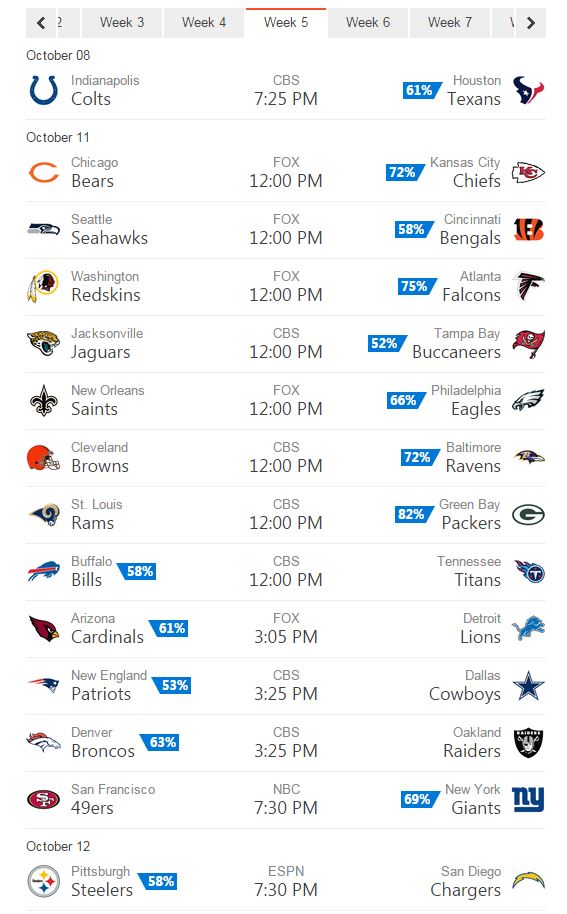 There aren't any big surprises here. The closest thing Bing has to an upset is the Texans beating the Colts. But the way the Colts have been playing, that wouldn't be too much of an upset.
Bing favors the home team to win 9 of 14 games this week. Once again, Bing has all of the undefeated teams winning. If Bing's predictions hold true, the Packers, Falcons, Broncos, and Bengals will all move to 5-0 after this week, and the Patriots will be 4-0 (the Panthers have a bye, so we know they'll still be undefeated). Oh, and the hopeless Lions will be 0-5. Is another 0-16 season in the works for Detroit?
Here is a breakdown of Bing's picks by predicted chance:
5 games with predicted chance of under 60%
5 games with predicted chance between 60 and 69.9%
3 games with predicted chance between 70 and 79.9%
1 game with predicted chance over 80%
This is only the third time this season that Bing has favored a team by more than 80%. For the second straight week, it's the Rams who are the big underdog. Will the Rams once again spoil Bing's confidence with a win over the Packers? Probably not. 
This should be a strong week for Bing, but it won't gain much ground on other prediction models. Look for Bing to go 10-4 this week. 
Bing Predicts Week 5 Updates
(10/8/15)
Bing has made some updates to its original Week 5 predictions. This is the first time so far this season we've seen the search engine change picks, a strategy that didn't work too well for Bing last year. Bing was just 7-12 when it changed picks midweek during the 2014 season.
Here is the updated outlook for Week 5: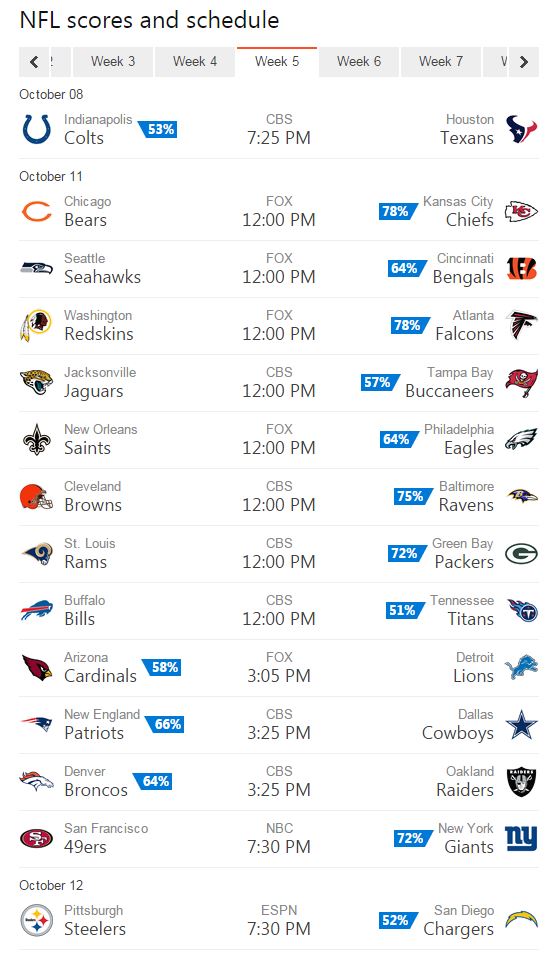 Bing has switched its favored team in three games: Colts over Texans, Titans over Bills, and Chargers over Steelers. With these updates, Bing is now going with the home team in 10 of 14 games. 
Bing also changed the predicted chances in all 14 games. The most noticeable change was dropping the Packers chance of winning from 82% down to 72%. Here's an updated overview of Bing's predicted chances for Week 5:
5 games with predicted chance of under 60%
4 games with predicted chance between 60 and 69.9%
5 games with predicted chance between 70 and 79.9%
0 games with predicted chance over 80%
How will Bing fare with these changes? I'm predicting between 9 and 11 wins for Bing this week.