Bing Predicts Struggles in NFL Week 1; Week 2 Preview
September 13, 2016
Like many of the NFL teams, Bing Predicts looked rusty in the opening week of the 2016 season. Finishing with an 8-8 record, Bing is off to its worst start ever.
Of course, Bing's slow start doesn't mean that all hope of having a good season is gone. The search engine still has 16 weeks left to refine its algorithm and get things right. Last year, Bing opened the season in style by predicting 13 of 16 games correct. However, after this torrid start, the prediction engine went on to finish 10 games behind its effort from the previous season. So maybe starting at .500 will force Bing to make some adjustments to get back on track.
Bing Predicts NFL Week 1 Recap
Here's a complete look at what Bing missed during Week 1: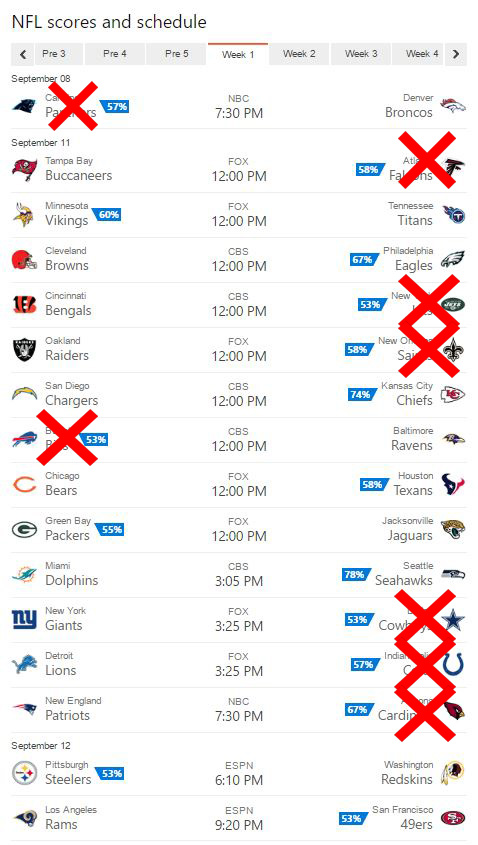 In years past, Bing has struggled the most when the predicted chances were under 60%. Coming into Week 1, there were 11 games that fell into this category. The search engine went just 4-7 in these games, a stat that was too much to overcome. On the bright side, Bing was 4-1 in games with a predicted chance over 60%. In other words, it doesn't look like things are going to be much different this year than they have in the past. 
Here's a full breakdown of Bing's Week 1 performance: 
5-6 when favoring the home team
3-2 when picking the visitors to win
4-7 when predicted chance under 60%
2-1 when predicted chance between 60% and 69.9%
2-0 when predicted chance between 70% and 79.9%
2-2 in games played under the lights
Even with 8 misses, it's hard to say that Bing was way off this week. After all, 5 of the search engine's 8 losses were decided by 2 points or less. And all 8 of Bing's failed predictions were decided by less than a touchdown. Statistically speaking, there's nothing that suggests the chances Bing gave each team were wrong. 
Bing Predicts Week 2 Preview
Regardless of how many points decided each game, a loss is a loss. Now Bing needs to adjust its algorithm and get ready for Week 2. Here's what the search engine says will happen this week: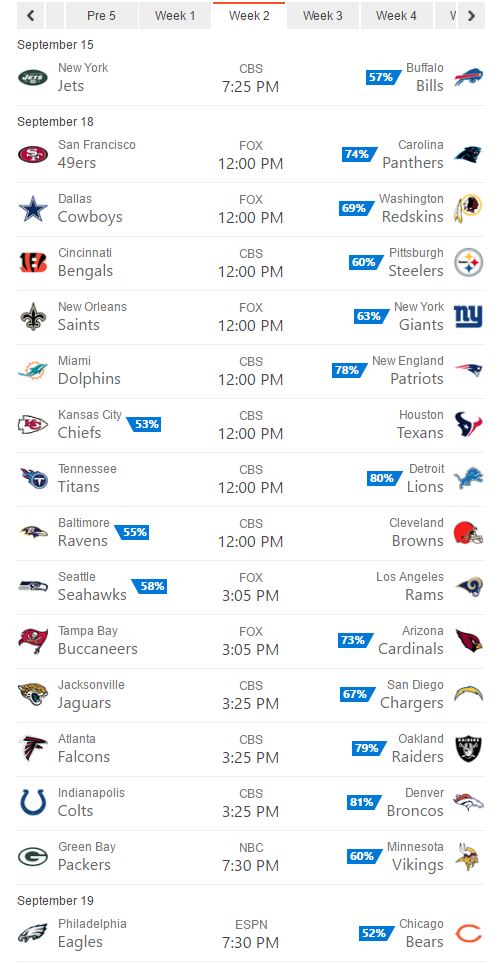 Bing is looking a lot more confident this week, with 11 of 16 games at a predicted chance over 60%. Once again, the search engine is heavily relying on the home team. Bing only expects the visitors to win 3 times this weekend. 
Here's a breakdown of Bing's Week 2 predictions:
5 games with predicted chance under 60%
5 games with predicted chance between 60 and 69.9%
4 games with predicted chance between 70 and 79.9%
2 games with predicted chance over 80%
Bing is throwing out its first 80%+ predictions this week. The highest we've ever seen Bing go is 87%. This week, the search engine has the Broncos over the Colts at 81% and the Lions over the Titans at 80%. It's highly unlikely that Bing will lose either of these games. 
It's tough to say if Bing has already processed all of Week 1's results and utilized them in these predictions. We have seen the search engine change its picks in the days leading up to Sunday, but this usually doesn't play out in Bing's favor. When changing picks during the week, Bing is correct less than 40% of the time. 
So how will Bing do this week? I don't think it will be a great performance, but the search engine will bounce back a little from last week. I predict Bing will finish 11-5 during Week 2.