Bing Predicts Disappoints in NFL Week 4, Looks to Improve in Week 5
October 6, 2016
This has not been a great season for Bing Predicts. The search engine has yet to find its groove, as evidenced by another sub-par week. After a 7-8 performance in Week 4, Bing is now 32-31 on the season, 6 full games behind where the search engine was at this time last year (38-25). 
BING PREDICTS NFL WEEK 4 RECAP
Heading into Week 4, things were looking promising for the search engine to turn things around. Bing's confidence was high with over half its predicted winners sitting at 60% or better. However, things often didn't work out in Bing's favor even when the prediction engine was extremely confident. Here's a full look at what Bing missed during Week 4: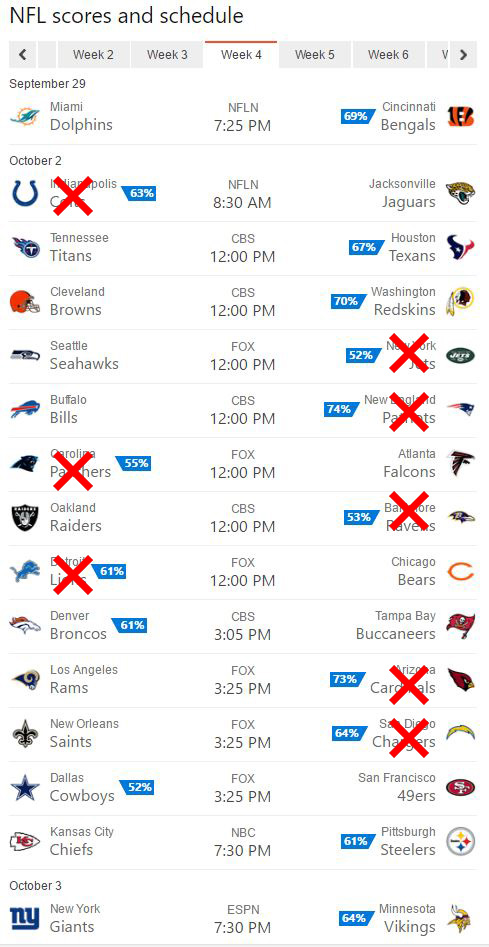 We've come to expect two things from Bing:
Pick the home team to win most of the games. 
Get most games correct when the predicted chances are over 60%.
Bing did not make good on #2 this week. The search engine missed 5 of 11 such games, including 2 games with a predicted chance over 70%. To be fair, few people thought the Patriots or Cardinals would lose at home to the Bills and Rams, respectively. But that doesn't make Bing's performance any better this week. They should've at least predicted the Seahawks beating the Jets. 
Here's a full breakdown of Bing's Week 4 performance:
5-5 when favoring the home team (25-22 on the season)

2-3 when picking the visitors to win (7-9 on the season)

1-3 when predicted chance under 60% (9-19 on the season)

5-3 when predicted chance between 60% and 69.9% (15-7 on the season)

1-2 when predicted chance between 70% and 79.9% (7-4 on the season)

0-0 when predicted chance greater than 80% (1-1 on the season)
BING PREDICTS WEEK 5 PREVIEW
As everyone else does during the NFL season, Bing is coming back to play again after a bad week. Here's a look at what Bing says will happen during Week 5: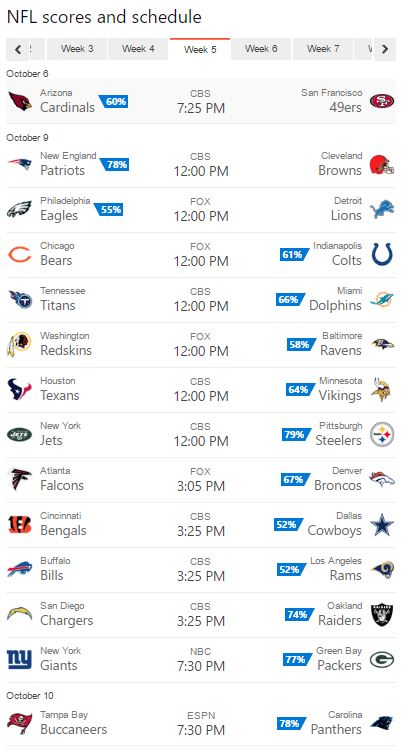 Bing's going back to heavily favoring the home team after a very slight shift last week. The search engine predicts the home team will win 11 of 14 games this week. Here's the breakdown by predicted chance:
4 games with predicted chance under 60%

5 games with predicted chance between 60 and 69.9%

5 games with predicted chance between 70 and 79.9%

0 games with predicted chance over 80%
Once again, Bing looks pretty confident this week, favoring the winner by over 60% in 10 of 14 games. Of course, that didn't work out so well for Bing during Week 4.
Among Bing's biggest predictions this week are:
The 1-3 Panthers recovering to defeat the Bucs in Carolina with the second-highest predicted chance (78%)
The 3-0 Eagles winning on the road over the Lions to remain undefeated (55%)
The 4-0 Vikings getting a big win in Minnesota over the Texans to remain undefeated (64%)
The 3-1 Patriots winning big in the return of Tom Brady on the road in Cleveland (78%)
I've been too generous every week so far in my own predictions regarding Bing's performance, but I really think this week is going to be different. Bing will get at least 10 games right this week.