Can You Beat Bing in March Madness? 2017 Tournament Preview
March 14, 2017
If you're struggling to fill out your March Madness bracket, you aren't alone. Luckily, Bing is here to make the process easier for you.
For the third consecutive year, Bing is ready for March Madness with the internet's best bracket builder tool along with its very own NCAA predictions.
BING'S FINAL FOUR PICKS
While most people spend hours trying to complete the perfect bracket, Bing wasted no time after Selection Sunday revealed the full lineup of games. Within minutes, Bing Predicts had a full slate of picks for the entire tournament.
As usual, Bing has a few upsets along the way, but ultimately the prediction engine settled on the tournament's top seed to win it all: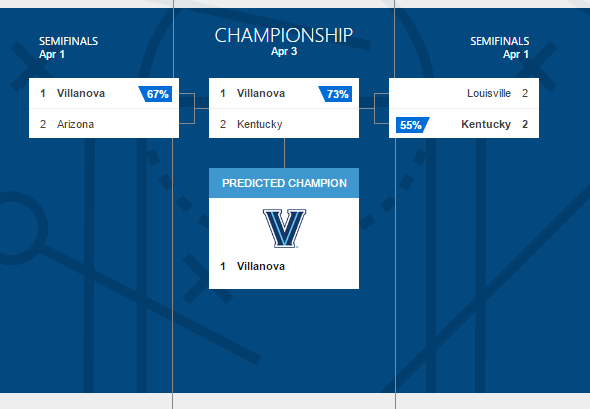 Bing gives Villanova a 21% chance to win the tournament and a 73% chance to win the final game, putting it well ahead of any other team. According to Bing's predictions, Gonzaga has the second-best chance to win at 12%, but the search engine has the Bulldogs falling to Arizona (8% chance to win it all) in the Elite Eight.
Although none of Bing's Final Four teams are big surprise picks, it is interesting to see that they only have one top-seed advancing to the round of four. Of course, with an Elite Eight that consists entirely of 1 vs 2 matchups, Bing's bracket is far from bold.
A BRACKET PACKED WITH DATA
Bing does a lot more than simply pick the team that's going to win each game. The prediction engine assigns odds to each game based on a variety of data points. Additionally, Bing also predicts what the underdog needs to do to win the game.
For example, Bing has 5-seed Minnesota losing to 12-seed Middle Tennessee in the first round:
While our personal bias forces us to disagree with Bing's pick here, we do respect the data—to a certain degree. According to Bing, Minnesota must hold Middle Tennessee to less than 62 points and have at least 2 blocks. It seems reasonable that the Golden Gophers will win if Middle Tenn. scores less than 62 points, but it's hard to argue that having more than 2 blocks is going to be the decisive factor. While Bing's bracket is packed filled with valuable data, the search engine's picks don't always add up.
The surest thing according to Bing? #2 Louisville has a 99% chance of beating #15 Jacksonville State in the first round. We won't argue with that one. 
NO BIG CINDERELLA STORY
Aside from Minnesota losing in the first round, Bing has a handful of other first-round upsets. 5 is a very unlucky number this year according to Bing. The search engine has all four of the 5 seeds falling in the first round. Other than the #12 teams, Bing doesn't give the lower seeds much hope. Bing has just one other double-digit seed winning the first game (#10 Wichita State over #7 Dayton). 
After round one, things get pretty ugly for the underdogs with just one exception. Bing's Cinderella team this year appears to be 12-seed Princeton, who will topple 5-seed Notre Dame and 4-seed West Virginia before finally falling to Gonzaga in the Sweet 16. The only other non-top four seed Bing sees in the Sweet 16 is 6-seed SMU. If Bing's bracket plays out, there won't be too much madness in March this year. 
SO HOW WILL BING DO?
If you're in a pinch when filling out your bracket, you could do worse than just going with all Bing's picks. However, the search engine has been far from perfect in the past. Only one of Bing's Final Four picks advanced to the round of four in 2016, and Bing predicted just 63.5% of matchups correct in 2015. If history tells us anything about March Madness, it's that it's virtually impossible to predict exactly how it will go. It's highly unlikely that Bing will be close to achieving that elusive perfect bracket this year.