Perrill blooms into springtime with loads of new talent
April 17, 2019
As we enter springtime and (joyously) leave another Minnesota winter in the rearview, the Perrill team continues to grow across a wide range of departments and skillsets. We've added seven new team members in the past couple months, each of whom bring their own unique specialties to the table – in addition to providing a welcome spark to the office atmosphere.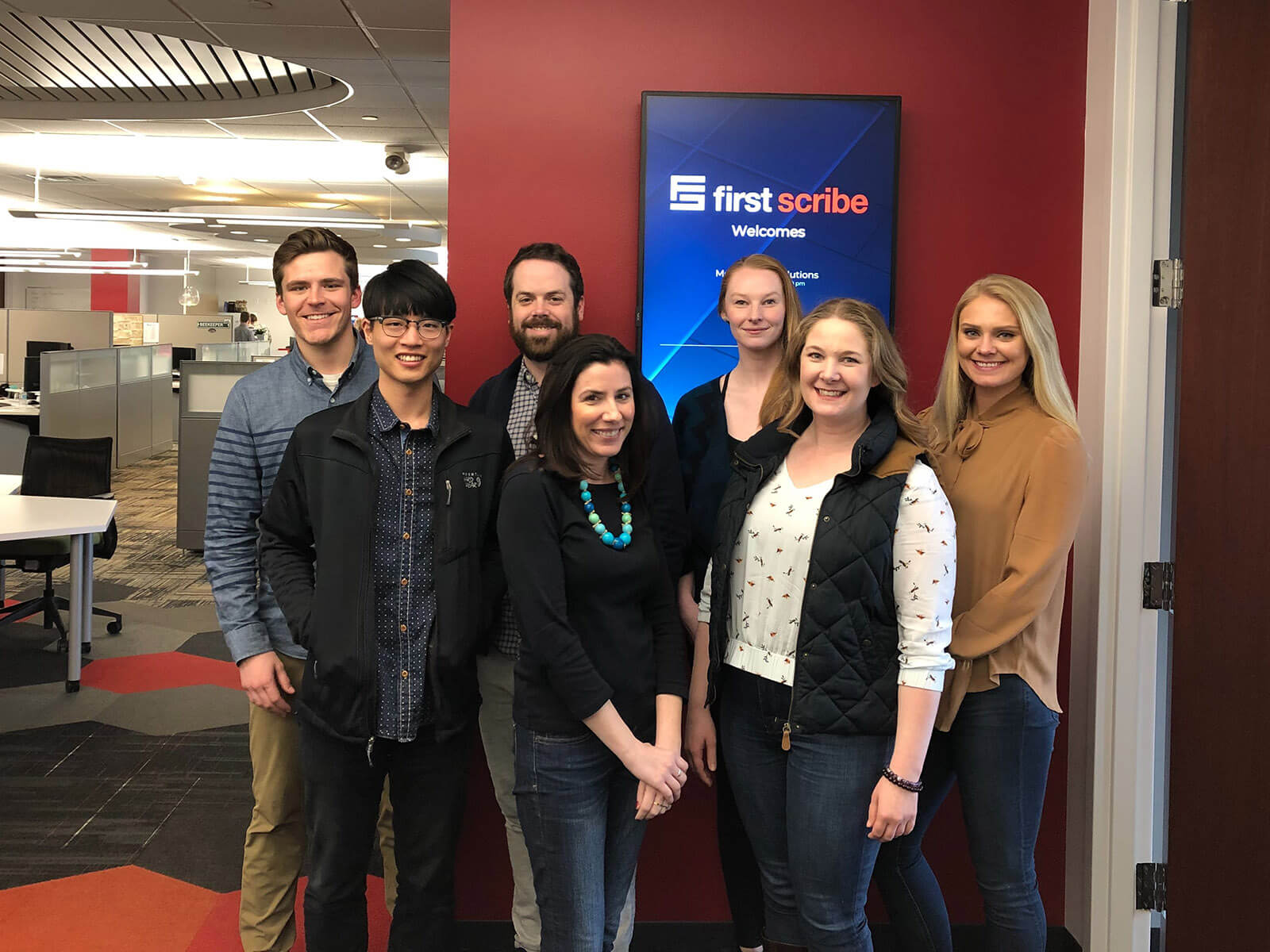 Get to know our newest team members and all the ways they'll help us provide even greater services to our clients in marketing, content writing, project management, and beyond.
Carlie Wagner |
Social Media Specialist
Carlie joined Perrill in March following an illustrious basketball career at the University of Minnesota, during which she also gained marketing experience with Gopher Sports leading up to graduation. Carlie's position is a new one for Perrill, as we look to expand our social media capabilities in increasing relevance and engagement for our clients.
Fun fact: Carlie loves anything and everything to do with country music.
"It has been amazing to see the passion and drive that the Perrill team emanates, while also being warm and welcoming. I feel like I have already grown and learned so much and am excited to see what the future holds for me here!"
Kathy Moening |
SEO Specialist
Kathy is an experienced marketer with expertise in strategizing and promoting SEO-friendly content across a wide range of industries. Her past experience in account management also provides a boost to Perrill's client-facing initiatives as we strive for newer and better ways to help businesses thrive online.
Fun fact: Kathy and her boyfriend drove to Bozeman, Montana, and back one weekend (roughly 30 hours in a car) because… well… why not?
"Perrill has been amazing so far! The people are super sweet, there's a ton of variety, and leadership encourages everyone to keep learning, creating, and innovating. I'm excited to be a part of it."
Margaret McDonald |
Senior Copywriter
Margaret has made an outstanding addition to Perrill's content team, providing a talented creative and technical voice to help our clients captivate their audiences online. She has four years of professional copywriting experience in an agency setting and has proven her ability to excel in a broad spectrum of industries, channels, and styles.
Fun fact: Growing up, Margaret had five siblings and seven classmates.
"I felt welcomed right away by everyone at Perrill and was impressed by the level of teamwork and collaboration I saw. I'm excited to see how the company — and my role within it — grow in the future."
Monica Childs |
Digital Project Manager
Monica has capably stepped into the project management role in her first few months, spearheading all phases of Perrill's website projects. She serves as the main point of contact for our clients for everything from website strategy, content writing, design, development, and more, and is a resource that's already proven beneficial to producing great and timely work.
Fun fact: When Monica was 11 years old she broke her nose at Guard Camp while riding in a tank. She never got it fixed and it is still slightly crooked.
"I'm excited to be working with really talented and smart people again, learning more about the web design side of the industry, and gaining more experience professionally for myself."
Tim Juang |
Marketing Specialist
Tim is the most recent addition to the Perrill team and one we're extremely excited about unveiling. His range of skills as a marketer makes him an invaluable asset to our team and to our clientele. Whether it's optimizing keyword performance, implementing a new paid media strategy, or crafting landing page copy, Tim has the experience and the talent to drive our clients past their target objectives.
Fun fact: Tim is a distance unicyclist. His longest ride to date is the 33-mile Saint Paul Classic Bike Tour.
"First impression? This is a team of early risers, fast drivers, and clever funsters. There's a culture at Perrill of working hard while having a good laugh."
Create your next star employee with Perrill
Perrill is a full-service web design, development, and digital marketing agency that specializes in helping businesses turn their websites into their employee of the month—every month. Contact us today to start making the most of your name online and turn your audience into lifelong customers.