Perrill Hoverboard Olympics
August 11, 2016
Hours before billions of people around the world tuned in to watch the opening ceremonies of the 31st Olympiad in Rio, a much smaller crowd gathered for the inaugural Perrill Hoverboard Olympics in Minneapolis, Minnesota. 
While not quite as popular as the official Summer Games, the Hoverboard Olympics was a highly anticipated event that exceeded all expectations. The event showcased some of the finest creativity and athleticism in the United States, and it wasn't marred by doping scandals or concerns of Zika.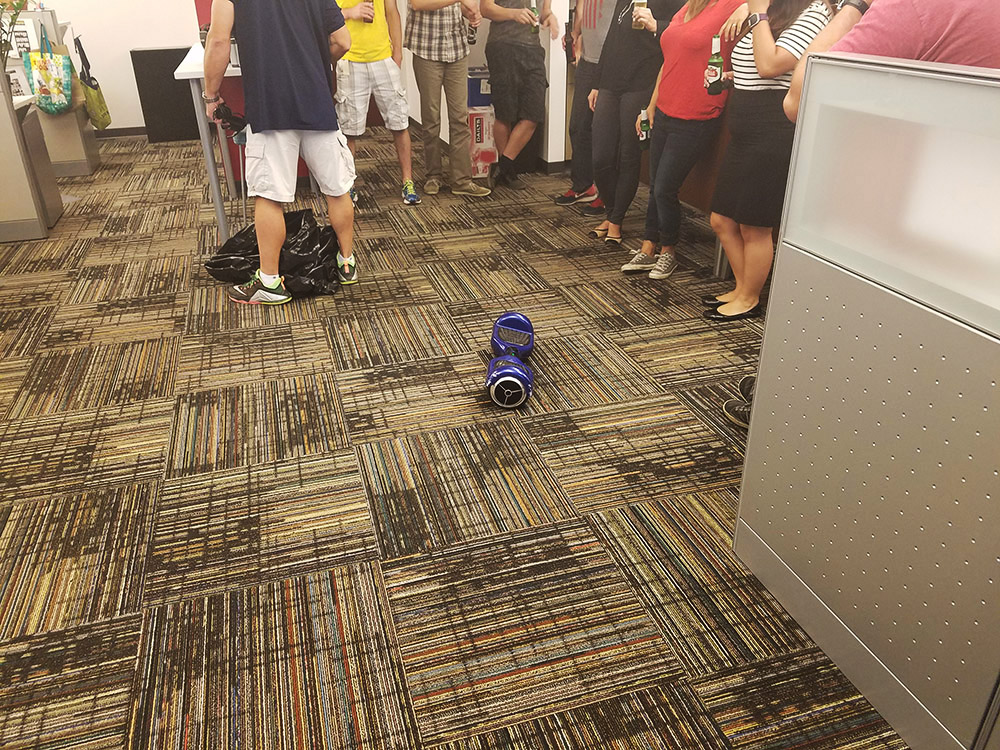 The games kicked off in the late afternoon with the Hoverboard Race, a challenging obstacle course that required brave Perrill employees to navigate dangerous corridors and tight turns. Always a stickler for safety, Perrill president Jay Perrill enforced strict safety regulations that included a mohawk helmet and wrist guards (after all, our heads and our wrists are probably our most valuable assets).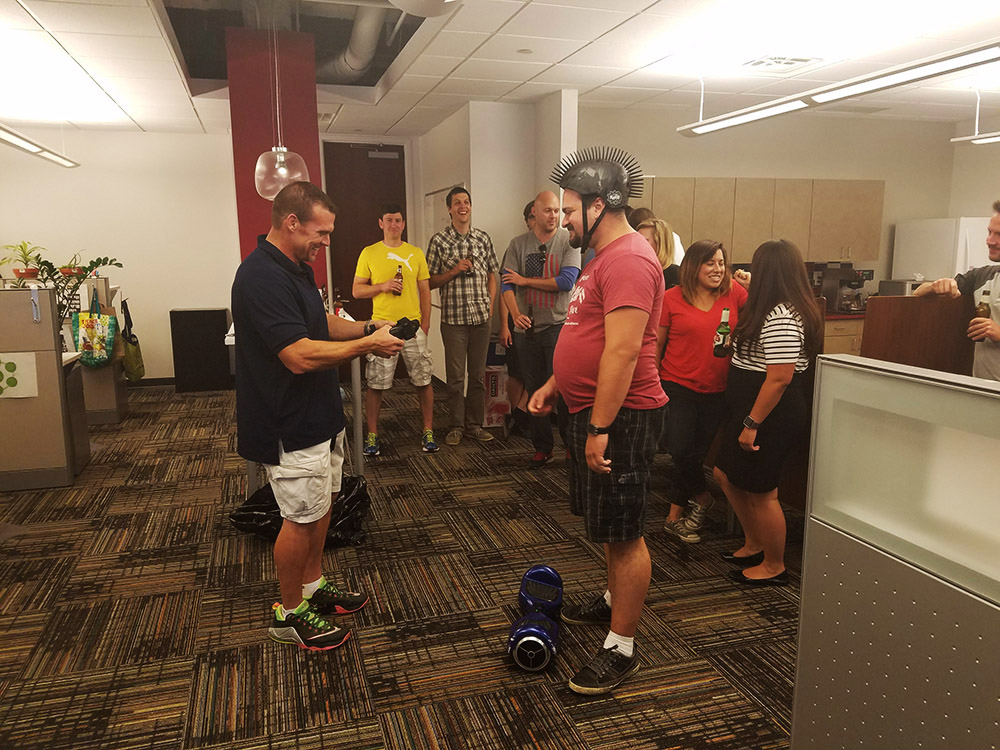 The Hoverboard Race got off to a rocky start as each competitor learned just how difficult it is to get on a hoverboard for the first time. No practice runs were allowed prior to the event, and nearly everyone struggled to maintain control or any sense of speed (as Darren demonstrates below).
However, several outstanding performances did emerge out of the chaos, including Marshall's dominant gold medal performance of just over 1 minute. Andre and Jason took silver and bronze with very respectable times. 
Although not an official participant, Jay later showed everyone how it was done by running the obstacle course in a mere 16 seconds. 
The next event in the office was the Hoverboard Dance. In this artistic event, competitors were required to dance while riding the hoverboard. Nate kicked things off with a spirited interpretation of R Kelly's "Ignition (Remix)," a performance that set a rather high bar. Although Marshall, Maeghen, and Carson all performed excellent routines, Nate managed to snag the gold medal (see his winning performance below). 
Immediately following the Hoverboard Dance, the awards ceremony began. In total, six Perrill team members proudly stood on the podium to collect their hardware.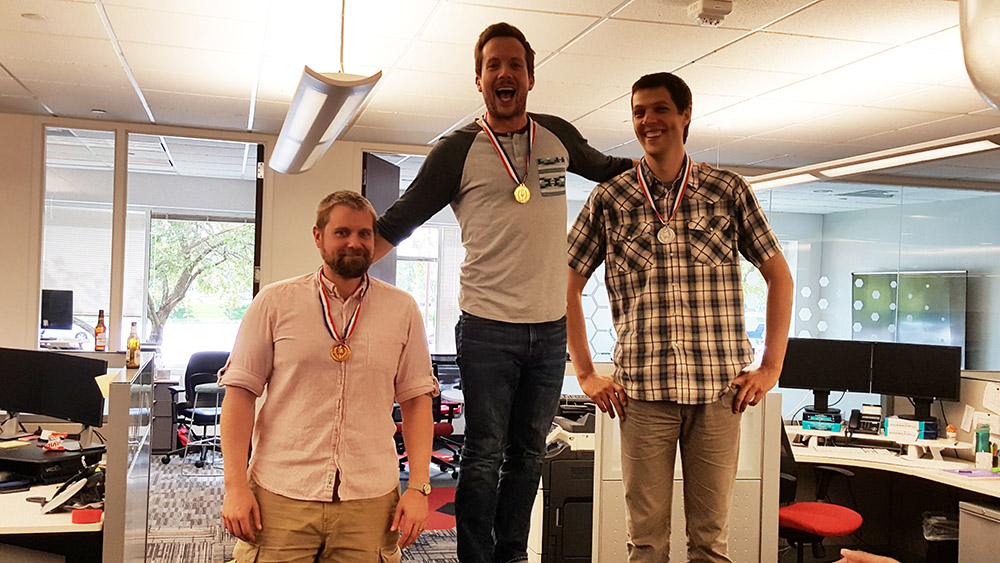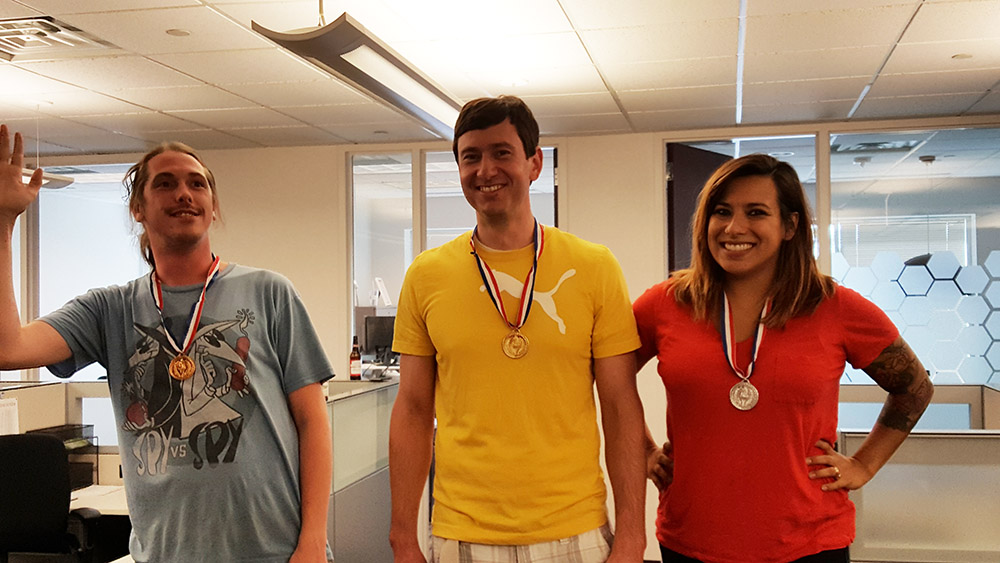 During the event, the Perrill team also enjoyed a selection of fine beers from around the world. No one was injured, everyone had fun, and all participants acted with the class you could only find in the Olympic games.