Google+ Collections: Pinterest Rip-off or Valuable New Business Tool?
May 11, 2015
Within hours of Google's announcement regarding the release of Google+ Collections, some critics were already calling it a failed Pinterest knockoff.
These critics might not have been completely without good reason to make such an early proclamation of death. At first glance, this does seem a bit like Pinterest-lite. And it goes without saying that Google+ has failed at plenty of things before.
However, Google+ Collections should not be written off as a useless imitation. Instead, this relatively simple new feature holds the potential to be a rather valuable new tool for your business.  
What Exactly Are Google+ Collections?
Simply put, Google+ Collections are a way to organize your posts by a certain topic. You start by picking a topic, and then you add links, videos, images, etc. The collections are simple to create and take just a few seconds to get up and running. You can customize your collections with a header image and a choice of a handful of colors. Adding content to your collections is as simple as copying and pasting a link, uploading a photo, or re-posting something you've already shared.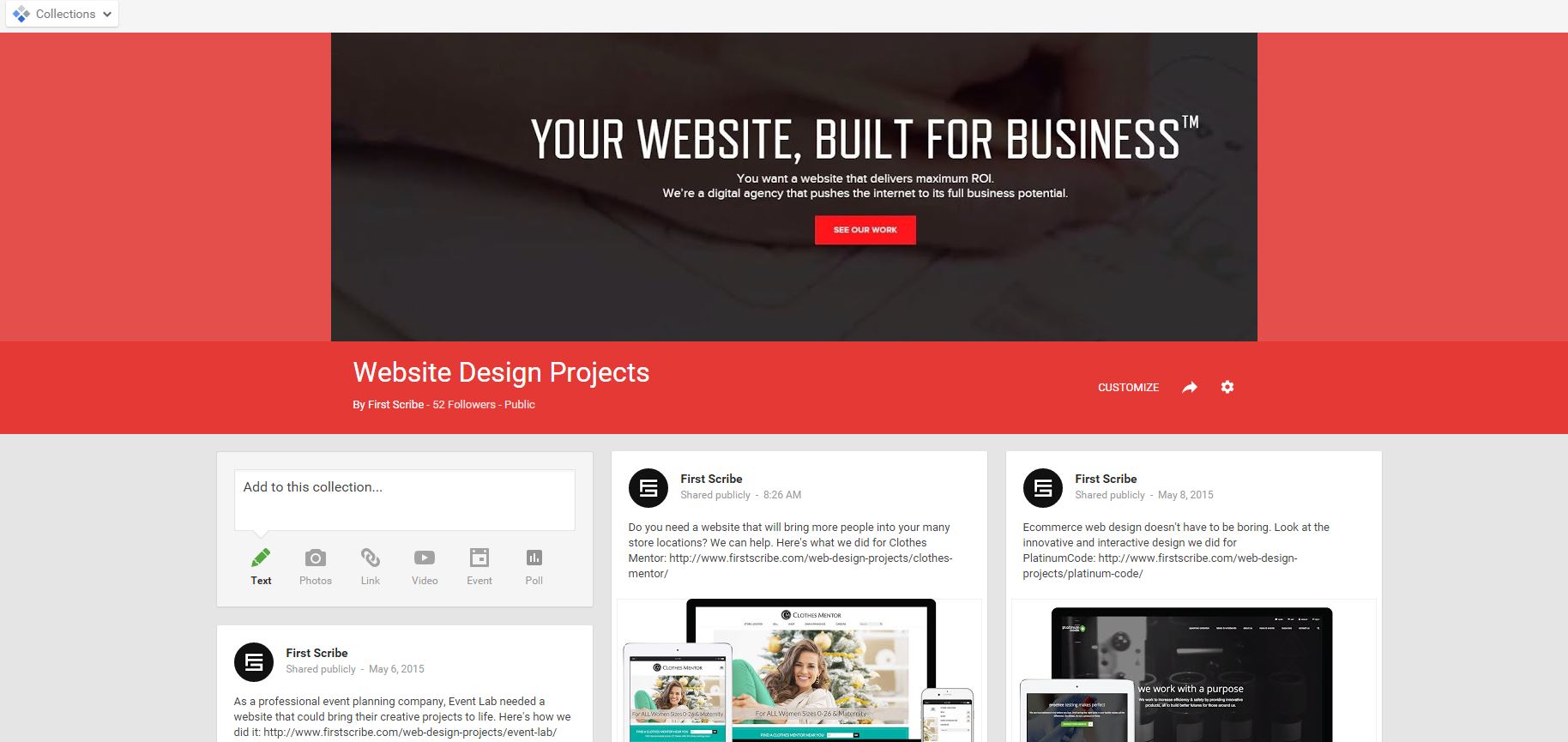 A collection brings a bit of order to the otherwise chaotic assortment of material you've been posting on social media. If you look at your current posts on Google+ (or just about any other social media platform for that matter), you'll likely see a conglomeration of stuff. With Google+ Collections, you now have the ability to do a little sorting.
As soon as you create a collection, the "Collections" tab appears publicly on your Google+ page. If your business doesn't already have a Google+ page, you're already behind the curve. Even if you think social media doesn't work for your business, you still need to be on Google+ for local map listings and for brand visibility.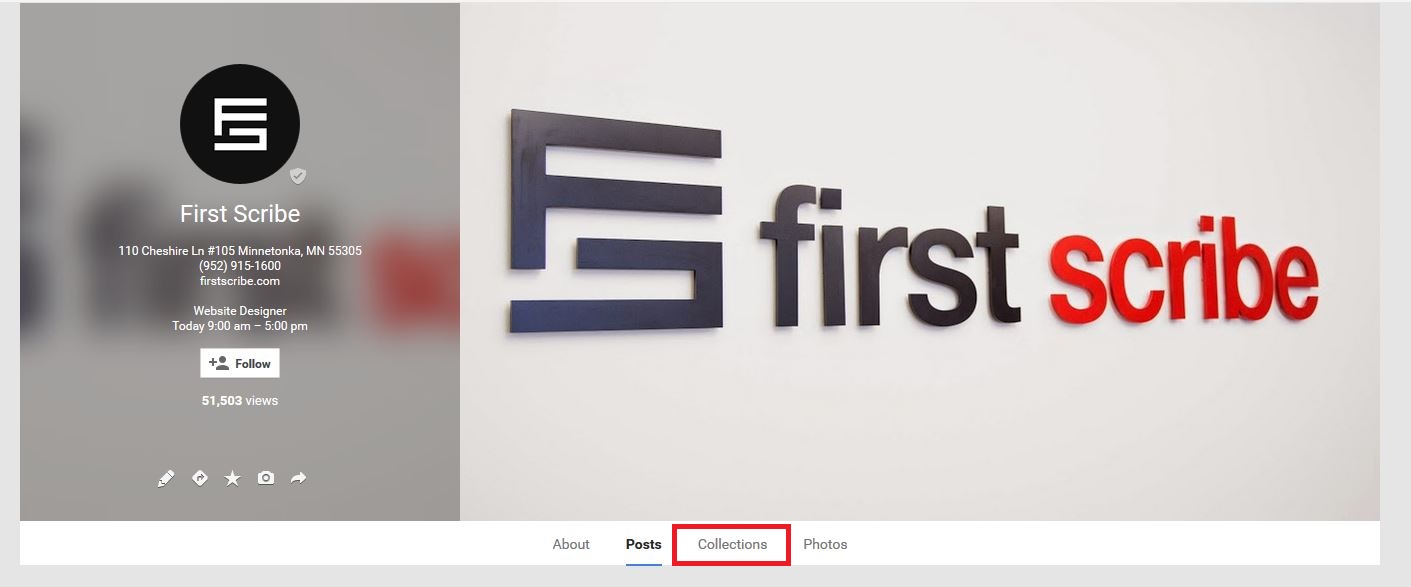 How Can You Use Them For Business?
Google+ Collections can be about anything you want. This means you can easily tailor them to your business needs. For example, a web design company could start a collection of websites they've designed. Sure, they probably already have a portfolio page on their website, but this gives them another opportunity to share all that great work they've been doing.  
No matter what type of business you have, you can probably come up with a collection or two that promotes your products or services. Let's say you have a landscaping business. Why not create a few different collections that showcase your landscaping projects? You could have separate collections for backyard landscapes, pool landscapes, outdoor kitchens, paver patios, and more.
If you have an ecommerce website, you can create collections that show off your different products. But instead of just creating a collection with links to your different products, you could create a collection that features images or videos of your products in action. This would be a great opportunity to get some user-generated content. Have your customers send in pictures of themselves using your products, and then feature those images in your collections. Your featured customers will then share your collection, extending your reach without costing you a dime.  
Is There Any Real Benefit, or Is This Just Another Social Media Thing That Won't Generate Leads?
The last thing your business wants is another time-sucking opportunity that doesn't produce any leads. Fortunately, Google+ Collections won't take up very much of your time. Even better, there's plenty of potential for these collections to actually lead to something.
Since Google+ Collections are so new, there's no hard evidence yet that they will produce leads or sales. However, all the pieces are there for this feature to give your business a bit more traction. Here's why:
People are already looking at your Google+ page. You may not realize this, but your Google+ page might be getting more views than your Twitter and Facebook pages combined. Your Google+ page is constantly popping up in search results. Even if you don't use it as a social media platform, your Google+ page houses your business reviews as well as your address, contact info, and business hours. By adding collections, you are putting more useful information about your business right in front of your potential customers.

Collections can boost your visibility. While Google+ Collections don't seem to be appearing in organic search results (yet), they do appear elsewhere on Google. When Google+ users view their collections, they also see collections created by other people or businesses in their circles. That means anyone who is following you will see your collections. Once you create a collection, you also have the chance to appear on Google's Featured Collection page, which certainly would get you in front of a lot of eyes.
And let's not forget that this is a Google product, and Google is the biggest search engine in the world. It wouldn't be shocking to see collections popping up in the organic search results in the near future.
Sure, Google+ Collections won't be a Pinterest killer, but it certainly deserves a place in your business marketing strategy. Google isn't trying to kill off Pinterest with this new feature. Rather, the search engine is making its own social media platform more functional. And your business stands to gain from it. 
With all the positives going for Google+ Collections, your business would be wise to jump on this ship early. Even if it doesn't directly generate a lot of leads or sales, it's another free tool to improve your brand's visibility and image.