Google Introduces AdWords Premier Partner Program
July 19, 2016
One of the keys to a successful online marketing campaign is utilizing the right channels. For most businesses, one of the most crucial online channels is paid advertising, including the right combination of search, display, remarketing, video, and mobile ads.
Of course, online advertising only helps if you're seeing a positive return on your investment. To get that, you need to work with someone who really knows what they're doing in a highly competitive market where even a small mistake can cost your business thousands of dollars.
Finding a good partner to run your paid digital advertising campaign can be quite the challenge. With hundreds and hundreds of self-proclaimed experts touting their skills and guaranteeing amazing results, you can quickly become overwhelmed.
Or you can go straight to the source.
Instead of trying to determine who's legit and who's full of hot air, you should turn to Google. No, not to Google's main search engine. You should be looking for Google Partners. To make the search even easier, you can now look for Premier Partners, Google's new tiered program that highlights the most experienced and most successful agencies.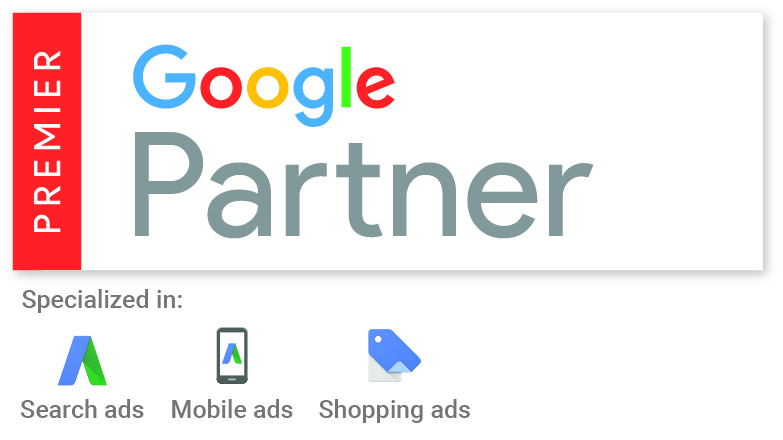 Only a tiny fraction of advertisers on Google qualify as Premier Partners, so you know you're getting top-quality service when you team with one of these prestigious agencies. In order to qualify, an agency must meet the minimum requirements in three areas:
Certification
Spend
Performance
By meeting all three of these criteria, an agency positions themselves as knowledgeable, experienced, and successful across a variety of industries and ad formats. In other words, they know what they're doing, they've done it a lot, and they've done it the right way for many businesses.
Hiring a Premier Partner gets you a lot more than peace of mind or bragging rights. There are many benefits to working with a Google Premier Partner, including:
High levels of experience
Strong knowledge of best practices
Emphasis on maximizing ROI
Access to top-level support at Google
At the same time, there are many things a Google Premier Partner does not get you:
Guaranteed results
Higher rankings in organic search
Trade secrets and insider knowledge
It's important to note that Premier Partners do not work for Google. Rather, they are certified members of Google's advertising programs. If any agency tells you they work for Google or they have access to Google's secrets, then you should run away quickly and find a legitimate advertiser.  
Perrill is proud to be one of only a few Google Premier Partners in the Minneapolis metro area. With so many agencies in Minnesota, it can be tough to find one that will actually deliver on their lofty promises. Rather than making those lofty promises, we use our vast experience and actionable data to maximize your ROI. Because a promise without results just means lost money for you.