Google vs. Bing - Santa Claus Edition?
December 11, 2013
Choosing a search engine to guide you to the closest taco joint or the ultimate ugly sweater store is one thing, but in less than two weeks there will be a much more important question at hand: which Santa Tracker is right for you?
NORAD has been tracking Santa on Christmas Eve for over 50 years and eventually joined forces with Google Maps to serve as the go-to Santa tracking partnership for 5 years. In 2012, they parted ways and Bing eagerly stepped in to fill the void in a partnership that will return this Christmas Eve.
Not surprisingly, Google has no intention of getting out of the game.
Both Google and Bing/NORAD have pulled out all the stops to create virtual North Poles complete with countdowns, videos, interactive games – and live Santa Trackers.
So, will it be dueling Santas, taking different routes and confusing all those children who prefer to source their Santa map information from multiple outlets? Perhaps not.
In a tweet that made my heart grow three sizes, Bing Search Director Stefan Weitz certainly gave the impression that for one night, Bing and Google may set aside their differences to coordinate their efforts.
At any rate, there's still a decision to make: Which Santa Tracker to use?  I think I'll use my old standby and see what Google has to say about it: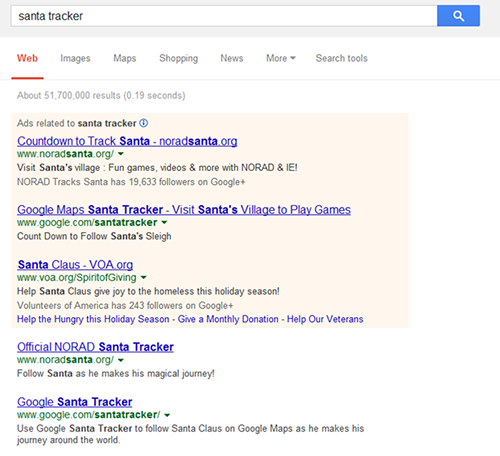 Interesting.