Nine Things You Need to Know About Google's Mobile-Friendly Deadline
March 9, 2015
For the past few months, Google has been handing out invitations to the mobile party. Not sure if you're invited? Check your Google Webmaster Tools account to find out. Don't worry; if you didn't get an invite, you're probably already attending.
These messages, which urge website owners to "Fix mobile usability issues," were just in time for the official announcement from Google: On April 21st, the mobile revolution will officially begin.
Okay, the mobile revolution is nothing new. It's been going on for years now, and it's been widely believed that having a mobile-friendly site already helped mobile rankings. Apparently, it's for real this time. As of April 21st, mobile-friendly is officially a ranking factor.
So what does that mean for you? Put simply, if you don't have a mobile-friendly site, your search visibility might take a big hit. Here's everything you need to know about the new mobile-friendly algorithm:
1. April 21st Is a Hard and Fast Deadline (Sort Of)
When Google's Gary Illyes was asked if the change would go live on April 21st, he answered with the cryptic "April 21st is a very important day." We don't know exactly what will happen on April 21st, but we do know that we better be ready. Illyes further commented that if you have your site "ready by the 21st…it will be good." There doesn't seem to be much to interpret here. Have your site mobile-friendly by April 21, or else. However, Google also has indicated that the roll-out will take at least a week, so you may not see any impact right away. 
2. This Is an Expansion of an Existing Algorithm
Google has been demoting sites that don't provide an optimized mobile experience for over a year now. The difference between the old algorithm and the upcoming change is this: before you could be "punished" for having a poor mobile presence. Now, you can be rewarded if you are mobile optimized.
3. You Need the Mobile-Friendly Label in Search Results

Grab your smartphone and Google your site. Do you have the "Mobile-Friendly" label? If not, you could be in trouble. However, it's not time to panic yet. At this point, the label isn't the be-all-end-all of the mobile algorithm. That comes on April 21st. For now, not having it doesn't necessarily mean you aren't mobile friendly. You can check your mobile readiness through Google's free testing tool. If  you pass, your label should be coming soon.
4. Responsive Design and Mobile Sites Are Treated "Equally"
In the past, Google has recommended responsive design for the simple reason that it gets the job done on all devices. However, Google is not giving preferential treatment to responsive sites in the rankings. If you have a mobile website, there isn't necessarily a need to rush out and build a responsive site. Of course, a responsive site does have many advantages, including the need to manage only one URL. For this particular algorithm though, it doesn't make a difference how you achieve your mobile-friendly status.
5. Your CSS and JS Files Can't Be Blocked
Many site owners choose to block certain elements from being crawled. Whatever reason you might have for doing this, it goes against Google's current guidelines. If you do block your CSS and JS files, Google might not be able to tell if your site is mobile friendly. Simple solution: stop blocking them.
6. Mobile-Friendly Detection Doesn't Take Long
Google is always crawling sites and always making updates. The mobile-friendly algorithm is supposed to update in real-time. I can attest to this. When I received one of those "Fix mobile usability" messages for a personal site of mine, I spent a weekend making all of Google's suggested changes. By Monday, my site had a "Mobile-friendly" label in the search results. If you don't have time to design and launch a brand new website by April 21st, you can make temporary fixes. For my site, I added a responsive menu, configured a viewport, changed the mobile font sizes, and sized the content for multiple devices. Easy, right?
7. Mobile-Friendliness Is on a Page-by-Page Basis
Are some of your pages mobile friendly while others aren't? That's okay—at least for the mobile friendly ones. The optimized pages won't be penalized by pages that aren't optimized. That being said, make sure your money pages are mobile friendly. And don't expect the non-mobile friendly pages to get a boost.
8. Mobile-Unfriendliness Shouldn't Affect Desktop
If your site isn't mobile friendly and you're worried about your desktop search visibility, you can relax. At least for now. According to Google, there is no connection between the two. This is consistent with how things have been in the past year. Plenty of sites that have been demoted on mobile haven't seen any loss in desktop.
9. A Separate Mobile Index Is on the Horizon
Google is already working on having a separate mobile index. What exactly this means right now is unclear. Will your site even be indexed if it isn't mobile friendly? Perhaps not. Of course, a mobile index isn't a complete surprise. After all, some sites in Google Webmaster Tools have apparently already submitted URLs to the mobile index (but nothing has been indexed yet):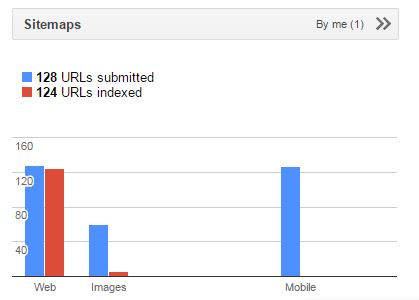 Of course, Google search results aren't the only reason to have a mobile-friendly website. If you aren't providing a quality user experience on all devices, you are already losing out on leads and sales. We live in a society where a good mobile site isn't a luxury; it's an expectation.
Are you ready to join the mobile party? Maybe you've already RSVPed. If not, it isn't too late, but you better act quickly. The longer you wait, the more customers you're losing.