What Google's Real-Time Penguin Will Mean for Your Website
October 30, 2015
The word on the street is that we'll have a new Google Penguin update before the end of 2015. The other word on the street is that this is the real-time Penguin we've all been waiting for. You know, the one that will update immediately and won't require months and months of agony before you can recover.
Sounds pretty slick. But what exactly will a real-time Penguin mean for you? Let's look at some of the possibilities, but first let's review what Penguin is.
Google Penguin: A Quick Refresher
There are a million articles about Google's Penguin algorithm, so let's keep this concise:
Penguin first launched in 2012
Penguin targets sites that attempt to manipulate search results through spamming techniques (buying links, automated link building, link networks, link schemes, etc.)
Sites caught by Penguin lose search rankings
When a new Penguin is released, sites can recover if they have taken the proper steps (and sites can be hit if they've been spamming)
There have been at least 4 versions of Penguin thus far (Penguin, Penguin 2.0, Penguin 2.1, Penguin 3.0, and a few other smaller Penguins scattered in there)
Essentially, Penguin can be summarized in one simple equation:
Bad Links = Penguin "Penalty" (it's not technically a "penalty," but you say tomato, I say tomato…)
Except it's not simple because:
Penguin apparently "penalizes" sites that don't intentionally spam
Penguin can keep websites out of the search results for a year or more
Penguin "recovery" doesn't mean you get back to where you were
Negative SEO may or may not be a thing
If you're following so far, then let's move on. If you need more Penguin talk, then try this.
So What's a Real-Time Penguin Algorithm?
The biggest complaint about the current Penguin is that sites affected by the algorithm have to wait months and months before they can recover. Here's how it works now:
A new Penguin is released
Your site gets hit and falls WAY back in the search rankings
You complete your link removals and submit a disavow file
You wait
You wait
You wait some more
A new Penguin comes out and you "recover" (but you find out that recovering doesn't mean you get back to where you were)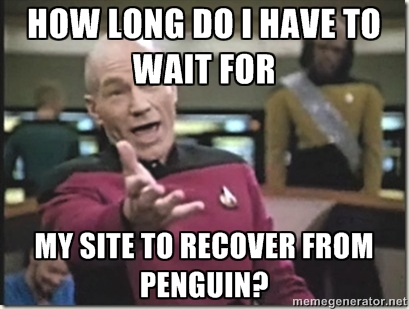 While there are some reports that faster Penguin recovery is possible, most people in the industry say you do indeed have to wait for the next update (which can take over a year). Many think this is unfair. After all, if Google is your only source of leads or revenue, then not being in Google results for 11 months could do some real damage to your margins.
Well, the real-time Penguin is Google's answer to this. The real-time Penguin will update on the fly. As something happens, Penguin will respond. That means:
If you remove the bad links that caused a Penguin penalty, then you'll recover right away
If bad links point to your site, you will get hit by Penguin right away
This Penguin is meant to catch the bad guys right away and let those who've repented and corrected their sinful ways to come back. What a nice penguin. Who could be mad at this: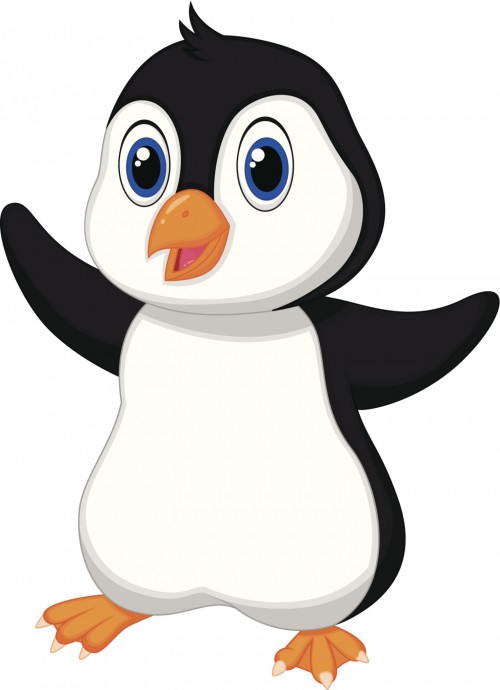 So a Real-Time Penguin is All Good, Right?
In theory, a real-time Penguin algorithm will be a savior to business owners everywhere by preventing two things from happening:
Websites from being buried in the search results for a very long time even after the offense is resolved
Websites gaining search rankings by using spammy tactics
Those are some great theories. Cheaters will no longer win, and website owners who are scammed by black hat SEO companies won't be unfairly punished for long periods of time. But will this really work out for everyone (other than all those black hat companies that will go out of business, of course)?   
While Google has taken immense steps to stop website spam from manipulating the search results, there are still loads of websites that use spammy techniques to rank in the search results. Penguin hasn't put a stop to black hat SEO.  Heck, it probably hasn't even slowed it down. Under the current configuration, you can rank really well with black hat SEO—at least for a few months. But as soon as that Penguin update happens, you're probably screwed.
But a real-time Penguin doesn't necessarily make black hat SEO obsolete. Just as Google has changed because of the spammers, the spammers have changed because of Google. And they will continue to do so. A real-time Penguin could bring on a new wave of vicious negative SEO (if that's even a real thing). The new black hat motto could very well be:
Well, I can't rank my site with spam, but I can hurt everyone else with it. And I can do it immediately!
Yes, a real-time Penguin might mean no more waiting to be "un-penalized," but it also could mean no more waiting to be penalized. That creates an entirely new game for everyone.
So What Does a Real-Time Penguin Really Mean for Your Website?
Aside from the technical logistics, there are two important takeaways of a real-time Penguin:
You'll need to be more cautious than ever about link building
You'll need to be more proactive than ever regarding your backlink profile
Yes, Google still uses links as a ranking factor. But we've been told a million times in the past couple years that link building has changed dramatically. It's about outreach, content, etc. It's certainly not about buying links, trading for links, begging for links, or any of that other nonsense. You already should be careful about link building. With a real-time Penguin, it will be even more important to ask, "Should I really build this link?" If there's even a sliver of doubt, then you know the answer.   
If Google's new Penguin is going to look at your links in real-time, then you need to be prepared to do the same. You may not need to evaluate your backlink profile every single day, but you'll probably need to check it more often than you're doing now.    
A real-time Penguin is a great step for Google. But it's not going to be just a big old party. Search engine optimization won't get any easier. It'll be just the opposite.