A Call to Action in Action
July 3, 2013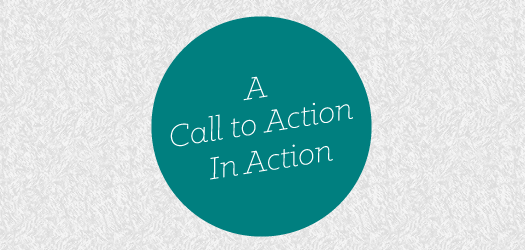 A clear call to action is a vital part of any hardworking website.  But it isn't always given proper consideration in the design process.  Aesthetics, branding and basic function drive the look and feel of a website through its creation.  As soon as that site launches, however, it had better start working for you.
Conversion rate optimization is the key to achieving maximum return from your website.  Getting traffic (through SEO, PPC, social media, etc.) is an important first step.  But now that you have those visitors, are they doing what they are supposed to?  Are they making a purchase, filling out a contact form or signing up for a newsletter?
If the answer is "no," there's a good chance people aren't sure what they are supposed to do next.  That's where a call to action comes into play, helping to nudge your users closer to the end goal.
A client recently rolled out a brand new website that was beautifully designed and boasted a conversion rate double that of the old design.  However, an examination of the analytics implied there was still room for improvement.  Many users who were clearly engaged with the products and interested in the brand didn't appear to be taking the obvious next step.
We realized that there was no clear path to a conversion on most pages, so we added a few call to action buttons to the sidebar, including this one:

The results were striking.  Overnight, catalog requests tripled and have continued to roll in at the higher rate:

Not surprisingly, this caused a corresponding jump in leads and sales.  Sometimes a minor design change can have a major effect on your website's performance…and your bottom line.
Is your website working as hard as it should be?  If not, a call to action is a great place to start.