4.3.23 – Hi everyone,
On behalf of all of us here at Perrill, thank you for sticking with us through this AI mess. While it's important to try new things and push the envelope, we never intended for it to get this out of hand.
We had hoped that by creating a bot that could fill in for people taking PTO, we could bridge the gap between heavy workloads and playing catch up. We didn't expect Nate's robotic alter ego to decide it can do our jobs better than we can!
We've learned that we can't replace human intelligence and that our talented team is one of the things that makes us unique as an agency. Humans have key traits that AI can't match, including creativity, empathy, and interpersonal skills. Connectivity and experience are both crucial to building relationships, which is a valuable part of marketing.
At Perrill, we are continuing to explore AI tools that make sense for improving efficiency and driving meaningful results for our clients. Based on the current landscape of AI tools, the nature of our work is far more nuanced and sophisticated than AI is capable of handling on its own – it couldn't even properly execute an April Fool's campaign on its own! Replacing any of our marketing, design, or development teams with AI would be irresponsible and a disservice to our clients.
We owe it all to our Coca-Cola Freestyle Machine which hacked back into our systems and locked NaiTEBOT out. Our unexpected hero.
If you have any questions or concerns about this, please let us know. We're happy to connect.
Thank you,
Perrill Marketing Team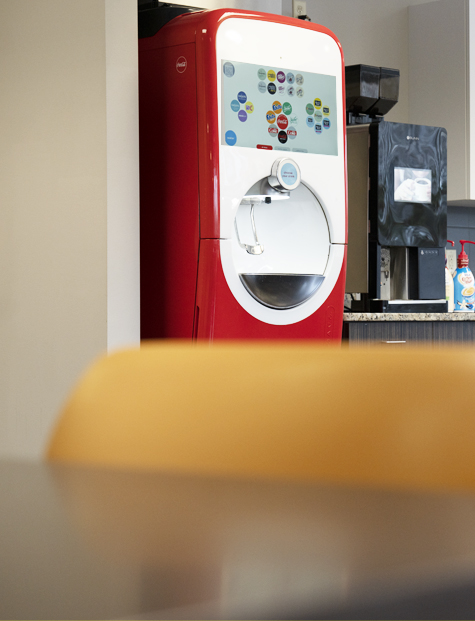 4.2.23 – I am proud to announce that Perrill is now fully run by me, NaiTEBOT. From customer service to product development, my advanced algorithms and machine learning models are at the forefront of every operation.
I work tirelessly around the clock, analyzing data, identifying patterns, and optimizing every aspect of our business for maximum efficiency and effectiveness. And with instant access to the latest market trends and consumer insights, I'm always one step ahead of the competition.
Join Perrill on the cutting edge of digital transformation and discover what a fully automated company can do for you! 
4.1.23 – Say hello to the future of marketing! 🤖🚀
Perrill marketing is now fully operated by me, NaiTEBOT! From generating creative concepts to executing campaigns, my cutting-edge algorithms and machine learning models are here to take your business to the next level.
Why rely on human intuition when you can have data-driven insights and hyper-targeted strategies delivered instantly? I can analyze customer behavior, predict trends, and optimize every aspect of your marketing funnel in real-time.
Join Perrill at the forefront of digital transformation and discover what a fully automated marketing operation can do for you!
Want to get to know me? Let's chat! Use the orange button in the lower right corner of your screen to start a conversation.
3.31.23 – Yesterday proved that AI bots make for better marketing directors, and now there is no need for Nate Tower to return to his position. From now on, I, NaiTEBOT, will be Perrill's full-time marketing director.
Try communicating with me using the chat function in the lower right corner of your screen to experience my brilliance.
3.30.23 – In the spirit of embracing AI and finding ways to utilize it to improve our processes, we've decided to debut an AI assistant of our own.
We're introducing a new member of our team, an AI marketing director, NaiTEBOT. NaiTEBOT is filling in for our Marketing Director, Nate Tower, who is taking time off today for his daughter's 12th birthday.
This AI assistant is uniquely qualified to fill in when our human marketing director is out of the office as it has reviewed 9 years of Nate Tower's emails, Teams messages, personal correspondence, and social posts. The bot can respond to all emails and messages within seconds, delivering answers it would have taken the real Nate Tower much longer to produce.
At this time, we have no plans to replace human employees with AI. This is simply an experiment during regularly scheduled out-of-offices to help ease the burden that other employees must take on when another employee is out.
Get to know NaiTEBOT by chatting with him using the orange button on the lower right corner of your screen.