Magento Development
An eCommerce Experience that Lets You Thrive
If you have big eCommerce goals, you need a platform that provides the right framework to achieve those goals. Magento is the clear industry leader for high-performance eCommerce, and no one delivers a high-quality Magento experience like Perrill's certified developers.
Whether you have one product or over 100,000 SKUs, Magento can be tailored to meet your exact needs so you can sell more. With robust performance and endless capabilities, Magento is the ideal solution for businesses ranging from first-time eCommerce stores to the world's leading retailers.
Certified Developers, Proven Experience
As one of the few agencies with Magento Certified Developer and Magento Certified Developer Plus developers, we know how to build an eCommerce website that functions the way you need it to. We've been building Magento sites since 2010, and our experience runs the gamut from the earliest versions all the way to the most recent update for Magento 2. Our Magento design and development work includes responsive websites for eCommerce giants like Jack Link's, Puma, Hormel, and MyPillow.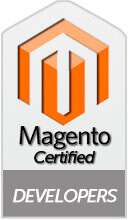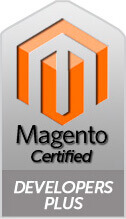 Designed for Your Customers, Built for You
We understand that not all online shopping experiences should be equal. We also know you need a highly customized website that gives you more control over your inventory, customers, and promotions. That's why we get to know your unique business model and goals before we even recommend Magento as a platform.
Once we know where you want to take your eCommerce site, we determine the functionality necessary on both the front end and the back end. Regardless of your specific requirements, we embrace every Magento project as an opportunity to deliver eCommerce that's more manageable and profitable. You'll be able to manage your store with ease and your customers will want to buy even more of what you sell.
A Better Approach to Magento
Magento development starts with knowing what you need your store to do. We employ best practice UI/UX and evaluate all the shipping and inventory integrations you'll need to deliver a seamless experience. When we develop Magento websites, we:
Closely evaluate your commerce needs and goals
Recommend the framework and extensions necessary to meet those needs
Design a captivating eCommerce website that turns your visitors into purchasers
Develop a front end that matches the approved design
Test your website on a wide variety of devices, operating systems, and browsers to ensure your shopping experience is fluid no matter what the customer uses
Launch your website on a robust hosting environment capable of processing payments and handling your highest volumes
Begin eCommerce marketing campaign that closely aligns with your goals and leads to consistent positive ROI
Contact us today for a custom Magento website designed to help you thrive online.
Unmatched Expertise
Perrill has developed Magento sites for everyone from small startups to international powerhouses such as PUMA and Hormel.