Everything You Need to Know About Google's Mobile-Friendly Update
April 22, 2015
What is the mobile-friendly update?
This is an update to the way Google ranks websites in mobile search results. A website that is deemed mobile friendly by Google can get a mobile rankings boost. This is just one of many ranking factors that determines the order of search results for any given query.
Why is it being referred to as Mobilegeddon?
Mobilegeddon is a term created by an SEO-related news source/blog. The term was adopted by many in the industry and the media. It expresses the fear that many website owners and marketing professionals have regarding this update. Primarily, this term has been used because it is catchy and drives more clicks to articles.
What does it mean to be mobile friendly?
In order to be mobile friendly, a website has to be optimized for mobile devices. Some of the biggest factors Google is looking at are text size, image size, and spacing between links. Basically, Google considers a webpage mobile friendly if links are easy to navigate and the page doesn't require unnecessary zooming or scrolling to read text, see images, or use any elements on the page.
Why is Google doing this?
Google wants to create a better search experience. Websites that aren't mobile friendly often lead to poor user experiences and high bounce rates. Google wants searchers to find what they are looking for without struggling through the search results.
Will my website be de-listed from the search engines if it isn't mobile friendly?
No. Mobile-friendly is a single ranking factor designed to boost websites that are optimized for mobile devices. It is not a penalty for websites that aren't optimized for mobile. A non-mobile friendly site will drop some in the search results, but it will not be removed.
How much traffic will I lose if my website isn't mobile friendly?
This will depend on many factors, including the competition in your industry and how much organic mobile traffic you currently have. It also depends on how those mobile organic searchers are finding you. For example, you probably won't lose much of your branded traffic even if you aren't mobile friendly. You most likely will lose some mobile traffic, but the exact amount is impossible to predict at this time.
I read an article that said my search rankings could drop from #1 to #9 or #10. Is this true?
This was just a hypothetical scenario. The actual impact on your search rankings will be determined by a variety of factors.
Will this update affect my local listings?
No. The mobile-friendly algorithm has no impact on local map listings.
Will this update affect my desktop rankings?
No. The mobile-friendly algorithm only affects organic mobile search results.
Will this update affect my tablet rankings?
No. Google does not consider tablets to be mobile devices.
Will this update affect my AdWords campaign?
No. AdWords already uses mobile factors to calculate quality scores. Digital advertising will not be directly affected by this update.
So what exactly will be affected?
This update only affects the mobile organic search results. Mobile-friendly websites will get a boost in organic search results and non-mobile friendly websites will not.
Can one website be more mobile friendly than another?
Google's mobile-friendly update does not look at multiple levels of mobile usability. This is an all-or-nothing ranking factor. Your pages are either mobile friendly or they aren't. However, not all mobile-friendly websites are created equal. Some websites will look, function, and convert better than others on mobile devices.
What if I have some mobile-friendly pages and some pages that aren't mobile friendly?
This ranking factor is handled on a page-by-page basis. Your non-mobile friendly pages will not affect your mobile-friendly pages (and vice versa).
How do I know if my website is mobile friendly?
Google has a free testing tool that analyzes your URL. https://www.google.com/webmasters/tools/mobile-friendly/.
If you pass, you will see this:

If you don't pass, you will see this:

You can also perform a manual check on your phone by doing a Google search for your business and looking for the gray mobile-friendly label (shown below in red box).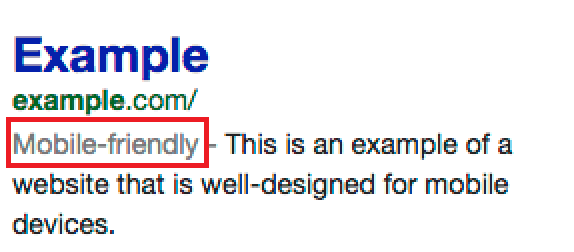 My site passed the mobile-friendly test but doesn't have the mobile-friendly label in search results. Does this mean I will lose rankings?
No. The update has not rolled out completely yet, so not all search results will include the mobile-friendly label.
I thought my website was mobile friendly, but it failed the test. What do I do?
There are some rare cases where a mobile-friendly website may not pass the test. For example, Google's crawlers may not be available at the time you conduct the test. Google may also not be reading your website correctly. We have already checked all of our websites using the mobile-friendly testing tool and resolved any problems related to elements being blocked from the crawlers. If you notice a problem, please contact us immediately.
If my website is mobile friendly, is there anything else I need to do at this point?
No. A website that passes the mobile-friendly test needs no further attention at this time.
Why are non-mobile friendly sites still ranking ahead of me?
The mobile-friendly update began rolling out on April 21st and will take several weeks to complete. You may not notice changes in rankings or traffic at first. Also, it's important to remember that mobile-friendly is just one ranking factor, so you won't necessarily outrank non-mobile friendly sites for certain searches. Google still wants to deliver the most relevant websites for a given search.
What's the best course of action if my website isn't mobile friendly?
Perrill recommends a responsive website redesign. This is also Google's recommendation for going mobile friendly.
Why responsive instead of a separate mobile site?
Responsive is a proven method that adapts to all devices and stays current with the latest technology. A separate mobile site will not be optimized for tablets and can present further challenges in terms of SEO and internet marketing.
Besides a ranking boost, will a mobile-friendly website benefit me in any other way?
Yes. Mobile-friendly websites generally have much higher conversion rates on mobile devices. Even if you don't get a ranking boost, having a mobile-friendly site will most likely result in more leads or sales from your existing mobile traffic.
What if I can't afford a mobile-friendly website at this time?
The mobile-friendly algorithm works in real-time. When you update to a mobile-friendly website, you will get the ranking boost (typically within 24-72 hours). You will not be penalized for the delay. However, you are not guaranteed to regain all of your search rankings as soon as you go mobile friendly.
I've seen services that cost $25-$50 a month for a mobile version of my website. Would you recommend these services?
No. While they may help you achieve mobile-friendly status in the short run, they may not stay current with new technology. Additionally, they don't give you control to optimize across all devices. Although it may seem cheap, it's not a cost-effective solution for sustaining mobile rankings and driving mobile conversions.
What is Perrill doing to minimize the impact of the mobile-friendly update for my site?
We are closely monitoring your mobile traffic and adjusting our strategies as issues arrive. At this point, no one is certain how the mobile-friendly update will affect your business. However, our research team is staying on top of the issue, and we will take the necessary steps to make sure your business stays competitive in your industry. Since mobile-friendly is just one ranking factor, you can still rank well for relevant terms even if you aren't mobile friendly. Additionally, we are always looking for ways to drive more qualified traffic to your site.
How else can I prevent my website from losing mobile traffic while I wait for a mobile-friendly redesign?
Investing in Google AdWords can help preserve your current mobile traffic. However, you will need mobile-friendly landing pages to keep your cost-per-click down.
How can I keep up with this update?
If you have questions regarding the mobile-friendly update or anything related to SEO, internet marketing, or web design, we recommend contacting us for the most up-to-date and accurate answers.