Back
10 Ways You'll Benefit from a Website Redesign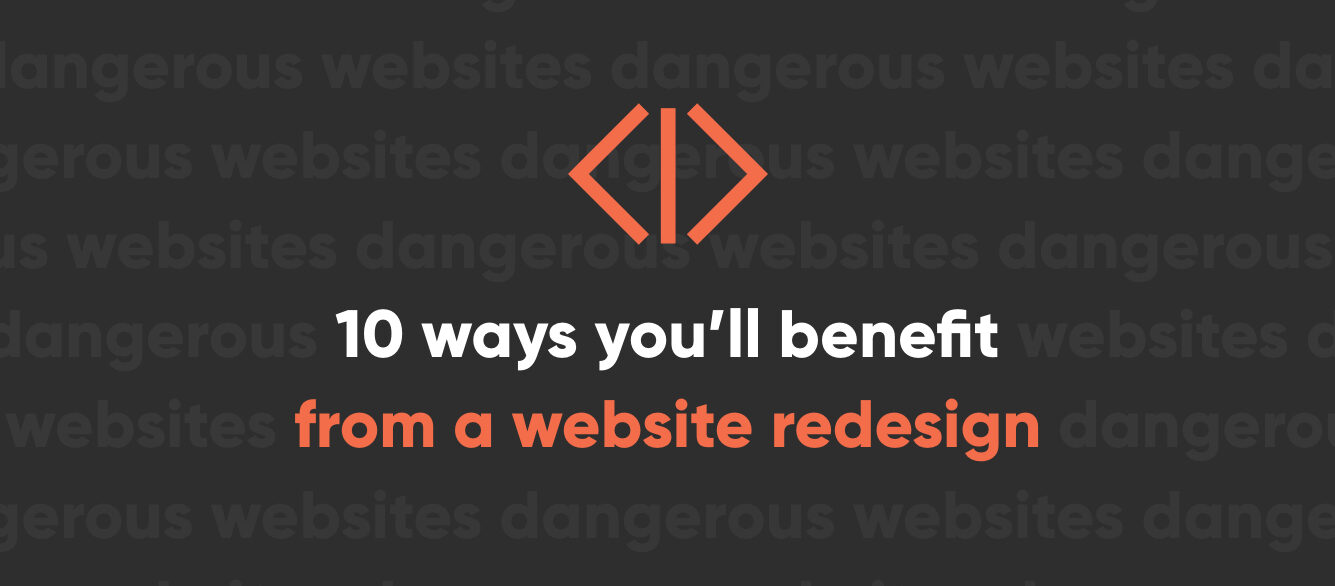 Still thinking about whether or not you need a new website? It's time to stop thinking and start designing. A website redesign comes with loads of benefits that more than make it worth the price tag.
1. A chance to start over
Sometimes we'd all like a chance to start over. Let's face it. That old website is bringing down your business. A new website is just the ticket to bring you out of that slump. Okay, so a new website design isn't necessarily a clean slate for your business (it can't solve internal issues or erase bad reviews), but it does give you a chance to recreate yourself. With a new design, you can correct problems of the past and put more focus on what will help you succeed.
2. Increased conversion rates
You've noticed your conversion rates have been going down over the past few months. Perhaps it's because the checkout process is old and outdated. Or maybe the navigation is confusing. Or maybe the calls to action aren't right. Whatever the case, a new website design will resolve all of these issues and make your visitors more likely to convert.
3. Brand consistency
There's a good chance the face of your brand has changed since the last time you redesigned your site. When your brand advertising and your website don't match, your potential customers often get confused and run the other way. A website redesign can align your web presence with your overall brand image.
4. Increased consumer trust
The internet moves fast, and you're expected to keep up. Consumers don't trust what looks old. According to ResearchGate, 94% of online consumers view websites with high-quality designs as more trustworthy. That's another way of saying they'll be more likely to fill out that contact form or pass along their credit card number.
5. Rankings boost
A new website isn't guaranteed to move you up in the search rankings, but it certainly can help. New content tells the search engines you're relevant. Your brand new website is also bound to generate plenty of natural link juice. One caveat: A new website can potentially hurt your rankings if you don't take all of the proper precautions. Make sure you avoid common SEO mistakes when redesigning that website.
6. More control over your content
Are you still using a static HTML site? If so, it's time to move into a content management system like WordPress or Drupal. For ecommerce, Magento will make your life better. No matter which platform you choose, it will be easier to update your content without begging a developer for every tiny change. If you're already using a CMS, then a new design can help make sure you're still on top of the game.
7. A leg up on the competition
Everyone loves what's new. Think back to your school days. What's the best way to get everyone to pay attention to you? Show up with something new and better than what everyone else has. Whether it's a shiny new toy or a sweet new ride, having the latest and greatest always brings people into your court. A sleek new website will draw eyes away from your competitors and right into your shopping cart.
8. Save money in the long-run
There's no denying that a proper website redesign can be expensive. However, it's often a much more cost-effective solution than not doing a redesign. Over time, you may need to fix functionality or add features to your old website. These things add up fast. Rather than throw a bunch of band aids on your site, do it the right way from the get-go.
9. Adapt to new technology
How does your website look on the newest devices? How was your current site coded? Things have changed dramatically since your website was developed. Refreshing the look of your site is also a chance to make sure the code is up to today's speed. With a website redesign, you can finally get that site looking good on all browsers and all devices (and ready for Google's mobile-friendly algorithm). Modern technology isn't trying to keep up with your website. You need to keep up with the technology. If you don't, you'll find everyone leaving you behind.
10. Morale boost
A new website has far-reaching impact. It doesn't just improve how your potential customers see you. It also improves how your employees (and potential employees) feel about the company. An old website can make a business feel outdated. Nothing encourages employee turnover more than being stuck in a rut. By redesigning your website, you're sending the message that the company is moving forward.
Still not convinced you need a website redesign? Okay, now you're just being stubborn. A new website offers more than enough benefits to make it worth the process and cost. And it also leaves you something that will make you proud of your business. So quit reading about why you should redesign your website and start the process today.

Nate Tower has over 10 years of digital marketing experience and currently serves as the President of Perrill. He is a creative expert gifted in pinpointing our clients' realities, goals, and audiences and turning that information into a captivating and never-before-heard brand story. With roots in digital marketing, education, and creative fiction, Nate's an Old Faithful-caliber fountain of knowledge.