Back
5 Most Important Factors for a High-Quality Website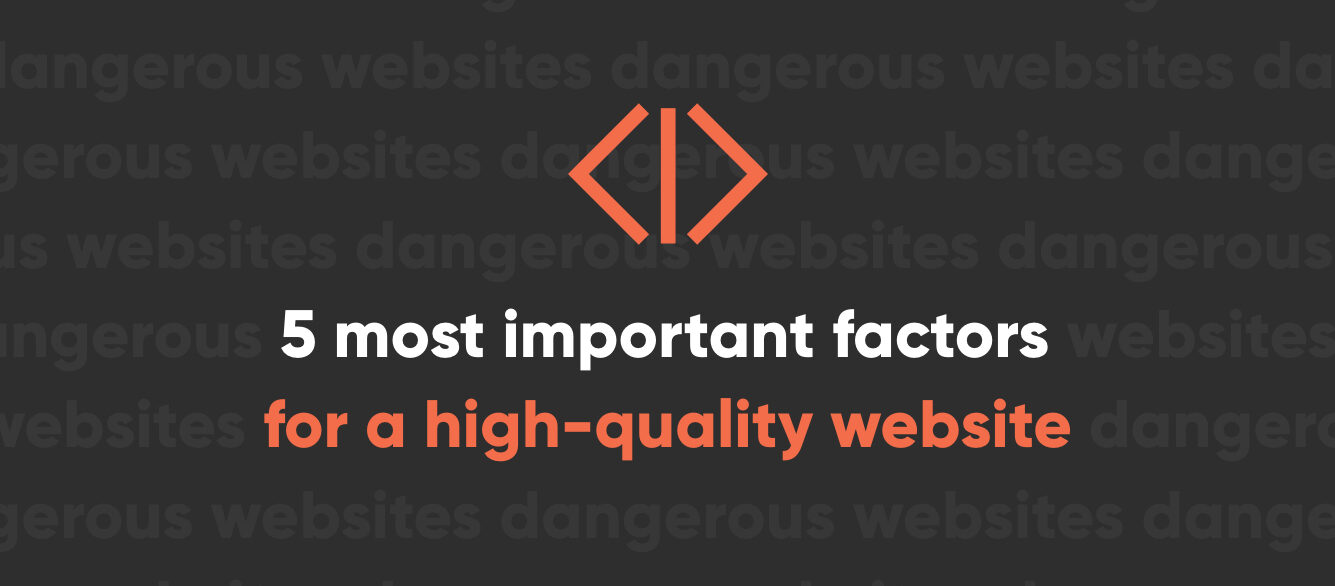 If you want your website to attract customers and business, you need to provide a high-quality experience. But how exactly can you do this with your website?
While the quality of a website is not a strictly quantifiable thing, there are set factors that help establish just how good a website is. To find these factors, you don't need to look much further than Google.
Google recently released (for the first time ever) the complete version of their Search Rating Quality Guidelines. This massive 160-page document—designed to help individuals understand how to rate the search results they're testing—is largely dedicated to the quality of a website. In fact, roughly the first third of the document provides definitions and examples of the various quality levels of websites.
You may not have time to read and digest all 160 pages of this Google document, so we're going to make this easy for you. Here are the five most important factors for a high-quality website. If you have all of these things down, then your online presence should be in fantastic shape.
1. Strong Main Content
The main content on your website is the essence of your online presence. Your main content is what communicates to your customers what you do. It provides valuable information about the services and products you provide. Strong main content should be:
Clear and concise – don't use 1,000 words when you can say it in 5
Accurate – fact check everything
Free of errors – typos, grammatical errors, and misspellings are not your friends
Authoritative and Trustworthy – you should be an expert in your industry
You also need to have enough content. That doesn't mean a set number of words per page. It means the content on each page should be sufficient to provide value to your customer. An About Us page that says nothing more than "We've been designing great websites for over 20 years" does not provide much value. The key with your main content is to provide the right quality and the right quantity. Don't fluff it, but don't underdo it either.
2. Good Design
Nothing drives people away from your website faster than bad design. But that doesn't necessarily mean you need to have a cutting-edge site that uses all the latest design trends. Rather, it means your website should be designed with the user in mind. That means your website should:
Look modern – if it looks like it was designed in the 90s, your customers won't trust you
Be easy to use – your visitors should be able to find the information they need quickly and without asking for help
Function correctly – there shouldn't be any outdated or broken technology that doesn't work properly on modern devices
Although content will always be heralded as king, no one is going to take the time to look at your content if your site has a bad design. Just because your website looked great when you launched it ten years ago doesn't mean you're in good shape today.
3. Proper Maintenance
A great car turns into a hunk of junk if you don't maintain it. A website is the same. No matter how sleek and amazing your site looks when it launches, it will quickly become a virtual paperweight if you don't perform routine maintenance. A well-maintained website is one that doesn't have:
Broken links – all external and internal links on your website should point to the correct working page
Missing images – there shouldn't be any big holes in your site where an old image used to live
Outdated information – you need to keep the information on your site up-to-date, including contact info, business hours, promotions, and industry-related information
If you keep your site in proper working order, your customers will be able to find what they need without getting frustrated by a bunch of broken elements. Think of it this way: if the furnace at your office broke during winter, you'd probably fix it right away. Treat your website the same way.
4. Positive Reputation
This one is a bit tricky because it isn't technically part of your website. But it's still a vital ingredient for a high-quality site. Reputation helps your customer (and Google) know that you are an authority and expert in your field. If you have no reputation or a bad reputation, then your beautiful design and great content won't mean much to most of your customers. A good reputation means:
You have good online reviews – there may be a few bad ones in there, but most of your online reviews should be favorable
Your information on the web is consistent – if there are inconsistencies in your business information around the web, people will start to doubt your credibility
You have mentions elsewhere on the web – if no one is talking about you anywhere else on the web, then it's hard to prove you provide a high-quality service
Remember that most of your potential customers are going to do more than just look at your website. They are going to research you before they decide to use your services or make a purchase from you. Put it this way: a great website for a business with a 1-star reputation is not going to outperform a bad website for a business with a 5-star reputation.
5. Strong Secondary Content
If you really want to take your website to the peak level of quality, you need more than just main content. You also need to provide extensive value beyond your products and services. Secondary content is an extension of what you provide. It doesn't mean you are posting links to funny things you saw on YouTube. It means you are giving your users valuable resources beyond trying to take their money. Strong secondary content includes:
Links to resources related to your industry – for example, a website for a doctor may link to other health authorities
Blog posts with tips and industry news – for example, a landscaper might publish a blog post with tips on how to care for your lawn during the winter
Other media – for example, a mechanic could post a video showing the fastest way to change your oil
This content isn't likely to lead directly to leads. Rather, it will help you build your reputation and establish you as an authority. If you never produce content outside of your immediate products and services, you'll have a tough time expanding your customer base. If you take the time to help a wide range of visitors, you'll eventually get more customers and possibly become the go-to company in your industry.
No One Factor Can Make Your Site, But One Factor Can Break It
It's important to note that any single factor could make an otherwise good website into a low-quality site. For example, if you have great design, great reputation, and great regular maintenance but horrible content, your site isn't good. Inevitably, this will mean poor conversion rates, weak connections with the customer, and bad performance in search results. However, no single factor can make an otherwise bad website into a great one. The best content in the world won't make your website high quality if you have bad design, poor maintenance, and a terrible reputation.
While Google's document shouldn't be misinterpreted as "ranking factors," the main message is still pretty clear: when it comes to your online presence, content is still king. But a king without a kingdom isn't worth very much.

Nate Tower has over 10 years of digital marketing experience and currently serves as the President of Perrill. He is a creative expert gifted in pinpointing our clients' realities, goals, and audiences and turning that information into a captivating and never-before-heard brand story. With roots in digital marketing, education, and creative fiction, Nate's an Old Faithful-caliber fountain of knowledge.