Back
Why You Need a Brand Messaging Strategy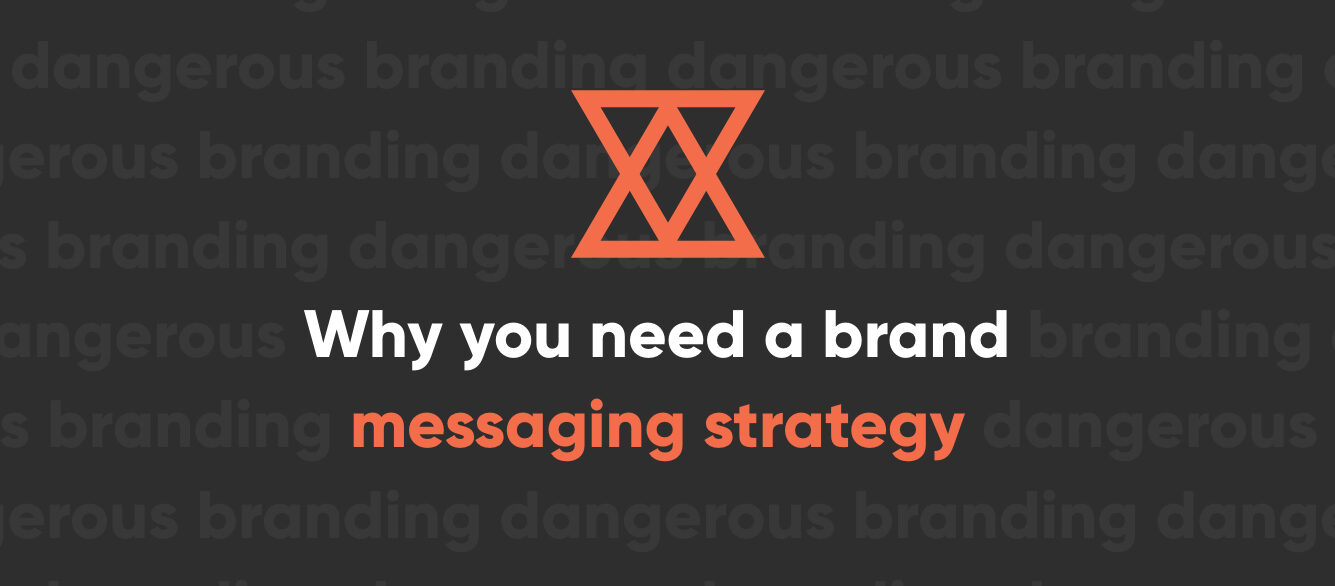 Here's a test for you. Go to any page on your website and swap out your company's name with the name of your biggest competitor. Now read the content. Did it make a difference?
Probably not.  
If you don't have a brand messaging strategy, your content could be anyone's content. It doesn't matter what business name is used within the context of the copy. Change the logo and the business name, and most pages on your website would apply to every other company in your industry.
Craft a Unique Brand Message
Here's a newsflash for every business owner out there: every company delivers the best service and has the best people. That's what most websites try to tell their customers. How often do you see something like this on a company's main service page:
Our company is committed to delivering exceptional value and excellent customer service. With decades of experience, our knowledgeable team understands how to deliver solutions that will maximize your ROI.
Inspiring, isn't it? So what type of company do you think that is? What service do they provide? What value do they offer their customers? Seems like they could do just about anything. But the one thing they definitely don't do is deliver a compelling message that makes them unique.
Give Customers a Reason to Contact You
Most websites don't give the customer a real reason to contact them. Sure, there's a button that says "Contact Us." And there's some text that says, "If you want unbeatable service and value, contact us today." There's also that About Us page with some impassioned mission statement that your customer couldn't care less about. But there's no story and no strategy. There's just text to fill up each page.
So what's your story? Why should customers contact you instead of the competition? What really sets you apart? Don't say it's your people and your service. That's literally what everyone else says. You can't build a compelling brand message on what everyone else does too.
The center point of your brand messaging strategy is that thing you actually do better than everyone else. It's the thing that makes your website visitors want to contact you and become your customers.
The Purpose of a Brand Messaging Strategy
You need a story. You need a voice that's unique to you. You need to be distinguishable in the sea of white noise that is the internet. A brand messaging strategy uncovers all this and starts to weave your narrative together. It's the foundation for how you reach your customers.
A brand strategy will help you achieve the following:
Create a unified and consistent voice across all marketing channels

Craft a unique brand story that sets you apart from your competition

Connect your brand to your audience and give them a reason to contact you or buy from you
With a great brand messaging strategy, you can create content that will inspire your visitors and turn them into more than customers. They'll become advocates for your brand.
Engage Your Audience
Now, let's not kid ourselves. This pains me to admit, but the vast majority of written content goes unread. Heck, I'm surprised you made it this far. This fact makes it even more important to have a strong brand messaging strategy.
A good brand messaging strategy encourages your target audience to read your message. No, they probably won't read every word, but they'll read enough to know they want to work with you. The message has to stand out. It can't be buried in the fourth paragraph of your About page. A brand messaging strategy isn't just about creating the right message. It's also about determining where that message goes and how it should be presented in order to best engage your audience.
Creating an Effective Brand Messaging Strategy
A brand messaging strategy is much more than a company tagline. It's a well-thought-out plan for how you should present your brand and speak to your customers. Don't think of it as how to talk about yourself. Think of it as the optimal way to reach your target audience while accurately representing who you want to be.
Your strategy should be based on who you are, who you want to be, and what value you provide to your customers. It should clearly define your goals, your unique value propositions, your audience values, and your challenges. Then it should respond to each of these elements, creating an overall message that defies your weaknesses, exemplifies your strengths, and inspires your target customers.
Who Should Create Your Brand Messaging Strategy
Who's the best person to create your brand messaging strategy? It's probably not you. Business owners and highly invested employees may seem like the best place to turn, but they are often too close to the company to create an effective strategy that will appeal to the customer. That's why business owners typically say things like "best service" and "best people." They truly believe this, and they often have a difficult time qualifying what makes these things better than everyone else. It's not that they don't know what sets them apart. They just don't know how to say it.  
An outsider is typically much more capable of creating a brand messaging strategy that effectively reaches the customer. A good brand or content strategist can ask the right questions, listen to your answers, and uncover those hidden truths about your business that make you shine. They can then turn this into the right message that will reach your audience and give them a reason to contact you.
The End Result
When your customers read content that's based on a sound brand messaging strategy, they'll feel strongly connected to you. When you read your brand messaging strategy, you'll get excited about who you are.
Here's a final test: Does the content and message on your website get you excited? If not, you need a brand messaging strategy. Contact us today for a strategy that will reach your customers and make you excited about your brand.

Written by
Nathaniel Tower
Nate Tower is a Director of Marketing at Perrill. He is a creative expert gifted in pinpointing our clients' realities, goals, and audiences and turning that information into a captivating and never-before-heard brand story. With roots in digital marketing, education, and creative fiction, Nate's an Old Faithful-caliber fountain of knowledge.