Back
Do I Need to Write Content for My Ecommerce Category Pages?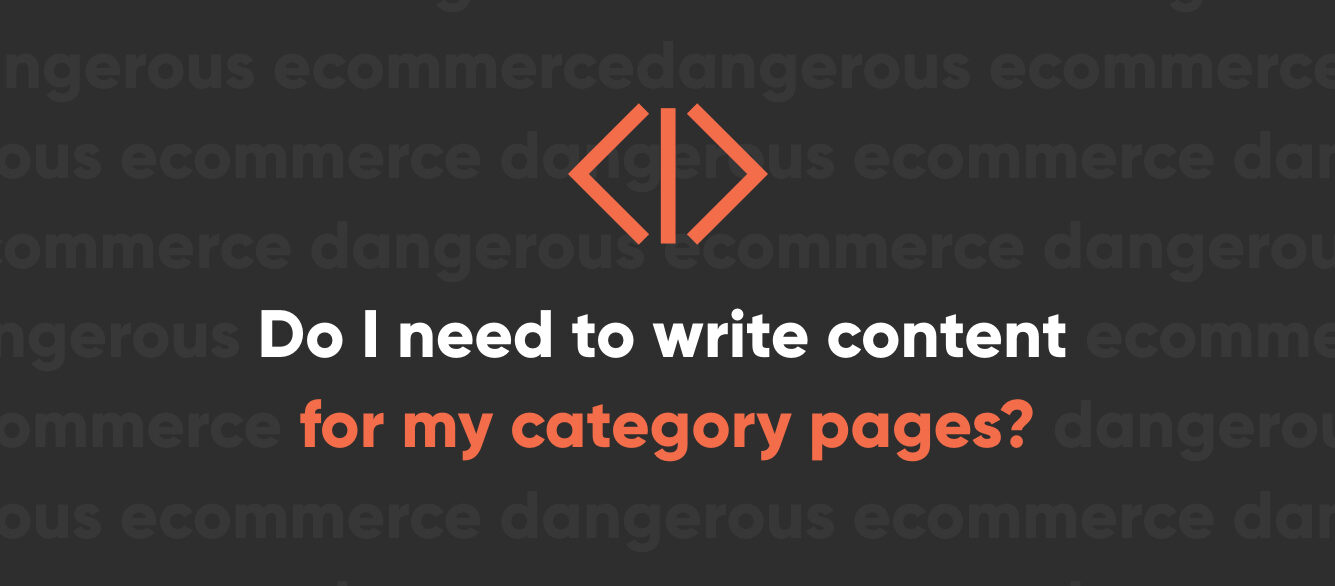 Category pages are often overlooked when planning content for your ecommerce website. After all, most people just view a category page as a collection of products. Show your customers the products and let them figure it out, right?
If you want your category pages to dominant search results and provide a great experience for your users, you need to do a little more. One key ingredient to making category pages that dominate is to have unique and useful content on them.
Of course, we're not talking about some garbage SEO copy that reads like a list of things you want to rank for. We're talking about real copy that provides detailed information about your category and helps your users decide if they want to click on one of your products or shop somewhere else (hint: you want the former).
Why You Need Written Content on Ecommerce Category Pages
The reasons here shouldn't be all that surprising. Having copy on your category pages can:
Highlight what's important about this collection of products
Give your customers an introduction and context
Create secondary calls to action (if necessary)
Provide search engines with more information regarding the content and purpose of the page
There's not really anything shocking on that list, is there? It's pretty hard to argue with any of those points with anything other than, "But I don't have time to write copy!" But that part doesn't have to be that hard.    
How Long Your Category Content Should Be
First of all, you don't need to write a book. The copy on your category pages should generally be concise. If anyone tells you to write 1,000 words of copy and stick it at the top of your category page, please ignore them. That won't be beneficial for anyone. Remember that every line of copy will push your products further down the page. In most cases, one or two short paragraphs will get the job done. For example, here's what Gander Mountain has on their Men's Hunting Jackets category page: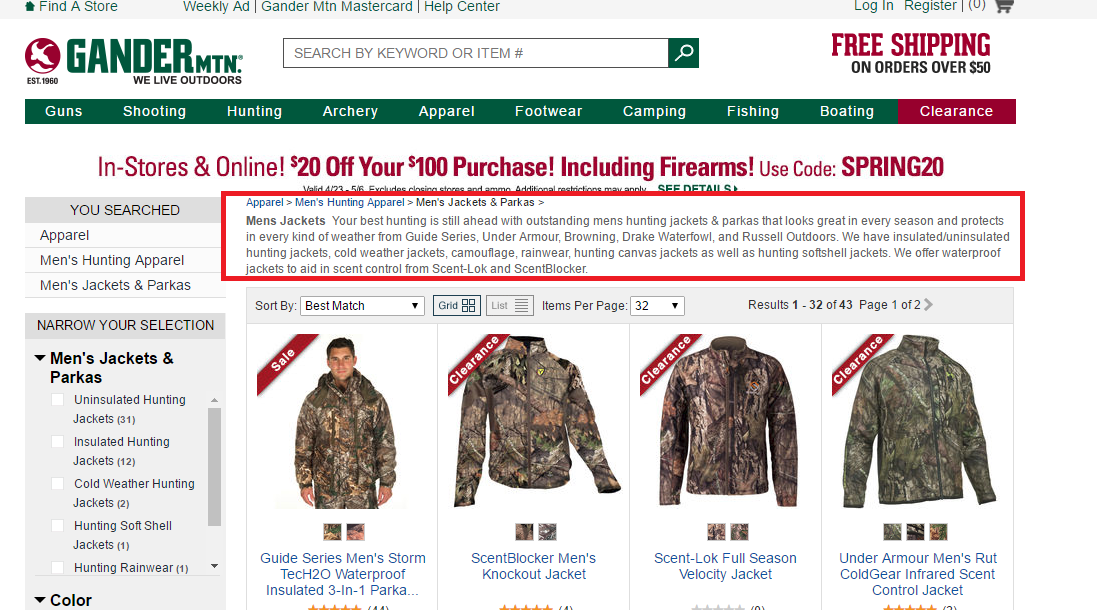 If your category is complex and requires more copy for your users to gain the right knowledge for their purchasing decision, you should create a separate guide or page and link it from your category. After all, you're doing this for your users. You could also opt to put that copy at the bottom of the category page like Dick's Sporting Goods did for their Hunting Jackets category (just keep in mind that copy at the bottom of a page won't be seen by as many users and may be deemed less important by search engines):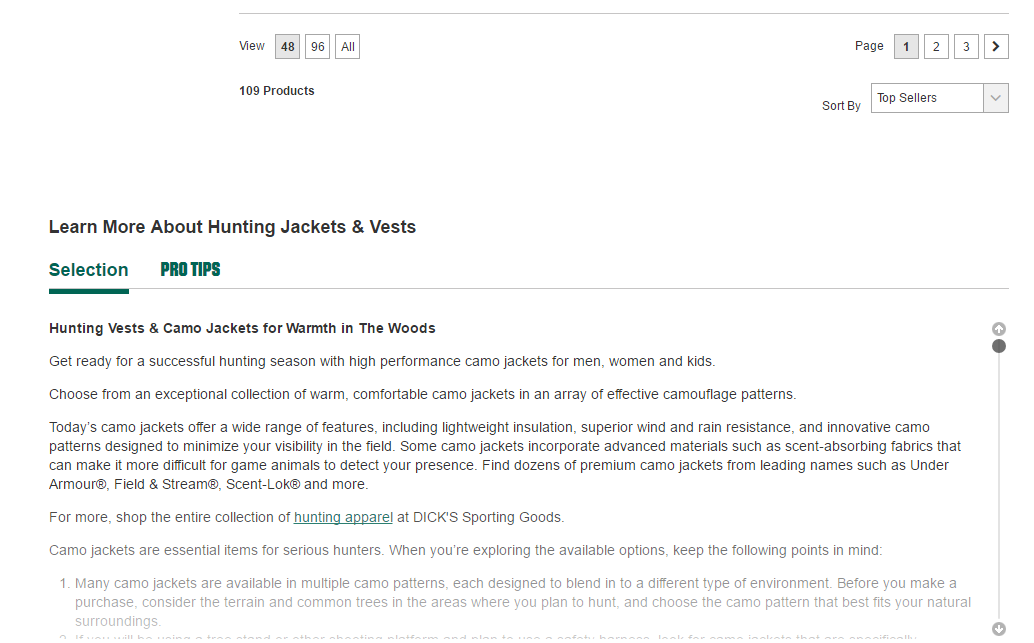 What You Should Include in the Content on Category Pages
Copy on a category page should give users what they need to shop in that specific category. Or, to put things more accurately, you should be giving your users what you think they need to make an informed purchasing decision right then and there. Generally speaking, here's what you should try to accomplish in the copy on your category page:
Basic overview of the product type offered in the category
Explanation of features, uses, brands, etc.
Advantages of your product offerings
Optional: Creative headline that highlights your offerings
Optional: Call to action or follow-up message (e.g. "Don't see the doodad you need for your application? Contact us today and we'll help you find the right solution.")
And here's a couple things to avoid: you don't want to overuse any particular keywords or use overly generic copy. Here's a quick test for you: if you change the category name, will the same copy apply to any other category? If so, that copy isn't good enough.
Category Content Examples
We're not trying to reinvent the internet here. Category copy doesn't have to be overly complex. Here are two examples:
Example 1: For an ecommerce store that resells products
Category Name: Doodads
Headline: Do It Right with a Durable Doodad
Copy: Often overlooked, the most important piece of equipment you need in your garage is a high-quality doodad. With a durable doodad on your shelf, you'll be able to tackle the toughest projects including doohickey repairs and whatchamacallit tune-ups. We always stock a wide range of doodads from top-quality brands like Dododad, Dadadoo, Dodadado, Dadooood, and more. Everything in our store is hand-picked by our team of gadget experts and backed by our one-of-a-kind lifetime support, so you know it's going to work. Don't see the doodad you need for your application? Contact us today and we'll help you find the right solution.
Example 2: For an ecommerce store that sells its own products
Category Name: Doohickeys
Headline: Designed to Deliver, Built to Last Forever
Copy: You can get a doohickey just about anywhere. But when your livelihood is at stake, do you really want to trust just any old doohickey? At Dot's Devices, we do doohickeys better. Our patented outer shell design and unique approach to the inner mechanism ensures lifelong functionality from every product. Whether you're fixing a wingding or building a new whipperpop, you need a doohickey you can rely on even under the most extreme conditions. Choose from hundreds of doohickeys ranging from the low-profile 24HP DooH to the unmatched 400HP DooH4. No matter the job, we have the device. And remember that everything we sell ships free and is backed by our 100% lifetime guarantee.
Not sure which doohickey you need? Contact us today and we'll recommend the right solution or custom build one to your specifications. 
That's not so bad, right? These examples are concise and helpful with no added fluff. A good copywriter should be able knock out a few of these in an hour.   
But So-And-So website ranks really well for such-and-such category and doesn't have any copy?
It's true. Not every successful category page has copy on it. The top search result for a product category often brings up a category page with no copy. This can result in some twisted logic that suggests you shouldn't do it if they don't do it.
However, the main problem with this line of thinking is that it assumes you are on equal ground with this competitor. If they are a well-known big box store, maybe they can get away without having copy because their website has more authority than yours. So how do you combat that? You create great and useful copy and put it on your category pages.  
Prioritize Your Categories
Yes, it's going to take some time to write unique and useful copy for each category on your ecommerce website. Depending on how many types of products you sell, it might take a lot of time. That's why you need to prioritize. Start with your top-level categories and pick the ones that are most important to your business. It's not helpful to say that every category is equally important. You have to start somewhere. This would be a great opportunity to turn to your data. You might try one of two approaches:
Start with your bestsellers or most profitable categories. If you sell a lot of Doodads and it's profitable for you, then write that category first.
Start with profitable categories that aren't selling well. Maybe you think you should be selling a lot more Doohickeys, but you aren't getting much traffic and the traffic you are getting isn't converting. It might be a good idea to start here instead.
In many cases, it makes the most sense to start with the categories that aren't performing as well—provided that these categories have a lot of value to your business. Why start with something that's already doing great when you have plenty of areas for improvement?
Regardless of where you start, the fact is that you need to start. Having no written content on your category pages isn't helping anyone. If you want to compete better and provide a richer experience for your visitors, you need to start creating category copy right away.

Written by
Nathaniel Tower
Nate Tower is a Director of Marketing at Perrill. He is a creative expert gifted in pinpointing our clients' realities, goals, and audiences and turning that information into a captivating and never-before-heard brand story. With roots in digital marketing, education, and creative fiction, Nate's an Old Faithful-caliber fountain of knowledge.