Back
Perrill Welcomes Nate Tower as its Next President

At Perrill, we're a forward-thinking, eyes-on-the-prize type of agency. Our team is always looking for ways to improve our services, better serve our clients, and create a stronger, more collaborative culture.
One person in particular has been instrumental in pushing our company forward throughout the years, and we're thrilled to announce that that individual, Nate Tower, is the new president of Perrill, effective immediately.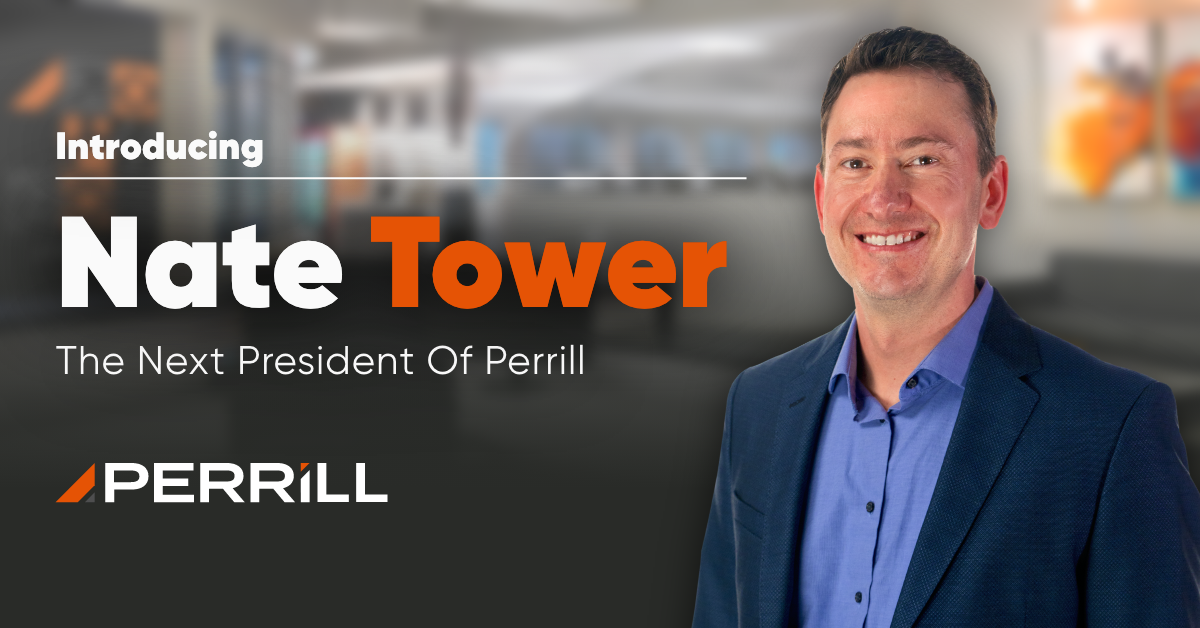 Nate started working at Perrill in 2014 and over the past 9 years has made a huge impact on the business. In his most recent role as Director of Marketing and Sales, Nate motivated, inspired, challenged, and supported the teams he managed. His overall marketing expertise goes unmatched. On top of those attributes, Nate knows the Perrill business inside and out.
Nate is uniquely capable of stepping into this role. His marketing knowledge and strength as a leader will allow him to continue pushing Perrill forward, accelerating our growth, and allowing us to provide our best service to our clients. During his tenure, he's helped bring more visibility to Perrill while elevating the importance of company culture. Nate embodies our core values on a daily basis and truly cares about our employees and clients.
As we welcome Nate into the role of president, we want to take a moment to thank former president Jay Gast. Gast led the company for three years and offered many positive contributions to the growth of the company.
Over the past few years, Perrill has grown by leaps and bounds. We're not the company we were 10, 5, or even 3 years ago. And the best part is that we just keep getting better.
We've brought in top talent, ensured we have the right individuals in the right seats, and are capable of supporting our clients at full capacity. We're proud of the company Jay Perrill started back in the late 90s, but we're even more proud of the continuous growth and improvement that led us to where we are today.
Nate Tower will be an exemplary leader, as he has been in his previous positions at Perrill. We're excited to see where he takes the company and how Perrill will continue to grow under his leadership in the years to come.
Congratulations, Nate!

Grace Hallen is a Digital Marketing Specialist at Perrill. Her passion for communication and crafting engaging content led her to Perrill's marketing team. She loves flexing her creative muscles and finding clever ways to reach readers. In her free time, you can find Grace playing trivia at local breweries, exploring the Twin Cities or getting lost in a good book.