Back
Why You Need New Content for Your New Website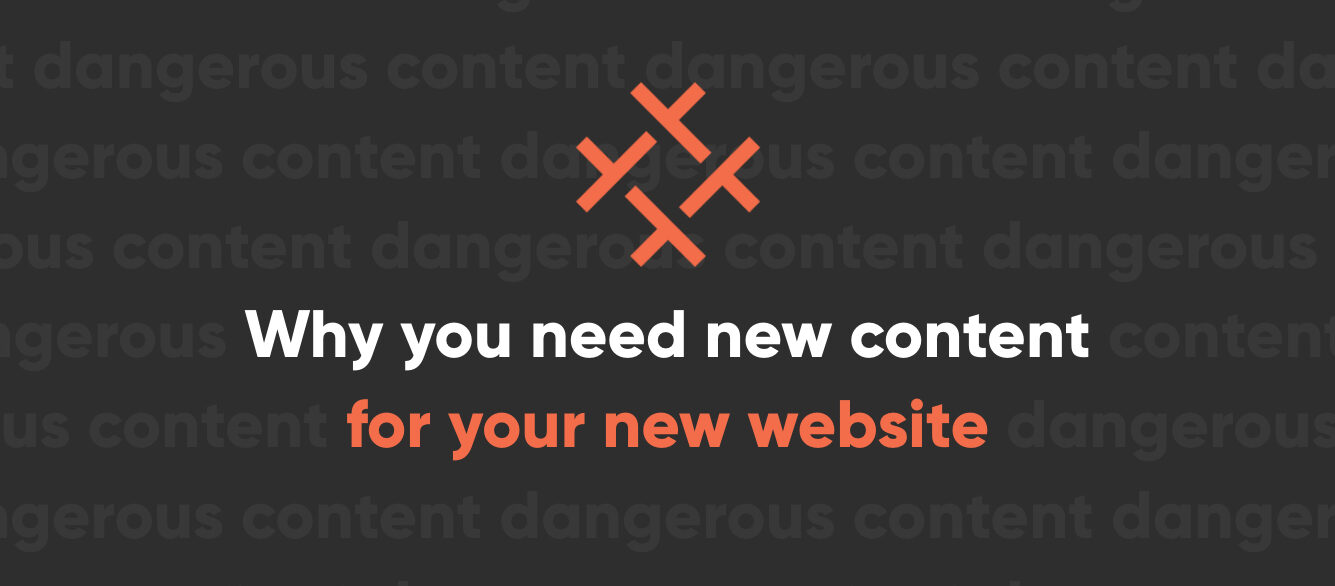 When we were preparing to launch the newest version of our website, we were faced with a difficult decision: should we keep our old content or rewrite everything?
It may not sound like that difficult of a question. After all, why would you want to launch a brand new website with a bunch of old content? Wouldn't that be like buying a brand new house and filling it with all your ratty old furniture?
While it seems like a no-brainer—of course you want everything on that brand new website to be shiny and fresh—there are two big obstacles to consider here: cost and risk.
The Cost & Risk of New Content
Content isn't cheap. At least not good content. Whether you are creating your own content or hiring a writer to do it, the costs are high. If your own team is writing the content, then you're looking at a lot of time (I don't think I need to tell you that time is money). Most businesses simply don't have the time to create this content on their own, which means someone else has to do it. Sure, you could find someone on Fiverr to do it for you, but I promise you won't even get what you pay for. A good content writer is expensive. A good content writer is also worth the cost. 
The second thing that made us waver on the new content decision was the potential risk. Although we weren't necessarily proud of the content on our site, it was definitely doing its job in the search results. Did we really want to risk our rankings on money keywords like web design Minneapolis? As the old saying goes, if it ain't broke…
That isn't to say that new content carries some inherent risk of losing rankings in the search results. In fact, fresh content might have just the opposite effect. With new content, you are showing continued relevance. The point here is this: any change you make to your site could potentially have an impact on your search rankings. If you're ranking number one for everything with your current content, your new content isn't going to help you improve. 
New Content Means New Opportunity
I won't keep you in suspense any longer. We did opt for all new content on our new website. It ended up not being that hard of a decision after all. In fact, it would have been a bigger risk to keep the old content. Any impact the new content might have on our search rankings surely would be offset by the fact that we'd be providing our visitors with more compelling content that actually met our company standards. I mean, how many potential leads did we lose because we referred to websites as "swank eye candy"?
Does this mean every new website needs new content? While you might not need to completely overhaul everything, in most cases, a new website is going to require some fresh content. Here's what you need to consider:
Is your content dated?
You might want to hold onto that old content because it seems to be doing well. But what's the lifespan of that content? If it contains a lot of outdated references and inaccurate stats, then you're going to need to clean it up. Take our content for example. How many people would want a website from us if we were spitting out stats about 2010 and the imminent rise of the mobile website? Yeah, that kind of already happened. Your content needs to tell the most current story possible. Otherwise, your potential customers are going to think they need a time machine to do business with you. With new content, you can show your customers you're current. And the search engines definitely won't punish you for being up-to-date.
Does your content align with your current brand image or mission?  
Even if it's only been a couple years since you last created content for your site, chances are that you've changed at least a little bit. Or maybe your old content never actually matched your company philosophy. If your content doesn't align with who you really are as a company, then you aren't going to end up getting the right leads. For example, if your content is informal and whimsical, you may not attract serious business clients. It's important for your content to reveal who you really are.
Are there gaps in your content?
When launching a new website, you don't typically have all the exact same pages. You probably condense a little here and add a little there. Maybe there's a new service you want to offer. Or maybe what used to work as one page now needs to be broken into several pages. Whatever the case, rarely can a new website design work with no additional content. You might not need to rewrite everything, but you'll need to write something.
Is Your old Content Thin?
Remember back in 2007 when you launched that website with 57 service pages that each had 26 words of content (12 of which were location identifiers)? Yeah, that's not going to fly anymore. You need to beef up that thin content so it actually provides some value for your users (and for the search engines). A new website is a great opportunity to perform a content audit. See what you need and what you don't. The internet has changed a lot since you last updated your content. So have your customers. 
Does that old content convert?
While we're thinking about a content audit, let's go ahead and look at your analytics. How well did that old content really convert? Look at your pathing reports and your conversion rates. Maybe those super high bounce rates weren't just because of your outdated design. If your content doesn't speak to your visitors, they aren't going to become customers. You're putting all this money into a brand new site. You don't want to cut any corners on the content.
Conclusion
More often than not, a new website means you need new content. You might not have to scrap every word from the old site, but you probably can't just copy and paste all the old stuff. Yes, there are risks and costs involved with new content, but the potential reward for your business makes it all worthwhile. New content can lead to more conversions and better search rankings. Paired with the power of your new site design, that new content can turn your website into a conversion machine. Sure, it can be a bit of a pain to go through the content writing process, but don't you want your brand new website to feel brand new?    

Written by
Nathaniel Tower
Nate Tower is a Director of Marketing at Perrill. He is a creative expert gifted in pinpointing our clients' realities, goals, and audiences and turning that information into a captivating and never-before-heard brand story. With roots in digital marketing, education, and creative fiction, Nate's an Old Faithful-caliber fountain of knowledge.