Back
How to Write a Website RFP that will Guarantee a Successful Project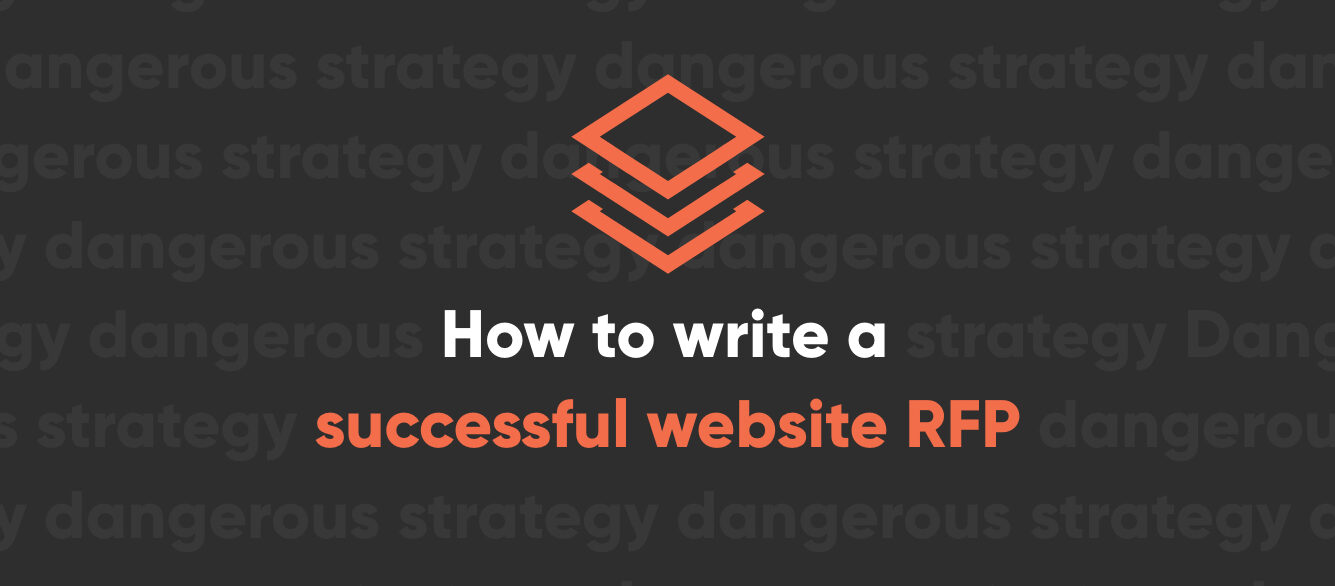 If you've been tasked with heading up a new website for your company, congratulations! This is a big deal. It's probably the most important thing you'll do for your business this year. So let's get started. Time to turn to Google, right? Before you hit that search button, there's something else you need to do first.
To make sure your new website is a smashing success, you need to find the right designer for the job. Hiring a web designer is not as simple as Googling "best web design company in [my city name]" and clicking on the first result. This is a major investment for your business, and you need to do your homework.
The best starting point—before you even begin looking for design companies—is to put together a request for proposal (RFP). The website RFP doesn't have to be overly complex, but putting the right information into this document is going to save you a lot of time in the long run. More importantly, it's going to give you the best shot at finding a web design company that's best suited for meeting your business's specific needs.

Every high-quality design agency understands the RFP process. Great web designers know how to respond to your RFP. An RFP will help you immediately:
Weed out the bad companies. Some won't respond to the RFP because they don't want to take the time to do it. Others will submit a generic proposal that doesn't respond to the needs you outlined. With an RFP, you don't have to waste your time listening to these companies spout a load of BS that will trick you into signing up for a cheap website that delivers a negative ROI.
Eliminate the middle of the pack. The middle of the road companies are the ones that waste most of your time. They have great prices, huge promises, and sales lingo that will make you strongly consider them. An RFP is going to make it easy for you to see them for who they really are: mediocre designers who create average websites for low prices. In other words, you get what you pay for. These companies will make some brief attempts to respond to your specific needs, but you'll be able to tell that they're really out of their comfort zone when trying to tailor it to you.
Identify the best players. The RFP process makes it easy to find the best companies without having to listen to countless lengthy sales pitches. You'll have tangible evidence of how each company works and how they align with your business goals. You may be tempted to skip everything else and go straight to the price, but that would be doing yourself a rather huge disservice. Although the best players typically are the most expensive, the price alone does not indicate the quality of your finished product.
TL;DR – An RFP saves you time and money. It prevents you from getting burned by a bad company that has a good sales pitch. It helps you find a great company that's a perfect fit.
So what does a website RFP look like? There's no single right way to do it, but there are a handful of things you need to include if you want to get it right.
Have questions about your website project? We can help.
For the best and most accurate response, your RFP should have five key sections:
Your Company Background
Tell your prospective designer about yourself. Who are you as a company and what makes you unique? What do you want to achieve with your new website? Think big picture, but don't overgeneralize. Don't just say you want your website to look better. Explain why you really want a new site. These are the key components of this section:
Information about your organization
Company goals and objectives
Current state of your website
Desired state of your website
How the website ties into your overall company vision
Project Overview
Tell your many design suitors about your project. It's time to get a bit more specific here. What do you really want to accomplish? What specifically do you dislike about your current website? What do you want users to do on your new website? How will you determine if the project is a success? Here are the key components you'll want to include:
Project goals and objectives
Current pain points
Strategies and opportunities
Key audiences your website will need to address
Key performance indicators (KPIs) – what you want your users to do
Project success criteria
Scope and Size of Your Project
Now let's get really specific. This is where you get to tell your potential design company all the nitty gritty details. There's no such thing as TMI here. The more info you can provide, the better off you'll be in the end. You don't want to withhold something at this stage only to find out your designer can't do it later. Here are some things you'll want to include:
General and business requirements
Main areas of the website to include in project scope
Approximate total number of pages
Functional requirements
Technology requirements
Design requirements
Integration requirements (CRM, Inventory Management, ERP, Email etc.)
Site structure and CMS requirements (WordPress, Magento, Drupal, etc.)
Security requirements (SSL, Hosting, etc.)
Content writing and generation requirements – Will you need a professional content writer?
Graphic asset and photography requirements – Do you need stock images or do you have your own images?
Hosting requirements
Analytics and reporting requirements
Branding and style guide requirements
Branding identity and messaging requirements
Digital marketing requirements

SEO
Digital advertising/PPC (AdWords, Facebook Ads, Bing Ads)
Local optimization
Content marketing
Email marketing
Social media marketing
Information About the Vendor
Now that you've told prospective design agencies about yourself, you need to know about them. Just as you told them everything, you want them to tell you everything. This should be more than their About page copied and pasted in a PDF. This should be detailed information that outlines their experience and their capabilities. It should shed light into who they are and how they work. Here's what you want to know:
Vendor background and services offered
Design methodology – What is their web design approach and process?
Project tracking and communication process – How will they keep you in the loop during the project? What tools do they use?
Project lead bios – Will your project be led by qualified experts?
Organization capacity – Are they big enough to handle the job?
Relevant industry experience – Have they designed websites with similar requirements or in similar industries?
Related project examples – Make sure you see some of their work!
Client references – Can you talk to someone who can vouch for them?
Projects costs – What will all this cost? Are there any extra costs?
Project timeframe – How long will it take to complete the project?
RFP Timeline and Process
Putting together a website proposal takes a lot of work. It's not something you can expect to get back in an hour or two. A good web design company will need to thoroughly review your RFP and put together a specific proposal that addresses all the unique factors about your project. This is your opportunity to be transparent about your new website search. Here's what you should include:
RFP response due date – When should they submit their proposal?
Q&A process and due date – How and when should companies ask clarification questions?
Interview process – How and when will you interview qualified candidates?
Vendor notification timeline – When will you make your final decision?
Project timeline and expected "Go Live" date – When do you want to launch your site?
Budget expectations – What is your approximate price range for the new website?
Decision criteria – How will you make your decision?
Project contact
This may sound like a lot of work. It is. But it's worth it when you consider what's at stake. Your website is the face of your business, and you're about to get a major facelift. By investing time into your RFP, you can help ensure that facelift is a success for your business, and then you will have successfully accomplished your most important job. After submitting your website RFP, you're going to get a wide range of responses. Here's how to sort through the web design proposals. 
Need help putting together your website RFP? Contact us today.
Are you ready to get started on your next website? Let us know how we can help.

Nate Tower has over 10 years of digital marketing experience and currently serves as the President of Perrill. He is a creative expert gifted in pinpointing our clients' realities, goals, and audiences and turning that information into a captivating and never-before-heard brand story. With roots in digital marketing, education, and creative fiction, Nate's an Old Faithful-caliber fountain of knowledge.