Back
3 Reasons You Need a Google Premier Partner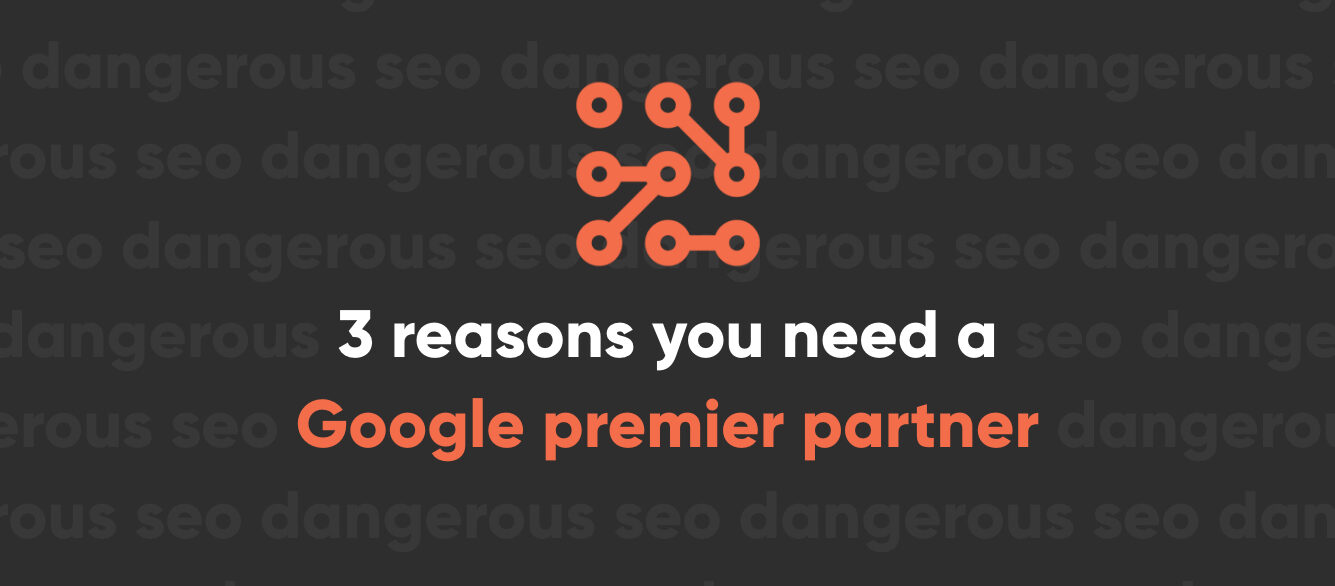 As a business owner looking to generate more revenue or leads online, Google Ads (formerly AdWords) is one important piece of a larger digital strategy. Of course, if you don't know what you're doing, it's easy to blow through money faster than the government can print it. From choosing the right keywords and optimizing your ads to refining your strategy and outbidding the competition, there's so much involved in an AdWords campaign that it simply isn't wise for an inexperienced person to attempt to manage it. Luckily, you don't have to do it by yourself.
The Google Partner Program
Although Google wants you to advertise (and wants to make money off you), the search engine doesn't want to see you fail. After all, it's in Google's best interest for you to succeed so you'll continue spending money on AdWords. With thousands of self-proclaimed AdWords experts, it's difficult to know who you should work with. Luckily, the Google Partner program can help you find someone who's actually qualified to do the job. 
Earlier this year, Google expanded its Partner program to include tiered levels. The highest level an agency can achieve is Premier Partner, a designation reserved for only a small fraction of all Google Partners. In order to qualify as a Premier Partner, an agency must continuously meet Google's requirements in three areas: certification, ad spend, and performance. Being a Premier Partner means an agency is knowledgeable, experienced, and successful. In other words, they know how to optimize a campaign so it makes money. 
While working with a Premier doesn't guarantee you'll rise to the top of your industry and quintuple your investment, it does give you a leg up on the competition. Here are the three biggest advantages of working with a Premier Partner:
Real Experts Who Are Trustworthy
Premier Partners know Google Ads inside and out. They've passed the Google certification tests in their areas of specialization (search, display, shopping, mobile, video). But let's be realistic here: while the certification tests aren't easy, passing them certainly doesn't make you an expert at AdWords. In fact, it's quite feasible that someone could pass the tests without ever even using AdWords. Still, having passed the tests is the first sign that someone actually knows what they are doing. 
Of course, Google doesn't give the Premier Partner badge (or any Partner badge) to just anyone who has passed the tests. In order to earn this distinction, you must have extensive AdWords experience. All Premier Partners are required to continuously meet Google's minimum ad spend, which means Premier Partners are actively managing AdWords accounts. Premier Partners don't just prove they are experts through tests. They prove they are experts by constantly managing successful campaigns. 
And don't forget that Google trusts its Premier Partners. In the words of Google, "The badge recognizes companies we trust to help you succeed on the web with our products." As mentioned earlier, it's in Google's best interest for you to see a positive return on your campaigns so you'll continue spending money on ads. To that effect, Google takes a lot of steps to make sure that trustworthy agencies are available to help. The most trustworthy of all are the Premier Partners. 
Proven On-Going Results
An AdWords campaign is only as good as its return on investment. You could use all the best practices you want, but if you don't make money, that campaign is a waste of valuable resources. In addition to maintaining yearly certifications and meeting minimum spend requirements, Premier Partners also must meet performance requirements. Google doesn't publish these performance requirements, but they are directly connected to conversions. Premier Partners have a history of building AdWords campaigns that convert at a high rate, meaning their campaigns are more likely to make money for your business.  
Another advantage of working with a Premier Partner is you can see exactly where they've had their success. The dynamic Premier Partner badge highlights an agency's areas of specialization, and it changes over time to reflect the current reality of their performance and qualifications. By clicking on the badge, you can see that agency's current status. While an agency might claim to be knowledgeable in all ad types, the badge shows the areas where they've actually had experience and long-term success. If you know you want to do search ads, display ads, and mobile ads, then you can find an agency that specializes in all three. Because the partner badge is dynamic, agencies must actively maintain each specialization, meaning they have to stay up-to-date on best practices and constantly be running successful campaigns. In other words, Premier Partners continuously prove to Google and to their clients that they deliver results. 
Better Access
Mastering Google Ads is hard. What makes it even harder is how much it changes. There are dozens of changes to AdWords every year, and only someone who actively stays on top of these changes can continue to run a successful campaign. Premier Partners often know about changes before other AdWords users. Google grants early access and often invites Premier Partners to be part of beta programs. This means your company often has access to tools that your competitors aren't using. 
In addition to access to beta programs and other tools, Premier Partners also have an inside track to connecting with Google. They can contact highly-qualified Google representatives directly without waiting in long lines. So if there ever is an issue with your account, or if you are looking for a better way to optimize in a specific area, a Premier Partner can make it happen faster. Even the most knowledgeable AdWords experts sometimes have to go straight to Google for the answers. Premier Partners can get in touch with the best Google reps almost instantly. 
Choosing a Premier Partner 
Even with the Premier Partner designation available, there are still many things to watch out for as you search for the right agency to manage your digital advertising campaign. Be on the lookout for any agency that claims they work for Google. Being a Premier Partner means Google trusts an agency, but they still don't work for Google. They don't have insider information regarding how the algorithm works, and they can't offer any guarantees. However, by utilizing best practices and building off their proven expertise, Premier Partners give you a much better chance of growing your business through one of the most important and most profitable digital marketing channels.
At Perrill, we work hard to maintain our Partner status, and we take great pride in managing successful campaigns of all sizes for our clients. Contact us today to learn more about how working with a Google Partner can help your business grow.  

Written by
Nathaniel Tower
Nate Tower is a Director of Marketing at Perrill. He is a creative expert gifted in pinpointing our clients' realities, goals, and audiences and turning that information into a captivating and never-before-heard brand story. With roots in digital marketing, education, and creative fiction, Nate's an Old Faithful-caliber fountain of knowledge.