Back
6 Reasons Why Responsive Design Is the Best Solution for You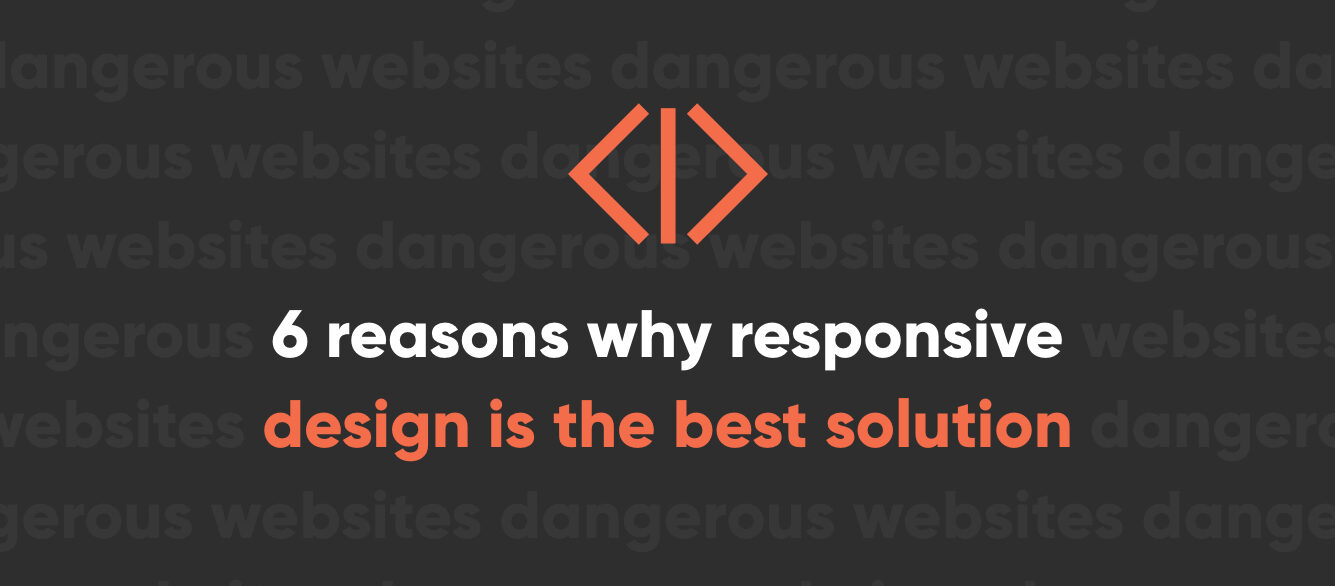 We all know that having a mobile-friendly website is more important than ever. While Google's so-called Mobilegeddon may have been the catalyst some website owners needed to start thinking about that long-overdue redesign, trying to maintain your mobile search results is only a minor piece of the puzzle. Websites that are optimized for mobile devices tend to convert better and increase consumer loyalty. After all, it doesn't really matter if people are finding your website if they aren't using it.
In the wake of Google's mobile-friendly update, there's renewed debate about the best way to optimize your website for mobile. There are plenty of strategies you can take here: separate mobile website, adaptive design, responsive design, or even a mobile app. With all these options, it may seem like a tough choice. However, for most websites, the best solution is responsive design. Here's why.
Google Says It's Better
If your site is like most websites, Google brings you more traffic than any other source. Google now estimates that more than half of all searches are performed on mobile devices. If you aren't seeing it yet, you may soon see mobile organic search outperforming desktop organic search. While Google doesn't explicitly favor one method of mobile optimization over another in the rankings, the search engine does recommend using responsive design. Doing what your biggest referrer tells you to do seems like a no-brainer.
Better Cross-Device Experience
Your customers aren't using just one device to access your website. In fact, over half of online consumers use multiple devices when shopping for a product. They might begin their research on a mobile device and then return to your site later to make a purchase or complete a contact form via their desktop. What if your desktop site doesn't match the look and feel of your mobile site? You might end up losing the sale. With responsive design, you ensure your customers will get a consistent experience across all devices.
Responsive Design Eliminates the Guesswork
There's no guessing with responsive design. The website responds to any device to provide an ideal user experience. Whether your customer is using a smart phone, phablet, tablet, lap top, or desktop, you know they are going to see the site you want them to see. With other methods of mobile optimization, you are really only optimizing for a specific device. This means you have to guess which screen size your customers are going to be using. Will they get the mobile site or not? With responsive design, you don't have to worry about this, giving you more control over what your customers see.
One Website to Design, Build, and Update
There's no doubt that responsive design is more complex than a traditional desktop website. However, having one responsive website requires a lot less work than having two separate websites. When you opt for a separate mobile website, you need to build two different sites. With responsive, it's all the same. This not only saves time and money in the original design stage, but it also will make life a lot easier on your development team. When you need to make a change to your website, it's all done in one place.
Better for SEO
You want your website to rank well in both mobile and desktop search. With responsive design, you only have to manage and optimize one domain and one version of each page. When you opt for a separate mobile website, you are doubling the work for yourself and your marketing team. A responsive website is easier to optimize for search and for your customers because you can focus all your efforts in one place. You don't have to worry about potential duplicate content or your link equity being spread out between multiple domains.
Future-Proof
Good responsive web design is a solution for today, tomorrow, and many years to come. As technology continues to change at a rapid pace, only responsive design keeps up. It meets the needs of all browsers, all devices, and all screen sizes. Other mobile-friendly options depend entirely on today's standards. If the technology changes, a mobile website can quickly become obsolete. While responsive design will certainly one day be replaced by something else, it has the most potential for longevity of anything available today.
If Responsive Is So Great, Why Don't Big Sites Like Amazon or eBay Use It? 
Even with all the positives going for responsive, there are still plenty of doubters out there. One of the most common arguments you'll hear goes something like this: But sites like Amazon and eBay don't use responsive design and they still get plenty of sales and repeat customers. While this is certainly true, there's one important distinction we must make here: you are probably not Amazon or eBay. These are mega corporations with many millions of dollars to spend on their websites and their marketing campaigns. They also have millions of loyal customers already. Unless you are in the same boat, you will probably be better off opting for responsive web design than trying to mimic these retail giants.  
When you want to reach the most customers and grow your business as much as possible, you need the best web solutions. For most businesses and budgets, responsive web design gives you everything you need and more.

Nate Tower has over 10 years of digital marketing experience and currently serves as the President of Perrill. He is a creative expert gifted in pinpointing our clients' realities, goals, and audiences and turning that information into a captivating and never-before-heard brand story. With roots in digital marketing, education, and creative fiction, Nate's an Old Faithful-caliber fountain of knowledge.