Back
Why Are My Online Customers Abandoning Their Shopping Carts?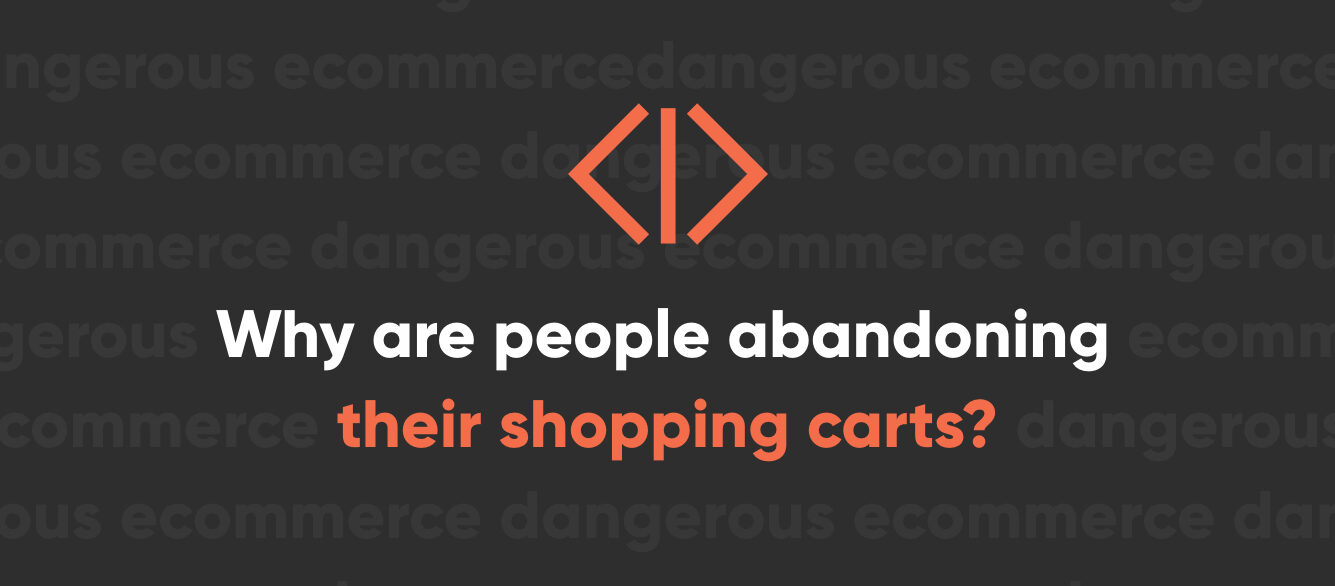 If you have an ecommerce website, you probably deal with shopping cart abandonment. You aren't alone. This is a problem every ecommerce website faces, including the biggest online retailers in the world. It's also a problem you'll never be able to completely fix, but that doesn't mean you can't make some big improvements that will drive more sales and bring in more revenue.
Not All Abandoned Carts Are the Same
An abandoned cart occurs when a potential customer adds an item to a cart and doesn't complete an order during that visit. Not all abandoned carts are created equal. Here are a few different ways a customer might leave your site without making a purchase:
A customer adds a product to the cart and doesn't start the checkout
A customer proceeds to checkout but doesn't provide any information
A customer enters billing/shipping information but leaves the site without placing the order
A customer gets to the final step of the checkout process but doesn't place the order
Where your customers are abandoning their carts matters a great deal. This can help you identify problems with your checkout process. By setting up a funnel in your analytics platform, you can easily see where customers are leaving their carts behind. What you can't do with this data is determine exactly why your customers aren't completing their purchases. However, by using this data in combination with a thorough and honest analysis of your site, you can come up with some reasonable solutions that might drive more sales.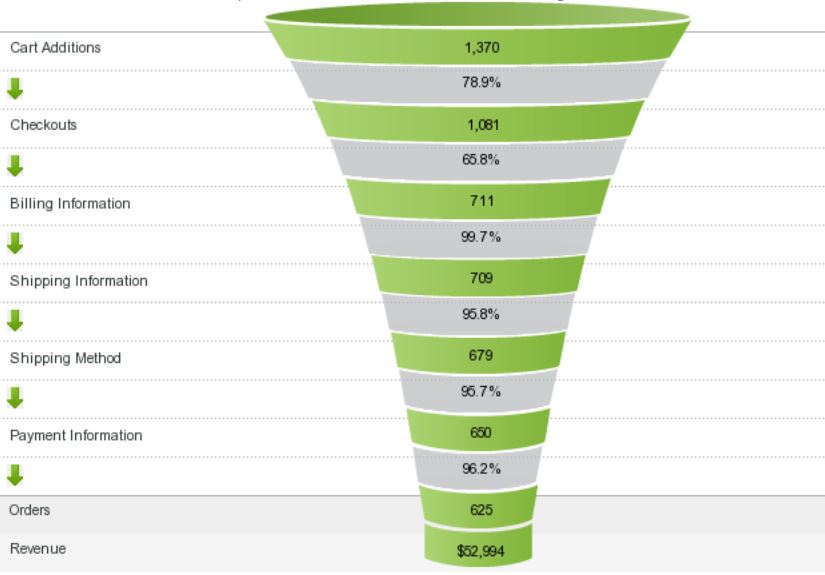 When you first look at your checkout funnel, you might be shocked by what you see. Again, you aren't alone. The latest research suggests that almost 68% of all online shopping carts are abandoned. That's a lot of money you're losing. But can you really get all those customers to make a purchase?  
Lack of Customer Intent
Before we discuss the many reasons why your customers don't complete a purchase, we need to clear the air a bit. Not all abandoned carts are your fault. In some cases, there is absolutely nothing you can do to force your customers to make that purchase. This has to do with the browsing habits of online customers. As many as 40% of potential customers have no intent to purchase when they add a product to their cart. Instead, these customers are simply showing interest in your products. They're just looking.
Why would someone add an item to a shopping cart if they don't plan to buy it? Well, because it's really easy. All it takes is a click. Clicking requires no commitment. Think of it from the customer's perspective. If you are looking at a website and see something you kind of like, why not add it to the cart? It's basically just a way of saving that product. Maybe you'll come back and look at it later. Or maybe you'll forget all about it when your favorite TV show comes on. Or maybe you just wanted to see what it was like to temporarily possess that item virtually. Or maybe you're hoping to receive one of those wonderful abandoned cart emails with a coupon code. Whatever the case may be, you weren't going to buy it in that moment.
This all makes sense given our online habits. How often are we in a position to sit down and thoroughly do our product research in one shot? This doesn't mean you can't reach those customers and get them to buy later. With abandoned cart emails, exit pop-ups, and ad retargeting, you can get many of them to come back.    
The Main Reason Customers Abandon Carts
While this is all interesting, it doesn't help decrease your cart abandonment. Lack of intent is certainly not the only reason your customers are abandoning their carts. It's actually not even the top reason. As the owner of an online store, you're not going to like the main reason for cart abandonment (although you can probably guess what it is).
If you guessed money, you're right.
There are several money-related matters that lead to cart abandonment:
Your products are cheaper elsewhere
Your shipping costs are too high
Your customers are hit with unexpected costs during the checkout process
At this point, you might be thinking you can't lower your product prices. If that's true, you'll have to come up with more creative ways to be competitive (customer loyalty programs, customer referral benefits, unique shopping experience, exclusive products, etc.).
What about those shipping costs? The best option is to offer free shipping, which is something online customers have come to expect. You may not be able to offer sitewide free shipping, but at least try to offer it at a certain price threshold (free shipping on orders of $50 or more!). If you can't afford to take the revenue cut, then you might try experimenting with your product prices. Customers are often willing to pay a higher base price if it means they get free shipping. Just be careful not to price yourself out of the competition.
Here's another point about shipping costs: give customers this information before they start checking out. If you have high shipping costs, you may think it's better to hide this from the customer. Well, if the customer doesn't see that it costs $19.99 to ship their $7 T-shirt until the final step of the checkout, they'll just order it anyway. No, they won't. They'll not only leave their cart behind, but they'll never come back to your website. You need to earn your customers' trust, and you can't do it by trying to pull one over on them. 
According to Statista's research, 56% of online shoppers cite unexpected costs as a reason for shopping cart abandonment. The worst thing you can do to your online customers is try to bleed more money out of them during checkout. Once you have them in the checkout process, the only thing you should be concerned about is getting the sale. You won't complete many sales if you throw higher shipping costs, surprise fees, or other strange charges at them. You may not be able to change your high prices, but trying to hide them is never the right answer.
Other Cart Abandonment Issues   
There are plenty of other reasons why your customers are abandoning their shopping carts. Fortunately, many of these issues are things you can fix. Here's a quick rundown:
Confusing navigation 
Too many steps in checkout process
Excessive security checks
Concerns about payment security
No guest checkout option
Preferred method of payment not available
Delivery options not appropriate
So how can you get these customers back? Shopping cart recovery emails (especially with a coupon code) or ad retargeting are great ways to bring customers back to your store. However, if any of the above issues are present in your checkout process, all the emails and ads in the world aren't going to make your customers suddenly buy from you. You'll need to improve your shopping cart experience if you want these cart abandoners to turn into buyers.
To figure out where to begin improving your site's shopping experience, take a look at your checkout funnel. Where are most of your customers dropping out of the process? Are they jumping ship as soon as they start the process? Then maybe it's a navigation issue. Are they dropping out after they enter their shipping information? Maybe you need different shipping options. Are they dropping out right before selecting payment method? Maybe there are security concerns. Or maybe you aren't accepting enough forms of payment.
There are many reasons why your customers are leaving their products behind. It may take some trial and error to determine how to get them to make the purchase. With up to 68% of your sales on the line, you can't afford not to find more ways to get your customers to convert.
This post is part of Internet Marketing Mysteries, a weekly column addressing actual client questions related to SEO, analytics, website best practices, and any other topic connected to internet marketing. Have a question you'd like to see tackled in a future post? Let us know in the comments.

Nate Tower has over 10 years of digital marketing experience and currently serves as the President of Perrill. He is a creative expert gifted in pinpointing our clients' realities, goals, and audiences and turning that information into a captivating and never-before-heard brand story. With roots in digital marketing, education, and creative fiction, Nate's an Old Faithful-caliber fountain of knowledge.