The unique challenge
As one of America's biggest and most recognized snack companies, Jack Link's needed a website and marketing strategy that would work together to convey its uniquely bold brand while streamlining its online purchasing process from start to finish.
Jack Link's existing website offered a clunky and outdated interface that didn't support ecommerce. Additionally, there was no SEO or email strategy in place to drive more business.
01

Streamline ecommerce purchasing experience

02

Develop site within stringent brand standards

03

Integrate systems for subscriptions, payments, search, email, PIM, and more

04

Launch custom marketing plan including email, SEO, and CRO

05

Collaborate with other agency partners on creative initiatives

06

Provide ongoing support for Magento security and maintenance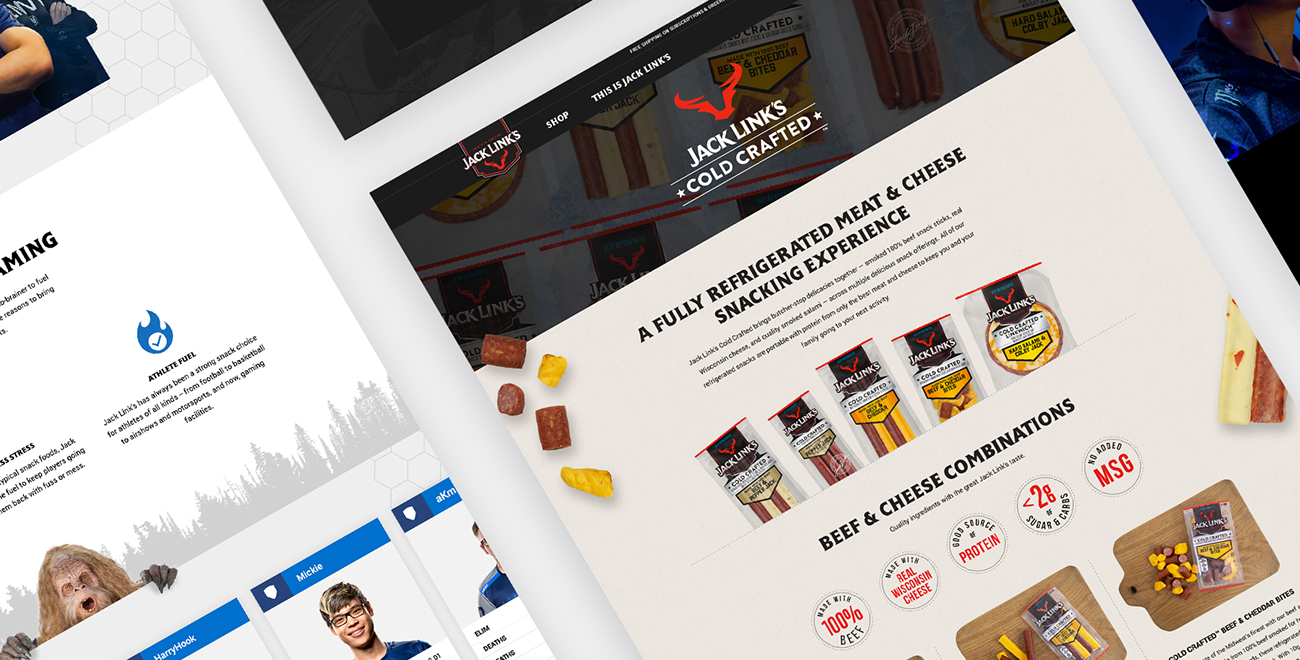 Proven Results
The new Jack Link's site successfully captures the iconic brand image, but it's the numbers that really express the client's satisfaction with our digital efforts. Here's the empirical data:
Increase in average order value
Increase in average time on page
Increase in unique pageviews
A streamlined purchasing experience
82% increase in average order value
Not only did revenue and conversions dramatically increase following launch, but the average value of each order also skyrocketed as users were inspired to fill their cart with a wider range of Jack Link's products. Perrill developed a Magento eCommerce website that leveraged an Adaptive Subscriptions module and Stripe Payments — both by Paradox Labs — to streamline and simplify the ecommerce shopping and purchasing experience including future support of Android and Apple Pay.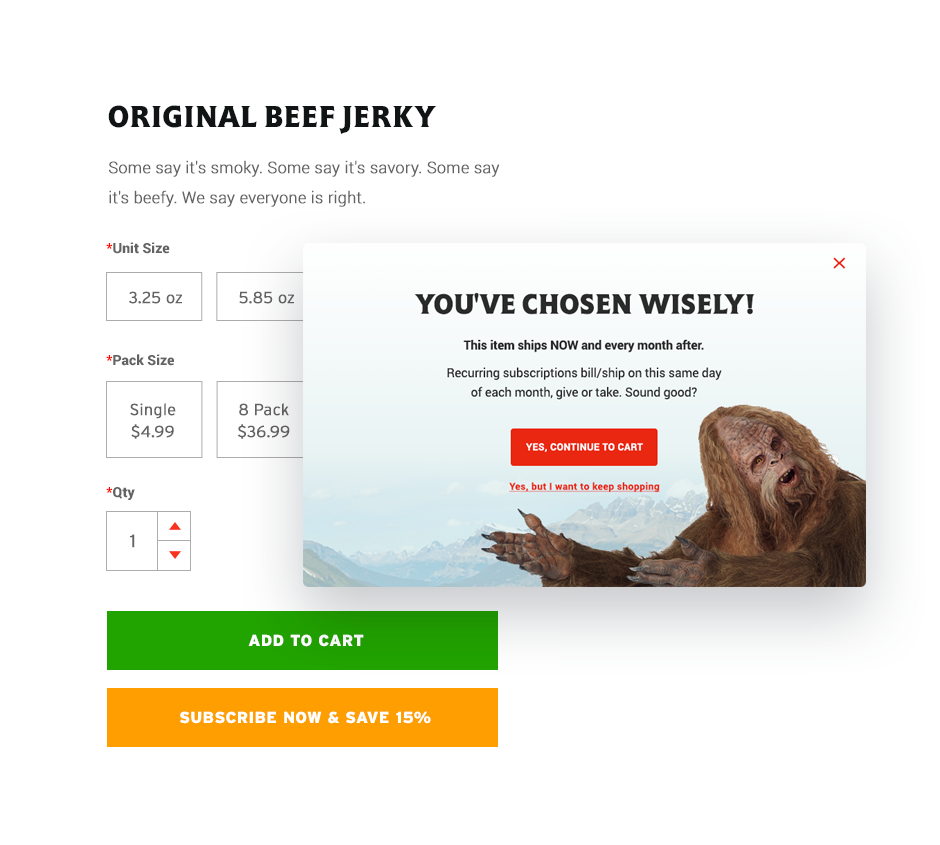 Inspired?
A custom-built website and marketing strategy all your own are right around the corner, waiting to drive traffic, increase revenue, and establish an impactful online presence for your business.
Custom-Crafted Marketing
29% increase in web traffic
Web traffic increased following launch as the responsive site saw upticks in both mobile and desktop activity due largely to Perrill's custom marketing plan. The strategy collaborated with Jack Link's and its other agency partners to include analytics, heat mapping, email, landing pages, SEO, and more.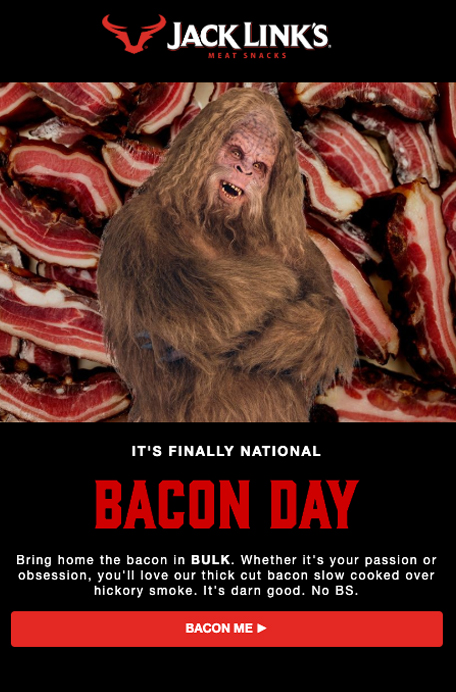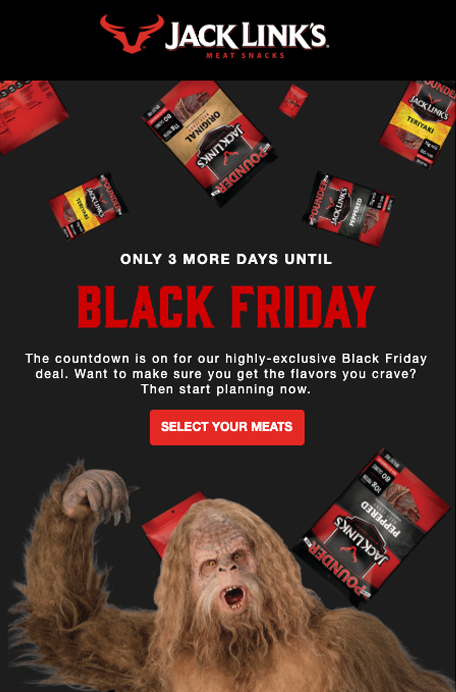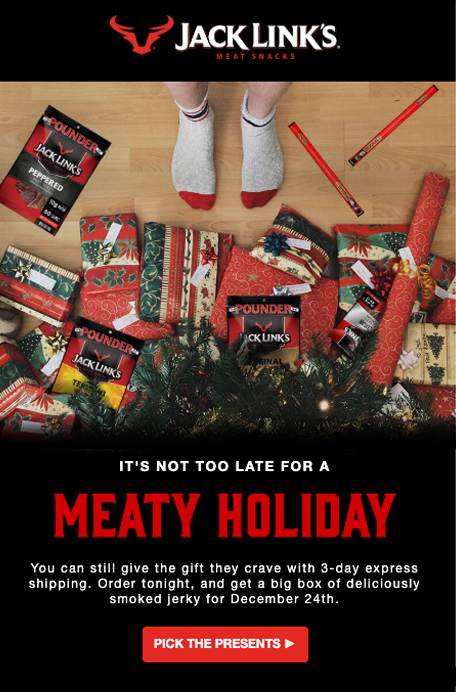 Engage with Sasquatch
26% increase in average time on page
As users loaded up their carts with more Jack Link's products, they also spent more time on each page interacting with the site's content and design. The development process took shape within existing designs provided by the client to ensure every feature worked seamlessly in conjunction with the pre-planned look and feel. Elastic Search utilized product data pulled from the Salsify PIM to feed up-to-date details and nutritional information to each product page.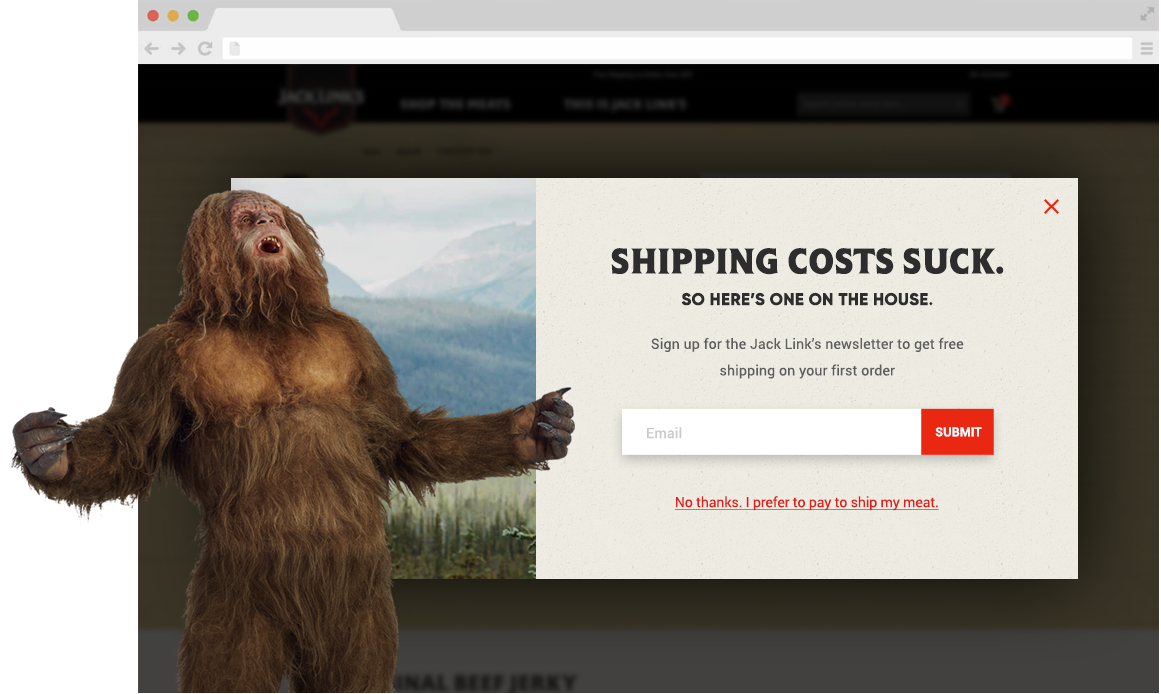 New Customers Through Targeted Workflows
31% increase in unique pageviews
More users began to visit and return to the site following launch, thanks largely to the rollout of the strategically crafted marketing plan. Perrill leveraged a Klaviyo integration within Magento to make use of email workflows and developed custom workflows and campaigns centered around Jack Link's revenue-driving initiatives.