Creating a Call-to-Action for Your Facebook Business Page
January 26, 2015
What if you could use your Facebook page to help your business? If only you could increase newsletter sign ups, bring in more leads, or get more people to your store through your Facebook page...
Well, today just might be your lucky day. Enter the Facebook "Call-to-Action":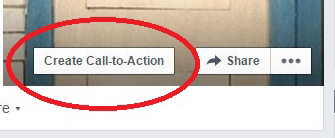 Yes, that's right. Facebook is offering a free tool to help your business. And just when you were about to delete your Facebook page and swear off social media forever...
Facebook Business Page Redemption?
If you have a Facebook business page, chances are good that you've been a little frustrated at times. From declining organic reach to constant rumors about Facebook charging for the use of business pages (these rumors aren't true, people!), there have been many reasons to think a Facebook page for your business just isn't worth much anymore.
At the same time, it's become an expectation in our society. "Check us out on Facebook." I can't tell you how many odd places I've seen this banner.
Although Facebook certainly wants to bring in more and more ad revenue, they also want to remain a viable option for all businesses—even those not willing to pay. A little over a month ago, Facebook introduced targeted organic reach, designed to help you better reach the right people (but not necessarily more people). Around the same time, the social media giant also announced the release of a free "Call-to-Action" for your page. Over a month later, this feature finally seems to be rolling out to the masses.
Using the Facebook Call-to-Action
Before we get too far into this, a quick disclaimer: not every business page has this feature yet. As with everything else on social media, it's slowly rolling out. Of all the Facebook pages I manage, only about 30% currently have it. From what I've heard, every new page has the ability to create one. But don't rush out and create a brand new page just yet. Your page should have the feature soon. So let's get down to business.
Creating the Call-to-Action is incredibly easy. When the feature is available for your page, it will automatically appear in the banner (and Facebook may even provide you with a friendly pop-up message encouraging you to use it).
Once you click to create it, you'll be given 7 different options to choose from: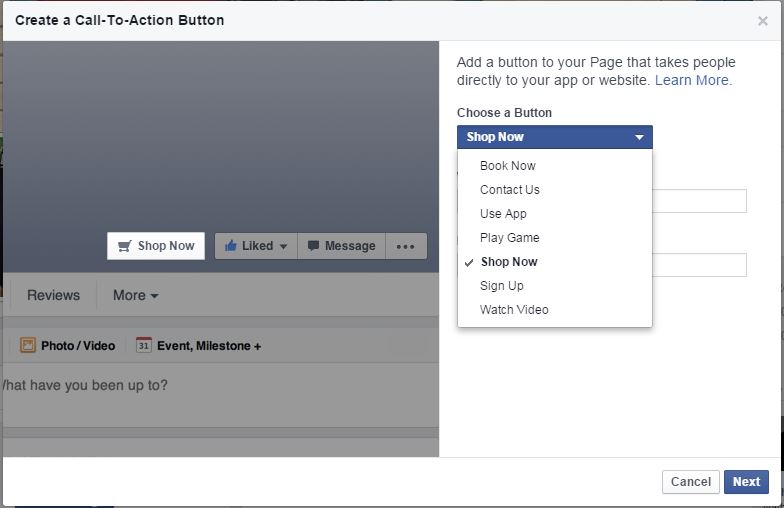 The default selection seems to be "Shop Now," but you can easily switch to your pre-prepared choice. For the time being at least, there is no option to customize your call-to-action. Much to the dismay of charitable organizations, there is also no "Donate Now" option.
If you have an e-commerce site, or if you are selling your product through a third-party service such as Amazon, your best bet is probably the "Shop Now" button.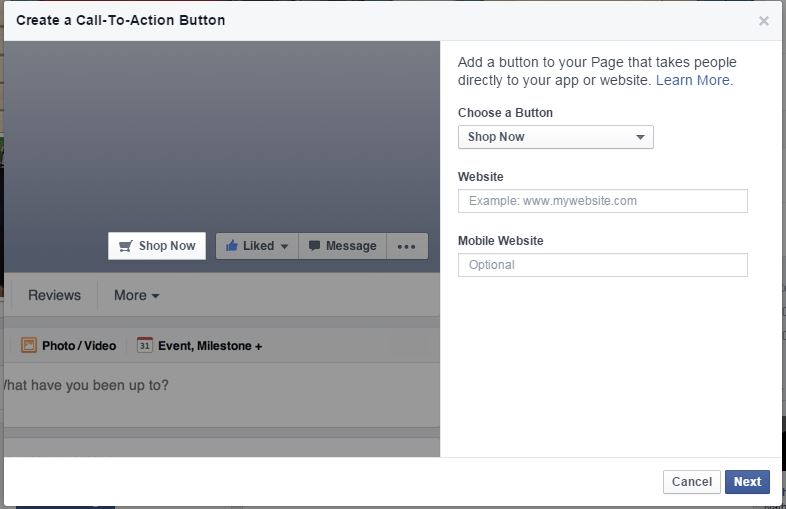 Once you select the "Shop Now" button, you will enter the link to your store. You also have the option to enter a separate mobile website.
No matter which Call-to-Action you select, the functionality is the same. You enter the link where your customers or followers can perform said action. For example, if you select "Contact Us," you will probably send your visitors straight to your contact page. Or if you choose "Sign Up," you'll send them to your newsletter subscription. The link does not have to be on your own website. If you want to send someone to your hilarious new YouTube video, you have the option.
After entering your link, you will be prompted to choose whether your mobile visitors should be directed to the link or to an app (there are separate prompts for iOS and Android):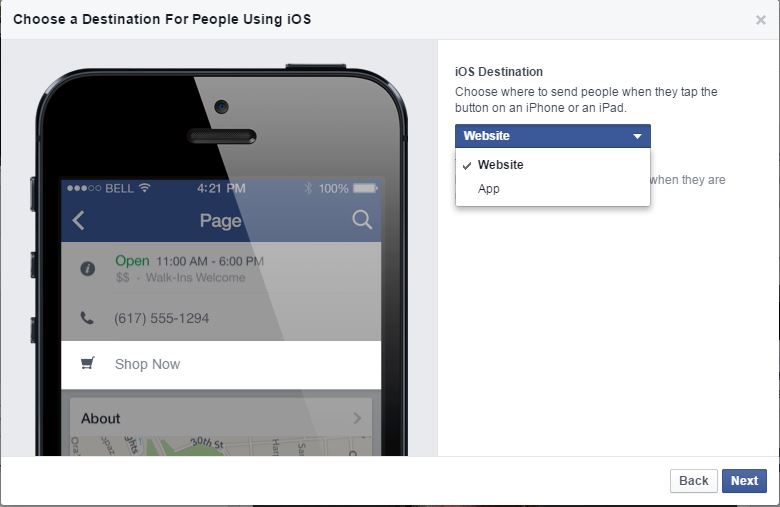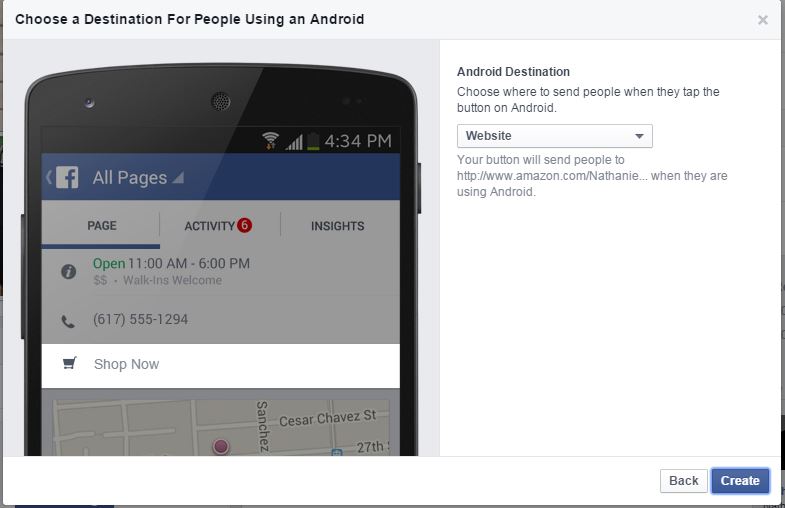 If you have an Android app but not an iPhone app, you might selected "website" for iOS and "app" for Android.
After you have made your selections, you simply click the "Create" button. Your "Call-to-Action" will immediately appear on your Facebook page. It should take less than two minutes to get this up and running.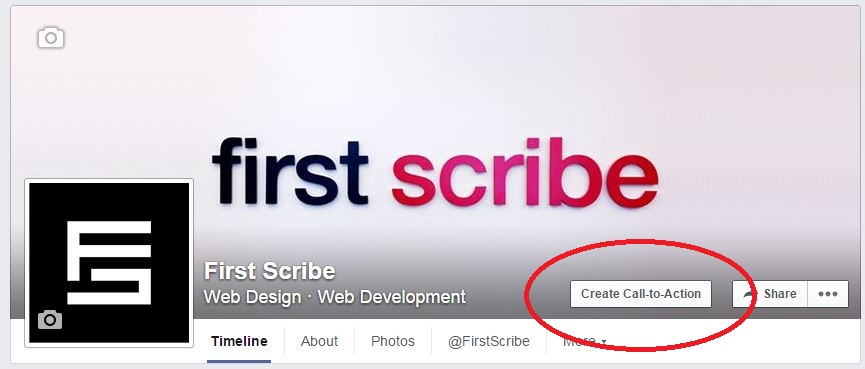 Of course, the fun doesn't end there. We're data-driven folks, so just having a button isn't good enough. We need to know how that button is performing. Luckily, Facebook provides us with this data under the "Insights" option. Here, you will be able to see the number of people who have interacted with this button. Without the ability to customize, there may not be a lot you can do with that data, but at least you will be able to gauge how your new button is performing.
How will you use your new Facebook Call-to-Action? Head over to your business page right now and see if you can enable this hot new feature.