Back
Google Data Studio Blog Series: Step 3 – Telling a story through data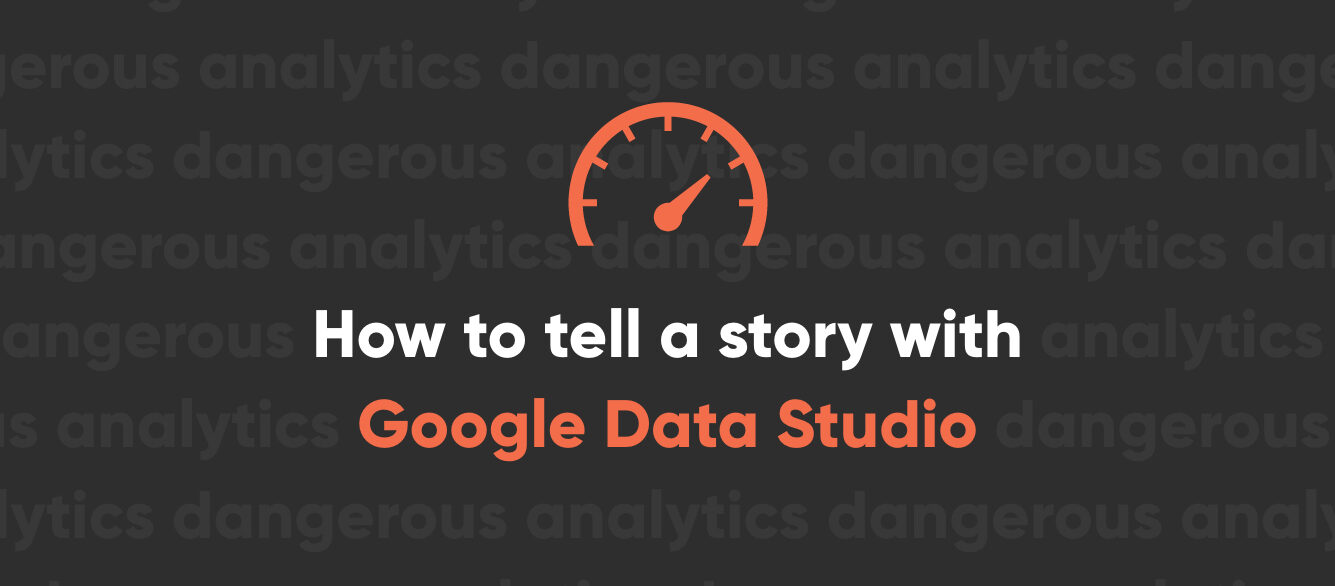 In the first two installments of our Google Data Studio blog series, we took a look at how to get started with Data Studio and also provided some insights into why our team has adopted it as our go-to reporting tool. Now that you know how to create a report and the key reasons behind using Data Studio, let's take a look at the real purpose of data — using your report to tell a cohesive story. Here's a breakdown of the key points to keep in mind as you leverage your data to drive improvement across your digital marketing efforts.
Establish goals
We can't stress enough how important it is to establish goals at the outset of your strategy formulation. What is your business or client hoping to achieve in the next month, six months, or year? These goals will ultimately serve as the framework for the greater story of your data. Maybe you have a certain revenue checkpoint you hope to hit this quarter. Maybe there's a specific click-through rate you've got your heart set on. Whatever the aim of your efforts, everything in your report needs to tie back to those goals and indicate how you went about achieving (or not achieving) those objectives.
Identify KPIs
Once you establish the goals you are working towards, you will want to identify your key performance indicators. Are you hoping to increase new business by 30 percent in the next year? Have you been striving to up your subscriber list by 20 percent? Your KPIs should relate to the growth of new users who purchase your product or consume your content. Whether you're looking for increased brand awareness or to up the reach of your social media campaigns, aligning your KPIs with your goals will allow you to not only stay on track but to tell the right story.
Measure success
Keeping your KPIs in mind, analyze your performance over the specified period. It's important to take a close look at metrics as they relate to your goals and KPIs. Did you have a short-term goal to increase traffic from social media? Have you been seeing an increase in social referral sessions? There's a success story derived from your data.
Discuss actionable insights
Showing the right data is great, but being able to understand potential cause and effect is key. If you're not on track to achieve your goals, you should dig a bit deeper to understand why some of the KPIs are not where you would like them to be. This is a crucial first step in developing a plan for improvement. Telling a cohesive story with data can be overwhelming, but with upfront planning you can make sure that you are speaking to your audience appropriately and telling a story they're interested in.
Reporting and analytics from Perrill
Perrill is a full-service web design, development, and digital marketing agency that specializes in helping businesses reach their full potential online. Our team is experienced in leading new marketing initiatives for clients and in providing actionable data to drive improvement. Contact us today to start doing business online the right way.

Dan Cole is the Manager of Content & Copywriting at Perrill. He has been professionally strategizing and creating original content since 2011 across agency settings, corporate positions, and journalistic beats, and now masterminds written materials of all kinds for Perrill's clients. He was named Acme Comedy Co.'s Funniest Person in the Twin Cities in 2014 and will never let any of us forget it.