Back
How to Build an Instagram Carousel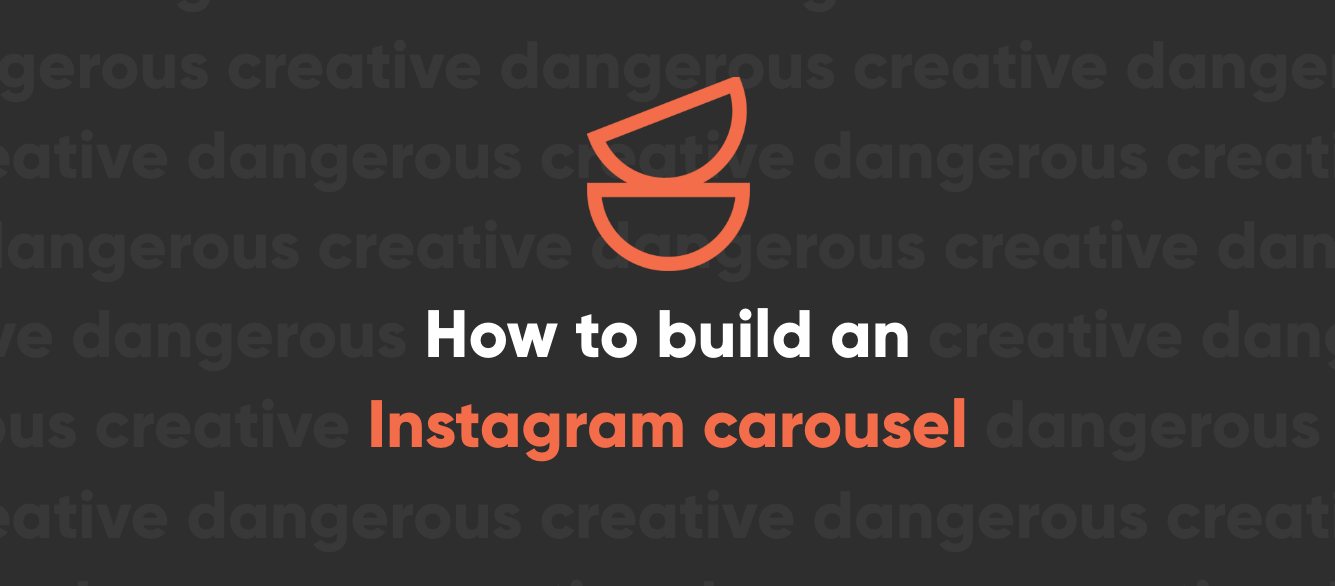 Instagram carousel posts continue to grow in popularity and are proven to be the most engaging post type. According to a study by SocialInsider that examined over 22 million Instagram posts, posts are likely to be more successful if they contain a carousel–versus a single slide.
Knowing that Instagram carousels get more reach and engagement is a great start, but knowing how to create meaningful carousels and make them work for your brand is another task altogether.
What is an Instagram Carousel?
A carousel on Instagram is a post with multiple photos, videos, or a mix of both. Up to 10 items can be added and shared as a single pot on the Instagram feed. Users can view the different photos/videos in posts by swiping or clicking left.
As is the case with all Instagram posts, you can include a caption, a geo-tag, alt-image text, and product and account tags on each image within the carousel. People can interact with your Instagram carousel post–like it, comment on it, share it–the same as they can any other post on Instagram.
When a carousel is published, a small icon will appear in the upper right corner of the first image or video–signifying to users that there is more content within the post. As users flip to the second piece of content, the icon is replaced with a counter that indicates the number of items within the post. Small dots at the bottom of the post mark progress through the carousel.
Why Use Instagram Carousels?
For longtime Instagram users, a consistent both has been the visual clutter.
Say, for example, you wanted to share an interesting event that happened at your company. In order to share it properly, you might need about six different photos.
In the earlier days of Instagram, your only option would have been to post six separate posts in a row. You would lose readers as they scrolled through your content mixed in with other posts on their feed. Not to mention, posting six posts at a time will often result in you losing followers who aren't in love with your brand.
Fortunately for the brands of today, Instagram carousels are an option. With this capability, over one billion Instagram users can experience the type of visual storytelling that's longer than a single image and more complicated than a few hashtags.
One amazing benefit of Instagram carousels is double exposure. If one of your followers scrolls past your carousel on the first image, Instagram will push the same post onto their feed a second time with a different photo or video from the carousel.
Instagram Carousel Requirements and Sizing
Much like a standard post, Instagram carousels can be published in landscape, square, and portrait formats. However, all content within the post will be uniform. So whatever shape you select for the first slide of the carousel will apply to the rest of the post.
Instagram Carousel Sizes:
Landscape: 1080 x 566 pixels
Square: 1080 x 1080 pixels
Portrait: 1080 x 1350
Aspect ratio: landscape (1.91:1), square (1:1), vertical (4:5)
Recommended image size: width of 1080, height between 566 and 1350 (depending on if the image is landscape or portrait)
Instagram Video Carousel Specs:
Length: 3-60 seconds
Aspect ratios: landscape (1.91:1), square (1:1), vertical (4:5)
Recommended formats: .MP4 and .MOV
Maximum video size: 4GB
How to Create a Carousel on Instagram: The Basics
There are four main steps to posting Instagram carousels:
Step 1: To post a carousel on Instagram, you need to go to the app and tap the + icon as you normally would to add a post. When the photo folder opens, there will be a button that looks like multiple sides stacked on top of each other that you want to tap.
Step 2: Next, you can select the post content. You can add up to 10 photos, videos, or a mix of the two. Select the ones you want and tap 'next'. You can either select them in the order you want them to appear, or reorder the slides by holding down on the image/video you want to move and dragging it.
Step 3: If you want to add filters to your carousel, this is the time to do it. You can also edit aspects of each image to get them just right. Then tap 'next' again.
Step 4: The final step is to add your caption. The same caption will show on each slide of the carousel so be sure to write something that fits with them all. You can also tag friends, businesses, or brands and add a location before sharing it onto your feed. Or if you forget, you can always go back in and edit the caption, tags, and location.
Best Practices
Before posting, think about the goal you want to achieve with your Instagram carousel. Use your goal to consider what content you include and how to caption it.
When deciding what imagery to include, select one that is most eye-catching as the first one. Make that first image count–grab people's attention with it. Also, consider how the first image will look on your brand's grid. You want a consistent look overall to sway users to follow you if they stumble across your page.
Make sure all pictures and videos are high quality.
Don't shy away from call to actions. Tell users to swipe through in your caption to keep them interacting with the carousel.
Instagram Carousel Ideas
Here are some different ways to utilize Instagram carousel posts:
Create a before and after slide to show results.
Show off customer testimonials and the product/service they used.
Tell your brand's story.
Tease your latest blog content.
Check out more creative ways to utilize Instagram carousels here.
Free Instagram Carousel Template from Perrill
Want to take your carousels beyond "ten pictures from the same event"? The simplest way to start is by customizing our professionally designed Instagram carousel template. Click here to get access.