Back
Why You Need Thank You Pages And How They Can Close the Deal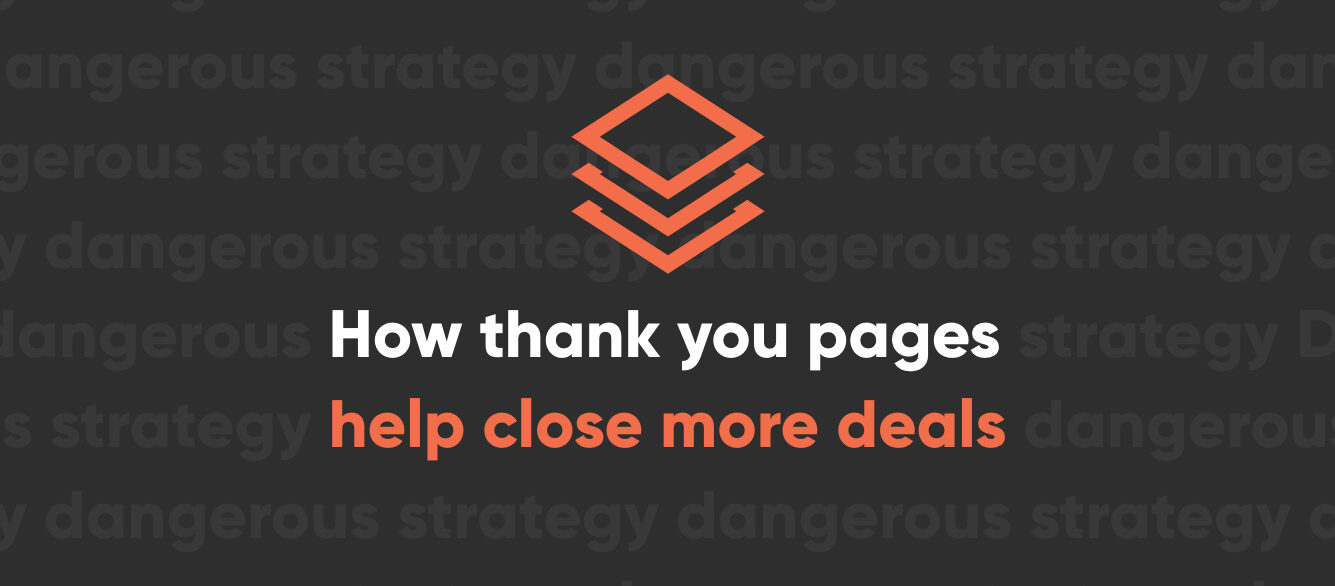 When someone gives you something, of course you need to thank them. It's just basic manners. The web works the same way. When someone gives you their information via a contact form, you need to thank them.
Cue the Thank You page. Every form on your website should lead to a Thank You page. Whether it's a quote request, generic contact form, newsletter sign up, testimonial, or some other form—if a user is taking an action and providing information you want, you need to immediately follow up with the proper thank you. 
Best practice is to have a unique Thank You page for every form. Why? Because every form deserves its own thank you. When you send someone a thank you card, do you write the same message no matter what? Nope, you customize it. (And, yes, people still send thank you cards.)
A Thank You page is no different. It should be unique to the form for a variety of reasons:
Unique Thank You Pages Improve User Experience
If a visitor just filled out your 35-field RFQ form and you greet them with a generic "Thank you for contacting us" message, they might be a little underwhelmed (and maybe even a bit ticked off). But what if the Thank You page boasts a specific message like:
"Thank you for completing our online quote request form. We have received your request, and our experts are evaluating your information. We will be in touch within the next 24 hours regarding your quote."
Dang, now that's customer service. Your user knows what's going to happen and can sleep peacefully knowing you actually received the information. You can even sweeten the deal with an automated follow-up email that contains a copy of what the user submitted. 
Unique Thank You Pages Improve Tracking Capabilities
You track all your contact forms, right? When you look in analytics, do you know how many of each form submission you received each month? Or do you go through your email and count everything by hand? Unique Thank You pages make tracking a breeze. You know exactly which forms were completed, and you can easily calculate conversion rates. You can also track the success of each Thank You page. Are your users completing any follow-up actions? Are they exiting immediately after seeing the Thank You message? If all your Thank You pages are the same, you won't have the data to make informed decisions. 
Unique Thank You Pages Increase Opportunities
You don't always want to be greedy when someone gives you something. Think of a kid's birthday. What do they do immediately after they've ripped into all the presents? They ask if there are any more! And then we scold them for being rude.
Well, we're not talking about presents here. We're talking about closing the deal. Yes, your potential customer just gave you some contact information, but that doesn't mean it's time to back off. Now is when you need to pounce. You can use your Thank You page to deliver secondary calls to action to further engage your potential customers. After all, these are people who've shown an interest in your product or service. Giving them more opportunities to get to know you won't hurt your chances. Try these messages on your Thank You pages:
"Thanks for contacting us. Now sign up for our newsletter."
"Thanks for answering a few questions. Now tell us more about your project."
"Thanks for submitting a testimonial. Now go review us on Google."
"Thanks for completing a quote request. Now look at our portfolio to get ideas for your project."
Okay, you might want to clean those calls to action up a little and make them a little more polite or businesslike, but you get the idea.
The Ideal Thank You Page
So what should a Thank You page look like? A good Thank You page should have the following:
A specific thank you message
Acknowledgment of receipt of the specific request
Information regarding what's going to happen next (such as a follow-up timeline)
A secondary call to action (optional but strongly recommended)
The best part of all this is that it's super easy to have a great Thank You page. You don't need a highly designed template, and you don't need to spend hours writing the message. 
A Thank You page is a lot more than a chance to issue a simple thanks. It's an opportunity to leave a lasting impression on a potential customer. It's your chance to land a lifelong client. Don't throw it away by settling for basic politeness.

Written by
Nathaniel Tower
Nate Tower is a Director of Marketing at Perrill. He is a creative expert gifted in pinpointing our clients' realities, goals, and audiences and turning that information into a captivating and never-before-heard brand story. With roots in digital marketing, education, and creative fiction, Nate's an Old Faithful-caliber fountain of knowledge.