Back
Why Your New Website Wasn't a Big Success Story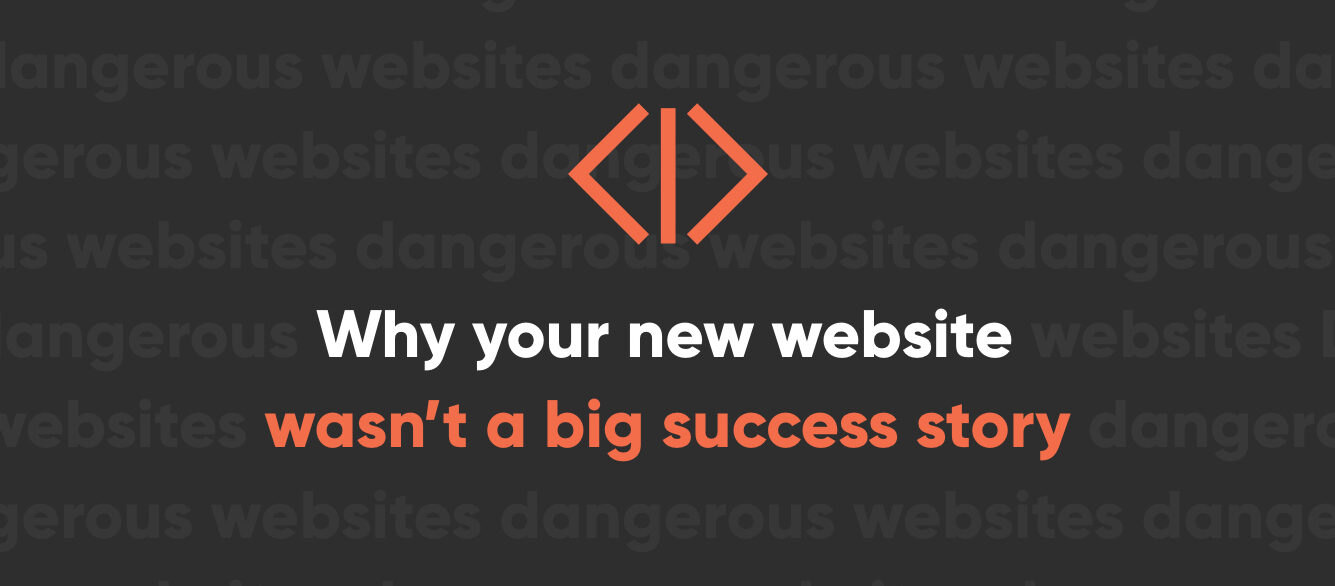 You spent boatloads of money and time on your new website. After months of gathering assets, arguing about designs, and waiting impatiently for your new website to launch, you're pretty proud of the result. The new website looks modern and slick, especially compared to that old piece of garbage that was embarrassing to share with potential customers and even your employees. The thing finally "works" on all devices and screen sizes. And it sure looks like a site that would make people want to buy from you.
But it's been a few months since the launch and you haven't seen any signs of a return on your investment. In fact, your leads and sales are starting to drop a bit. What in the world went wrong?
Lots of things can go wrong during the web design process—including not getting a new website at all. But assuming you made it all the way through and ended up with what seems like a functioning website, you would expect that anything that looks new should work better than what you had before.
Unfortunately, this isn't always the case. Sometimes a new website doesn't give your business the boost you were hoping for. When it doesn't, there's usually a pretty reasonable explanation. Let's assume you didn't go with the lowest bid, have your 19-year-old nephew build the website, or attempt to do it yourself through one of those ultra-cheap yet self-proclaimed awesome website builders.
Here are some of the main reasons why new websites built by real web design companies can tank your business (hint: it's not always the designer's fault):
Your Website Wasn't Built to Meet Your (or Your Customer's) Needs
Did you and your web designer have frequent discussions about your business goals and your target audience? If not, then your website wasn't designed for success. A website has to do a lot more than look good. It has to align with your business goals and respond to the specific needs of your customers. You can have the coolest looking website in the world, but that won't mean anything if it's not built specifically for your objectives and your audience. Whether your web designer just focused on making it look good with no regard for UX/UI or if the site was built from a one-size-fits-most template, a website that's not designed with a goals-based approach simply won't be successful.
Your Website Looks Great but Functions Poorly
When customers land on your homepage, they are blown away by how good it looks. But then they start to use it and quickly realize that looking good is all it really does. Your website must function properly on every device and every screen. This means a lot more than it has to "work." It must offer great user experience for your entire target audience. It has to lead your potential customers fluidly through the right conversion funnels. No matter how much you love the design, you won't succeed if the functionality doesn't match.  
You Treat Your Website like a Finished Product Instead of a Living Business Asset
If you thought your website was done the day it launched, then you thought wrong. A website is never finished. In order to be a sound piece of your business plan, your website needs to evolve—and it needs to do it quickly. You need new content on a regular basis. From blog posts to new portfolio entries or project examples, you need to inject new life into your website as often as feasibly possible. You also need to test. No matter how good your designers are, they can't fully predict what's going to work best for your audience. If you aren't running A/B tests on your brand new website, then you are missing opportunities for growth.  
You Don't Have a Marketing Plan
A website is not a magic bullet. Just because your website looks great doesn't mean you're going to get tons of new traffic. This is certainly not an "if you build it, they will come" situation. Your website has to be supported by a strategic marketing plan that's designed to drive the right traffic through a variety of channels. It also has to be committed to making sure the traffic that gets there converts. A new website without a marketing plan is like a new car without an engine. You need something to make the thing go.
If your new website isn't the success story you were hoping for, then you need to act quickly. In many cases, your investment can be saved with a good usability analysis and a strong marketing plan. Other times, you're going to need to start over. That's why it's so vital to pick the right web designer in the first place. Spending a little more upfront may save your business a lot of money in the long run.
Contact us today for a website that is designed to be a big success story right out of the gate.

Nate Tower has over 10 years of digital marketing experience and currently serves as the President of Perrill. He is a creative expert gifted in pinpointing our clients' realities, goals, and audiences and turning that information into a captivating and never-before-heard brand story. With roots in digital marketing, education, and creative fiction, Nate's an Old Faithful-caliber fountain of knowledge.