A Quick Conversational Guide to Your Holiday Marketing Plan
September 29, 2014
Take a look at your calendar. See anything important? In case you didn't notice, the holiday shopping season is upon us. No, I'm not talking about Halloween—although you probably should have your costume picked out by this point. I'm talking about the holiday season. You know, that time of year between Thanksgiving and the end of December when people throw money around like they have way too much of it.
Oh, yeah. That holiday season. That's still over a month away. Almost two months, in fact. I don't need to plan yet.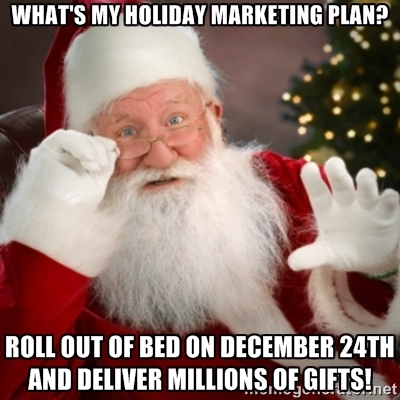 That's where you couldn't be more wrong. If you haven't thought about what your website is doing for the holiday season, then you are on the verge of missing the party. Whether you've been putting it off because you think the holidays start too early, or if you think your website just won't benefit from holiday marketing, the time has come to stop procrastinating and start making some plans.
Don't worry. I've got some ideas.
Oh really? So what are you going to do this year? Slap up a big "10% Off Everything In Stock Using Promo Code HOLIDAY10OFF" banner on every page of your website? Or maybe you could offer FREE SHIPPING—I heard that's all the rage these days. Maybe add a flash element to your site to make it look like it's snowing!
If any of these half-baked plans have even come across your mind, then you aren't trying hard enough. A 10% Off banner? Woah, that's sure to attract the Cyber Monday deal hunters. Free Shipping? That may have been a big deal—back in 2005 when it wasn't an inherent expectation of all consumers. Your snowy graphic plan—I'm not even touching that one.
Fine. I admit, I wasn't trying. But I've got nothing this year. What am I supposed to do? Send out an email begging people to buy my stuff?
Well, that's a start. Come up with some enticing deals, draw up some high-quality email templates, create some compelling headlines, and schedule some email blasts for, I don't know, maybe Black Friday, Cyber Monday, and even Last Sleigh Day. What? You're not familiar with that last one? I guess I won't even mention Green Monday then.
Last Sleigh Day? Oh, I get it. Clever. So I'm supposed to send out emails on the busiest days of the year.
Don't sound too excited. Do you talk about your product with this much enthusiasm? Yes, you need to send out emails to your customers. How else are they going to find out about your amazing deals? How else are they going to remember they need to buy your product right now? Consumers face a barrage of emails from every store they've ever thought about. If you want them to remember you, you have to make yourself present.
But wait a second. No one gives my products as Christmas gifts. I think I'll just sit this one out.
How do you stay in business with such a defeatist attitude? Holiday shopping isn't just about buying stuff to give as gifts to other people. What about gifts for yourself? Consumers wait all year for these huge sales. Many of the purchases between Black Friday and Christmas are for the self, not for others. Whether you are selling tacky holiday gifts or your line of unique handmade wood-and-glass shovels that give people horrible blisters and splinters (good thing you're selling those gloves now, too), everything can sell during the holidays. How many people do you think really give someone a Lexus for a Christmas gift? Um, nobody. But they still sell them during the holidays. You can't afford to sit out the busiest shopping cycle of the year.
Fine, I'll do it. So I just need to send out emails? That sounds too easy.
Well, that's just one aspect of it. The emails are good, but it's not just a matter of clicking the send button. You need to plan every aspect of an email. Here are a few of the things involved:
When are you going to send your emails? (day, time, etc.)
How are you going to get people to open them? (subject line)
How are you going to get people to click your links? (content, deal)
How are you going to get people to buy your stuff? (landing page)
How are you going to know if it worked? (tracking)
And it doesn't end with just an email (or even a bunch of emails). You may need to create holiday specific landing pages. You'll also need to hit the holiday campaign trail on social media.
Okay, got it. Send out some emails at specific times based on a sound strategy. Compel people to come to my site with clever ad copy and great deals. Convince people to buy my products by giving them a great landing page experience. And post the deals on social media so everyone can see them. Boy, this is going to be a great holiday! 
Sounds like you're getting it. But what's your social media plan? I hope you aren't planning to post your "25% OFF ALL UNIQUE HANDMADE WOOD-AND-GLASS SHOVELS" coupon once on Facebook and once on Twitter and then sign off for the rest of the season. If you want to reach people on social media, you have to engage. That doesn't just mean post your deal everywhere and often. It means you need to put people into the holiday shopping spirit. Remember that great blog idea you had last year? 10 Ways to Use Your Unique Handmade Wood-And-Glass Shovel When It Isn't Snowing? Why don't you actually create it this year? Get it out there on social media. And then remind people they can buy the shovels for 25% OFF! You could even include a free pair of gloves with every order.
Great idea. Thanks. Now I'm worried I won't have enough inventory for the holiday season.
Okay, now you're talking. You better start carving some more shovels. Of course, you already established your holiday goals before we even started this conversation, right?
Ummm…
Oh, and don't forget to start thinking about your January marketing plan. People get money during the holidays, and they want to spend it. How are you going to get them to spend it on your stuff?
Doesn't it ever end?
Hopefully not. Isn't that why you started your business in the first place? Or did you not plan that far ahead?